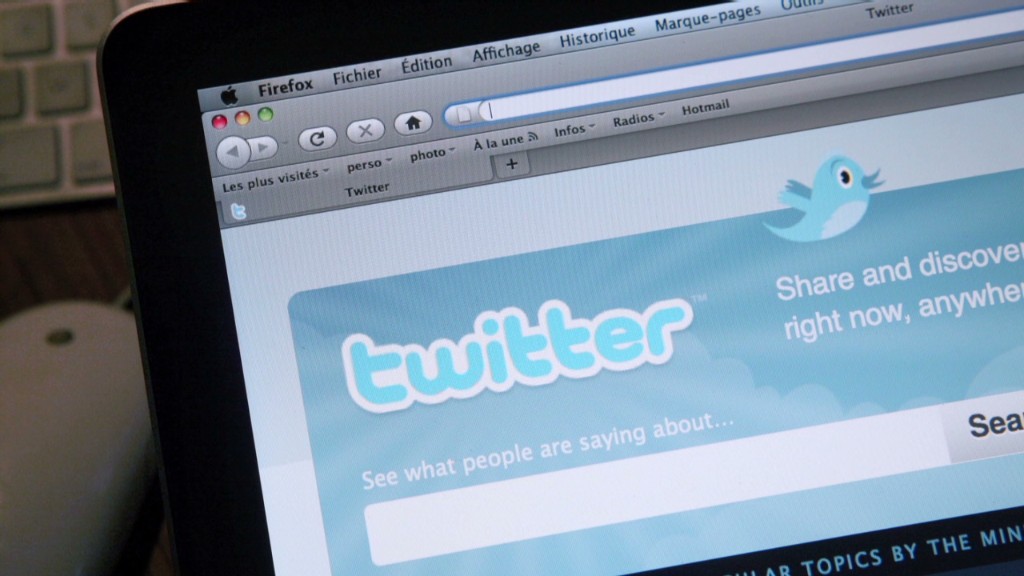 Dreams that Twitter would turn into the next Facebook continue to be shattered by the reality of ho-hum user growth.
Shares of Twitter (TWTR) tumbled nearly 9% on Wednesday and closed at their lowest price since going public last year. The micro blogging site revealed results late Tuesday that reinforced jitters about its user activity and engagement.
For example, Twitter said its monthly active user growth ticked up just 6%.
Even worse, the number of monthly active users viewing the service's "timeline" -- the list of tweets people write -- remained flat from the fourth quarter and down 8% year-over-year. That's not a good sign for Twitter's influence.
Many companies make up ground with strong international growth, but Twitter is struggling there as well. User growth outside of the U.S. was 27% in the first quarter, down from 34% at the end of last year.
"Twitter needed a perfect quarter, both financially and operationally, in order to put an end to the recent share pressure," Stifel Nicolaus analyst Jordan Rohan wrote in a note to clients.
Related: Twitter sinks as user growth underwhelms
While Twitter's financial results were "impressive," the company's user data "remained mixed despite management's insistence that significant progress has been made," he wrote.
The San Francisco-based company's revenue soared 119% year-over-year to $250 million, but it broke even on profits. Investors disregarded the stronger-than-expected results, choosing instead to look under the hood.
While the stock remains above its $26 IPO price, keep in mind the first trade on November 7 shot the stock price up to $45.10. Shares are well off that price now, having hit a new trading low today of $37.24.
Related: #WOW! Twitter soars 73% in IPO
Investors who bought at Twitter's all-time high of $74.73 in late December are now staring at a painful loss of about 50%. Twitter is the second worst performer in the CNNMoney Tech 30 index this year, behind only Chinese Internet company Sina (SINA).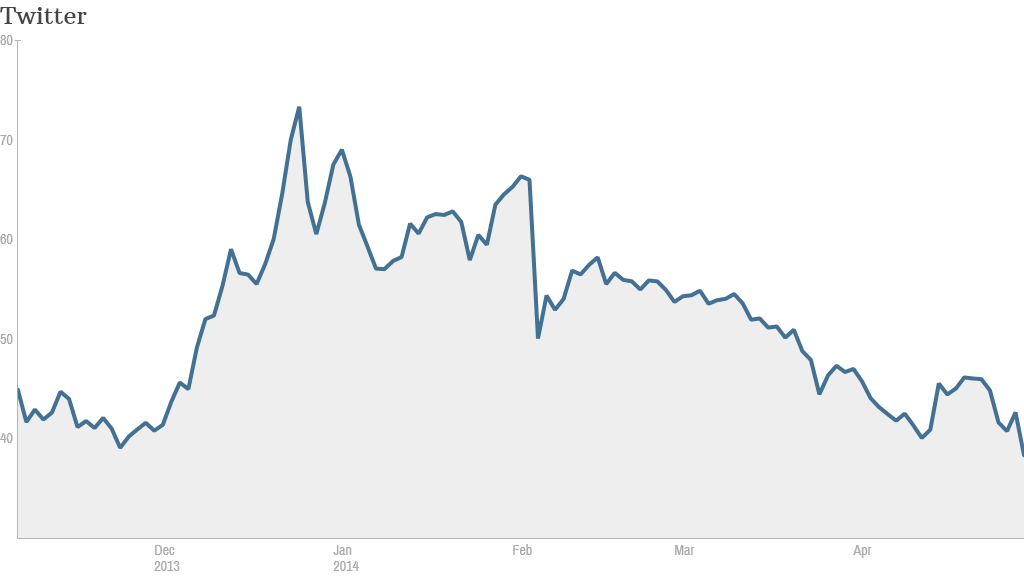 Twitter CEO Dick Costolo defended the recent results, saying the company continues to "rapidly increase our reach and scale" He pointed to the integration of MoPub, which Twitter said makes the company one of the largest ad exchanges in the world on a mobile app.
After today's bloodbath, the next most telling event will come May 5 when the lockup expires and Twitter founders and executives can sell their shares. The question is whether any of the "insiders" will sell. If they do, it could flood the market with more Twitter shares, sending the price even lower.
Related: Twitter insiders aren't selling out yet
Analysts have been slashing their estimates of the the company's value.
Concerned by Twitter's user metrics, Rohan cut his estimate of the company's fair value to $43 per share, down a lot from $56. While Rohan raised his 2014 and 2015 revenue estimates slightly, the analyst dimmed his forecast for timeline views and user growth.
"We expect continued pressure on shares in the near term," Rohan wrote.
Cantor Fitzgerald also cut its price target on Twitter to $40 from $45 and kept a "hold" rating. In a note to clients, the firm said that while "monetization continues to impress," the slowdown in active users and timeline views "keep us on the sideline."