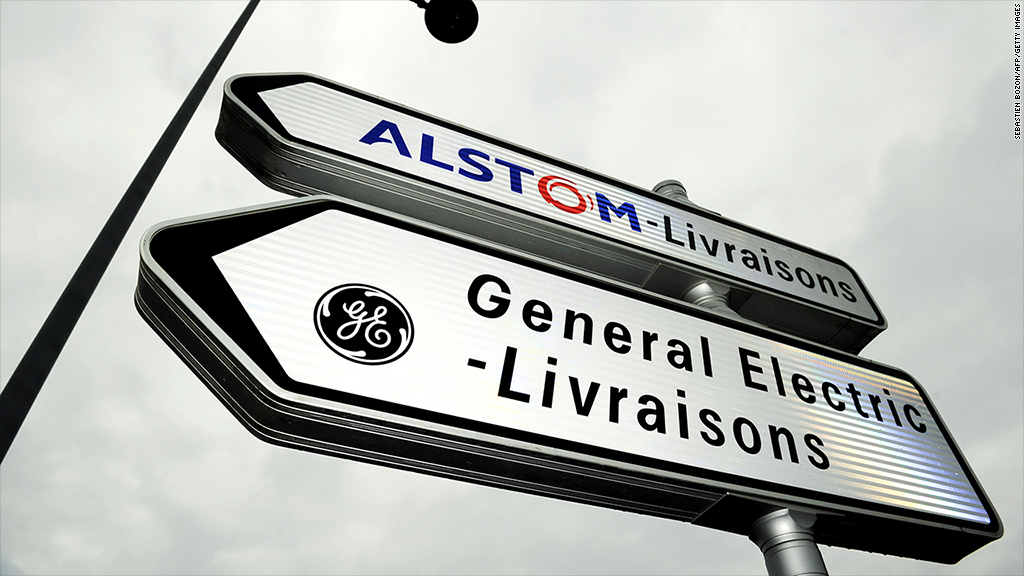 A $13.5 billion takeover bid by General Electric, an American industrial giant, of a French firm has caused a political furor in Europe.
Alstom (ALSMY), a French firm that specializes in turbines and transportation, is keen to accept the offer by GE (GE) to buy its energy business unit.
But French politicians worry the deal could hurt the country's energy independence and employment market.
Alstom has set up a committee to review the proposal over the next month and consult with politicians before making a final decision. That will also give Siemens (SI) time to submit a counter-bid.
Siemens said Tuesday it planned to make an offer within the next few weeks.
Political powers favor a potential deal with Siemens over GE, but Alstom seems set on the GE offer. The firm said it would pay a break-up fee of 1.5% of the GE bid if it goes with a different suitor after formally agreeing to the GE deal.
Shares in Alstom surged in Europe by as much as 15% Wednesday. Trading in the company had been halted for the last few days as word spread about potential bids from GE and Siemens.
Related: World's top companies for R&D
GE plans to buy the thermal power, renewable power and grid businesses from Alstom, which employs 65,000 workers and boasted sales of €14.8 billion ($20.5 billion) over the past fiscal year.
GE is working hard to convince the French that this deal will benefit the country, noting that it expects to create jobs after the acquisition, focusing on "high-value manufacturing and engineering jobs".
In a press release intended to calm nerves, GE CEO Jeff Immelt said, "We respect and value the deep industry and technology expertise of Alstom employees and expect them to add to our proven track record of developing talent and leadership in France and globally."
Alstom says the acquisition will allow it to focus on its transport and rail businesses, which have 27,000 employees and generated €5.5 billion ($7.6 billion) in sales in the last fiscal year.