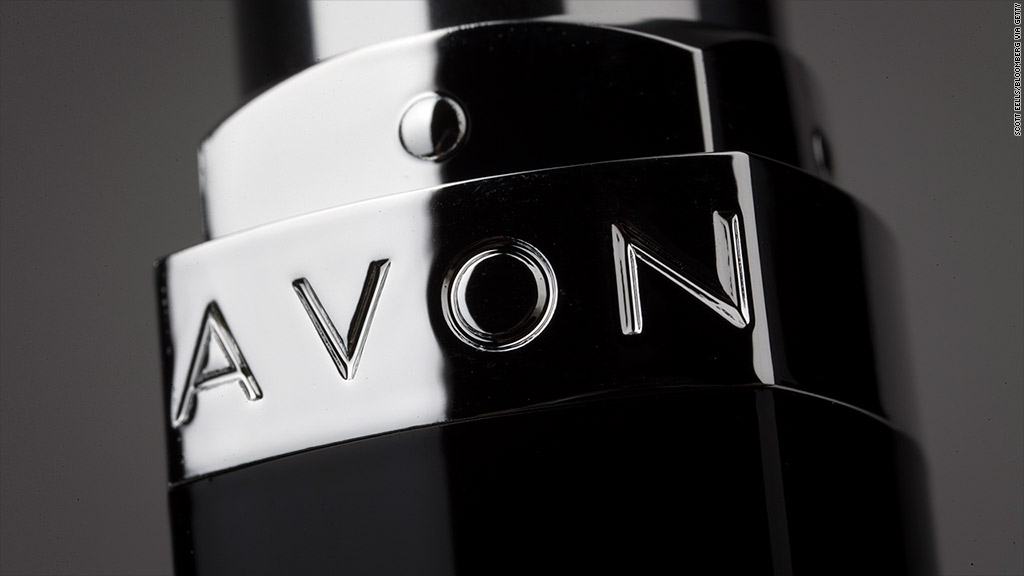 No amount of makeup can cover up the scars inflicted by Avon's ugly finances.
Avon (AVP)'s shares reeled after the company's quarterly "report card" came out on Thursday. The stock tumbled 13% to its lowest price since March 2000.
The company is doing even worse than it was during the recession. Its comeback effort clearly isn't working.
Avon blames everything from political turmoil around the world and foreign currency troubles to stubbornly high expenses. But the bottom line is, the new look isn't doing much to attract business.
"Avon continued to underperform relative to expectations of making progress on its turnaround and the company continues to lose share of a favorably growing beauty and direct selling market," Stifel Nicolaus analyst Mark Astrachan wrote in a note to clients.
Avon's numbers are alarming. The company known for its door-to-door cosmetics sellers logged earnings per share (EPS) of 12 cents, which isn't even close to the 21 cents analysts had been modeling for. Sales plummeted 11% in the first three months of the year to $2.18 billion.
"The magnitude of the EPS miss is concerning given worsening margins on a declining sale base, indicating fixed costs remain too high," Astrachan wrote.
The big blemish for Avon is rising costs. Expenses as a percentage of sales rose by 1.2% over last year. That doesn't inspire much confidence for how the company can make more money.
Related: Coach is going out of fashion among investors
Avon's overall beauty sales slumped 12%, while fashion and home revenue declined 9%. And those door-to-door sellers? Their ranks shrank by 4%.
"We saw significant headwinds that further impacted our financial results," especially in the Europe, Middle East and African region, Avon CEO Sheri McCoy said in a statement today.
It appears Avon is another casualty of the Ukraine-Russia turmoil. Total revenue in Europe, the Middle East and Africa declined 11%, hurt by a 23% tumble in Russia alone.
"Consumer spending patterns have been further impacted by the political situation between Russia and Ukraine," McCoy said during a call with analysts.
Related: Europe leans more heavily on Russian gas
Sales in Turkey, another geopolitical hot spot, declined 22%, while revenue in South Africa fell 16% in the wake of a postal strike.
Like many companies, Avon is being hurt by the protests and uncertainty in Venezuela. Avon said it will take an 88% currency devaluation in that country that will "meaningfully" cut its sales.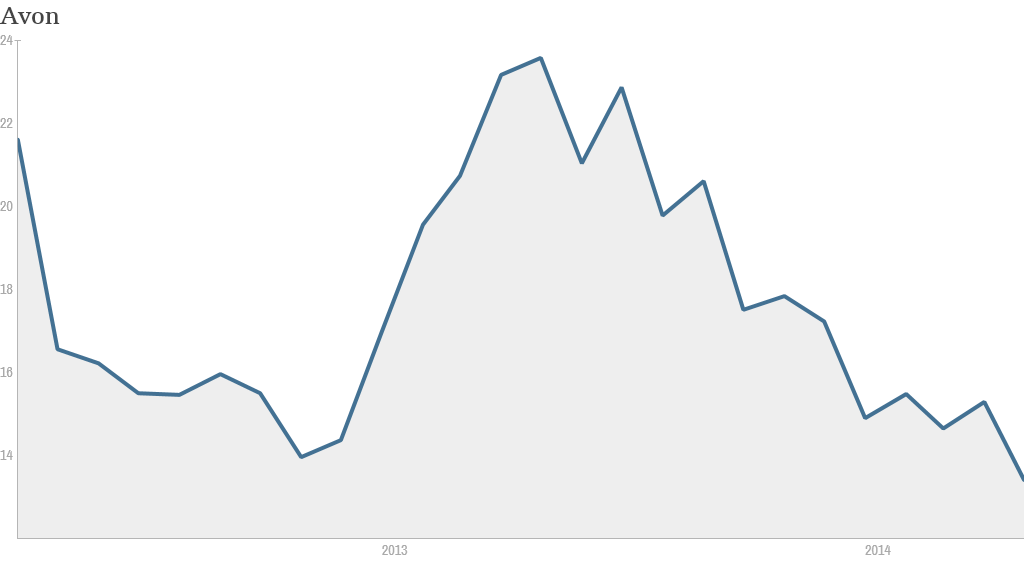 But Avon's troubles weren't contained to those volatile regions. Sales in Brazil declined 10%, while revenue in Mexico was off 12%.
And there wasn't much to smile about In North America either. Avon suffered a 21% tumble in beauty sales as well as fashion and home sales.
The only beauty in an otherwise horrendous quarter was the conclusion of some legal troubles for Avon.
The company did announce a $135 million settlement with U.S. authorities to end a bribery probe that began in 2008. While the figure is well above the $12 million Avon originally attempted to settle for, it largely matched expectations and is seen as a positive step.
"We continue to stay the course on our plans to return Avon to sustainable, profitable growth," McCoy said.
Avon is trading at a bit over $13.
Despite the disappointing results, Astrachan is sticking with his "buy" rating and $23 price target on the stock. That's a hefty premium on where the stock is right now.
We believe valuation more than compensates for the currency and global growth risks facing Avon, he wrote.
Still, investors have to be cringing at the memory of Avon rejecting Coty's (COTY) May 2012 buyout bid worth $24.75 a share, roughly double its current value.