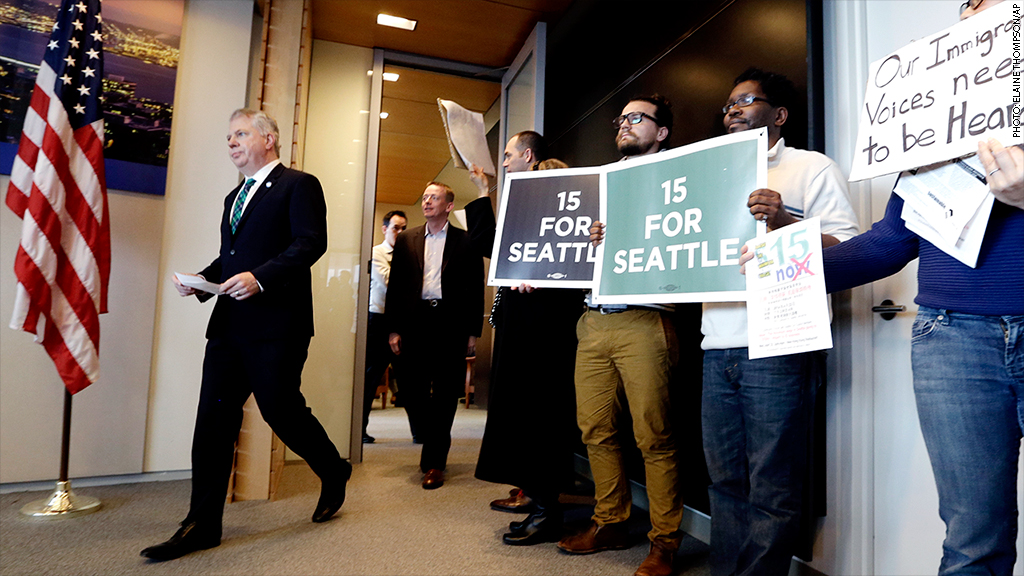 Seattle could soon lay claim to the nation's highest minimum wage.
Mayor Ed Murray unveiled on Thursday his proposal for a $15 minimum wage, a plan he said has broad support across the local government, business and labor communities.
Washington already has the nation's highest state-level minimum wage of $9.32. The Seattle proposal would be more than double the current federal minimum wage of $7.25.
Mayor Murray's plan would take effect over several years and apply first to some large businesses starting in 2017, and ultimately to all businesses by 2021.
All told, the wage hike will apply to 102,000 workers, according to 15 for Seattle, an advocacy group that supports the plan. Annual increases would then be tied to inflation.
The city council will begin considering the proposal next week and hold a series of public meetings this month, Councilmember Sally Clark said.
Related: What is the minimum wage in your state?
Murray, a Democrat, pitched his plan as a compromise between supporters of a more immediate wage hike and concerned business owners. It was crafted by a panel he appointed that includes both business and labor leaders.
"Throughout this process, I've had two goals: to get Seattle's low-wage workers to $15-per-hour while also supporting our employers, and to avoid a costly battle at the ballot box between competing initiatives," Murray said. "We have a deal that I believe accomplishes both goals."
Related: Congress stalls, but states act
Critics say the plan takes too long to phase in for many workers.
"This proposal does not live up to the wishes of Seattle's workers," said city council member Kshama Sawant, who served on the mayor's panel but opposes the plan. "Unfortunately it also reflects the attempts of business to water down what the working people want."
Both Sawant, a socialist, and Murray won their seats in November campaigning on a $15 minimum wage.
Voters in nearby SeaTac approved a $15 minimum wage in November, but many workers there haven't yet seen the increase. The law is currently tied up in court over whether it applies to the Seattle-Tacoma airport, which employs many of the community's workers.
Several states have passed or are considering proposals to adopt a $10.10 an hour wage, the level that many congressional Democrats and President Obama want to see passed through Congress. But an attempt to do that failed in the Senate this week. The federal rate has not increased since 2009.
-- CNNMoney's Jeanne Sahadi contributed to this report