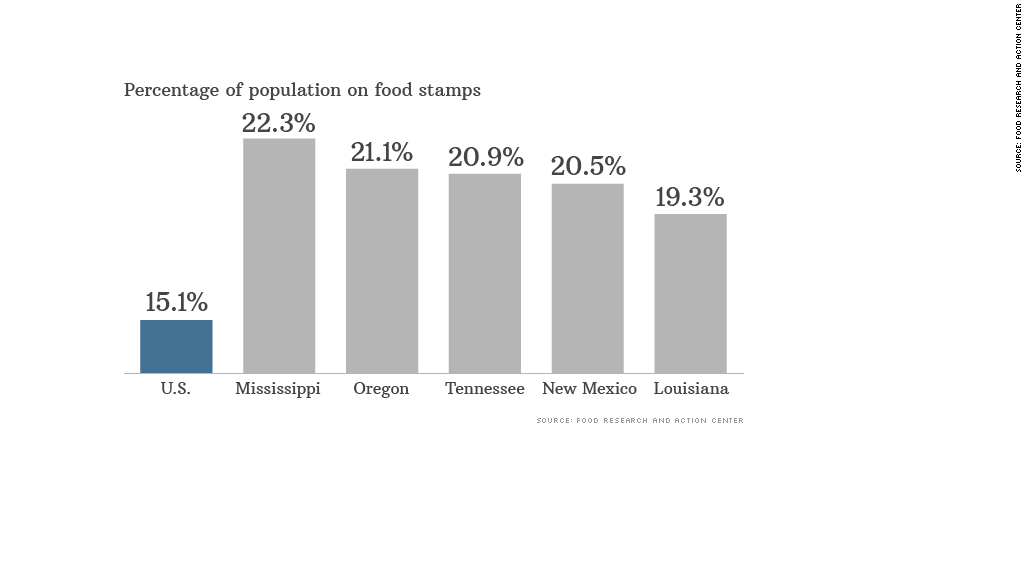 Nearly one in five people are on food stamps in five states, a stark reminder that the Great Recession continues to be a drag on the nation's poorest.
In Mississippi, Oregon, Tennessee, New Mexico and Louisiana, food stamp use ranges around 20% of the population or more, according to January government data recently analyzed by nonprofit Food Research and Action Center.
Nationally, about 15% of Americans are on food stamps. And as the economy has improved, nationwide use of the safety-net program for the most vulnerable has edged down to 46.5 million in January, about 1.2 million fewer than a year earlier, according to the U.S. Department of Agriculture.
However, food stamp use in the five hungriest states has barely budged since the height of the post-recession period in 2012, when food stamp use was between 20 and 23% of the population in those states.
The historic norm is far lower. During the 1990's recession, when food stamp usage spiked in 1994, just 10% of the population was on food stamps.
Related: The low wage jobs explosion
Food Research and Action Center Legal Director Ellen Vollinger said she's noticed a link between food stamp use and states with high levels of joblessness and part-time workers.
"We're seeing a lag in quality good jobs," said Vollinger. "They want full time hours but can't get them. And many of those are turning to food banks, food kitchens and SNAP," she said.
The food stamps are essential for many without jobs.
April Dodd of Chattanooga, Tenn., lost her job last July and is now on food stamps. She used to get $38 a month, but after long-term unemployment benefits lapsed, her food stamps went up to $189 a month.
"It gives me about two weeks worth of food, and mostly stuff like ground beef and hamburger helper," said Dodd, who is unemployed for the first time in her life after a lifetime of working in call centers and as a secretary. "If you want fresh fruits and vegetables, stuff that keeps you healthy, you can forget it."
Related: Will a higher minimum wage reduce income inequality?
The food stamps program has been a hot topic in Washington for the past year, as enrollment in the anti-poverty program remains at high levels. Democrats have talked about food stamps as a symbol of income inequality, while Republicans have vowed to revamp and trim the program, officially called the Supplemental Nutrition Assistance Program.
During the recession, some states lowered eligibility for food stamps, making it easier to qualify, which could have played a role in why some states have more on food stamps, some poverty expert say.
However, often lost in the policy debate is that half of those enrolled are children and a quarter of those enrolled are seniors. The average monthly benefit is $133 per person.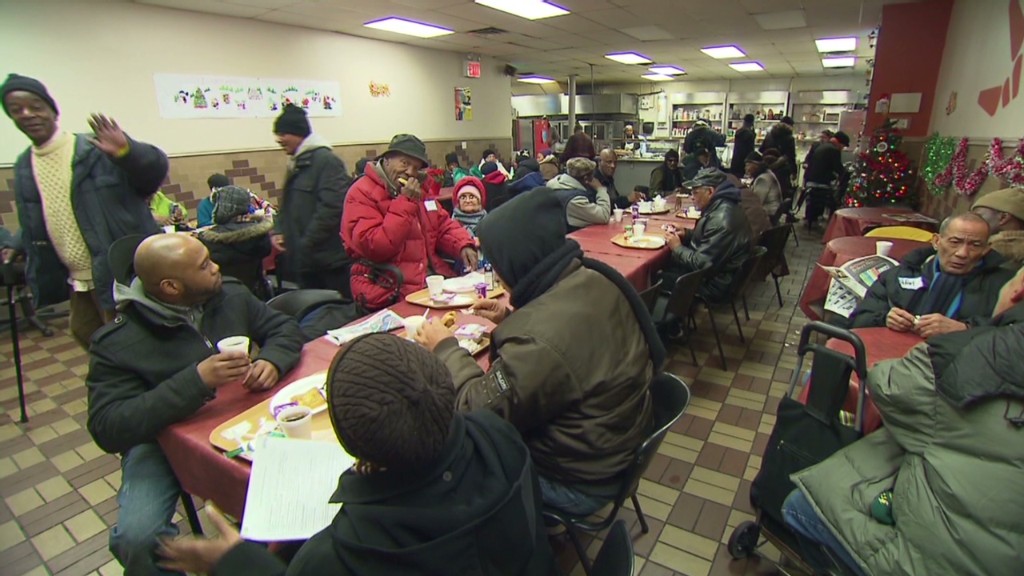 The nonprofit report found that the highest level of food stamp use -- one in nearly four people, or 24% -- is in Washington, D.C. The report didn't provide an analysis on other cities.
The nation's capital city is going through a rougher economic time with higher levels of unemployment, thanks in part to last year's forced federal spending cuts.
"We're having very slow growth in the Washington metro area, and the growth we're seeing is in lower wage job sectors, said David Versel, senior research associate at the Center for Regional Analysis at George Mason University. "Hearing that 24% of the population is on food assistance is a concern."