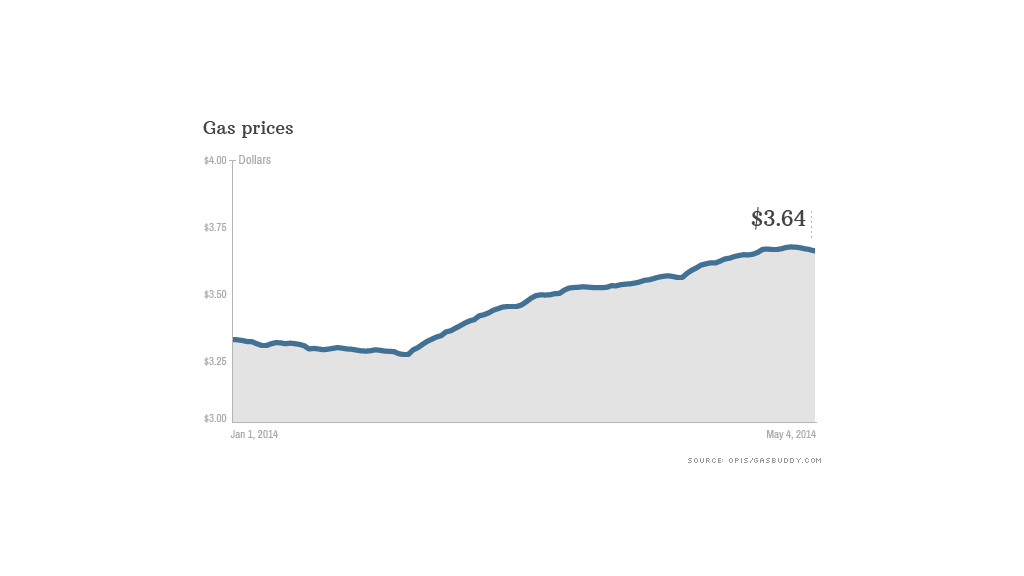 April was a bad month at the pump for drivers, but prices could be lower by the time summer driving season kicks off at the end of this month.
Figures from the Oil Price Information Service, which tracks prices for AAA, shows that the price of a gallon of regular gas rose 12 cents, or 3%, last month. The $3.66-a-gallon average on April 29 is the highest price so far this year.
But prices have already dropped a couple of cents in the early days of May. And a fall of between 5 to 10 cents more is likely in the coming weeks, according to Tom Kloza, chief oil analyst at OPIS and GasBuddy.com.
Related: Should you pay a higher gas tax
"We've probably already seen the peak for at least the first half of the year," said Kloza.
The Lundberg fuel price survey for the period ending May 2 found that prices hit a 14-month high of $3.72 a gallon. But analyst Trilby Lundberg expects prices at the pump to start falling soon.
"The three-month runup appears to have already ended," she said. "Refiners purchasing oil at lower prices have already been slashing wholesale gasoline prices."
Kloza said April's rise was due to normal seasonal factors, including refineries shutting down to prepare to make summer blends of gasoline. Concern over the crisis in Ukraine and sanctions on Russia also helped to lift prices during the month, he said.
Related: What are gas prices in your home state
But North American oil and gas inventories are at or near their highest point in decades, Kloza said. And Lundberg said a slowdown in demand from in China's manufacturing sector is also pushing global oil prices lower.
"The oil market seems to care more about China, because of demand, than about Russia," said Lundberg.
So most of the issues that could push gas prices higher are likely over -- at least until the start of hurricane season later this summer. Those storms can disrupt production at oil platforms in the Gulf of Mexico and refineries along the Gulf Coast.
Prices are higher than they were at this time last year, when they stood at $3.51 a gallon. But for most of this year, prices have been less than their 2013 levels, and that is likely to be the case once again on Memorial Day. Prices stood at $3.66 on Memorial Day 2013.