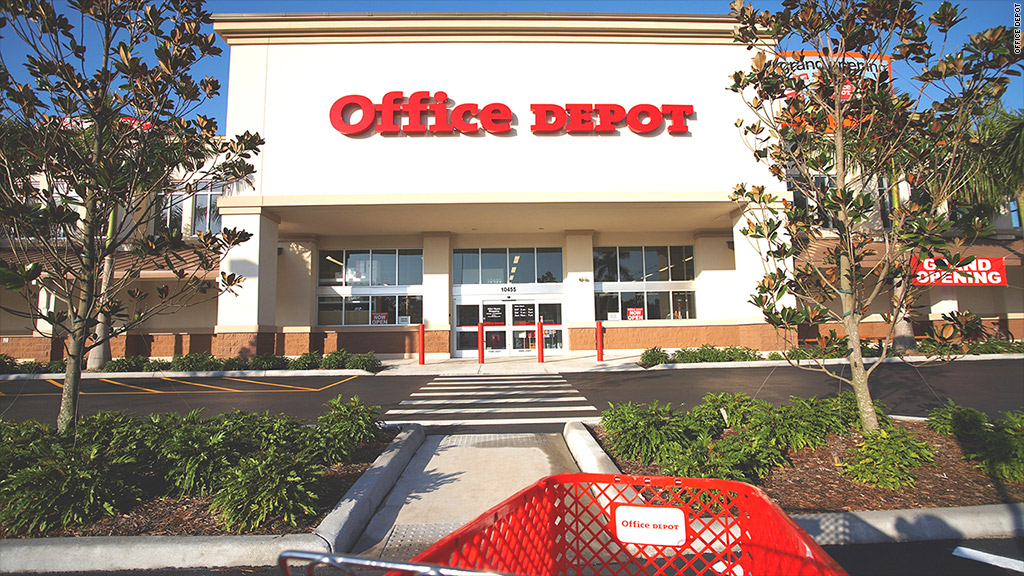 Office Depot will close at least 400 U.S. stores, shedding more than 20% of the stores it now operates in the U.S. after its merger with rival OfficeMax.
The company said the stores will be closed by 2016, with 150 of the closings coming at the end of this year. Office Depot (ODP) operated 1,912 stores in its North American division at the end of last year, and the OfficeMax merger added 823 stores to its lineup. The merger was completed in early November.
The company has not identified which stores it is closing.
The closings were widely anticipated since there are many locations where the two brands have stores close to one another.
There have been a number of store closings announced so far this year, as brick and mortar stores face more competition from online competitors such as Amazon (AMZN).
Related: Everything must go! There's a flood of store closings
Office Depot rival Staples (SPLS) announced this year it would close 225 stores in North America, or about 12% of its locations, as it moved to trim costs and respond to more of its sales being completed online.
Radio Shack (RSH) also said it plans to close 1,100 stores, or 20% of its North American locations, while troubled department store chain J.C. Penney (JCP) has announced plans to close 33 locations.
Some analysts are also expect that Sears Holdings (SHLD) could close as many as 500 Sears and Kmart locations soon.
Shares of Office Depot were up 15% after the company announced the closings as well as better than expected earnings.