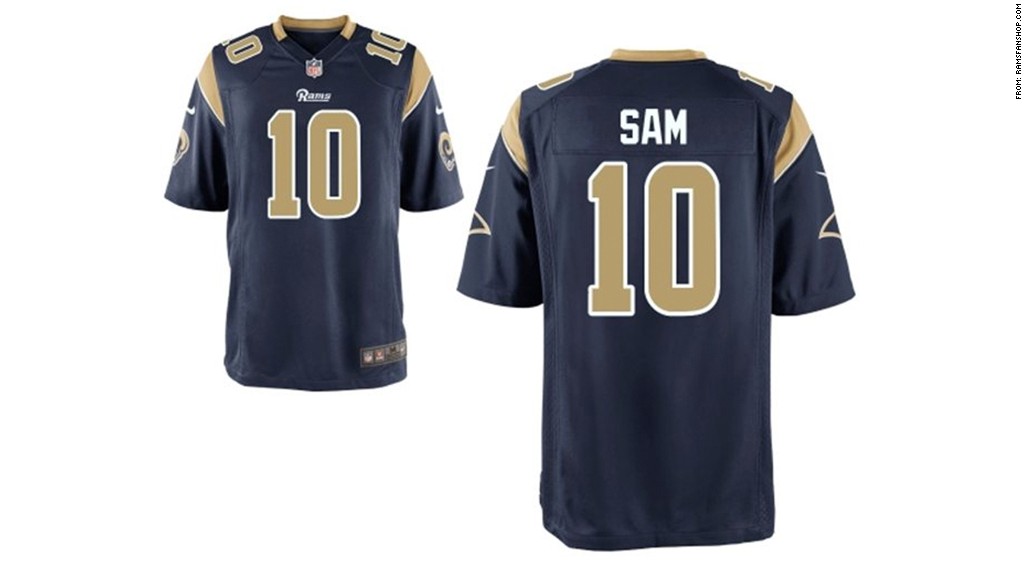 The jersey of Michael Sam, the league's first openly gay player, is the No. 2 seller from the NFL draft, according to NFLShop.com.
The top selling jersey belongs to Johnny Manziel, the quarterback taken in the first round by the Cleveland Browns. The league's online shop did not release the number of jerseys sold, only the rankings. But it did say this was the biggest draft weekend for sales in the site's history.
Manziel, who was drafted by Cleveland, had an advantage in terms of uniform sales since he was taken on Thursday night. Jerseys from quarterbacks are typically more popular than those of defensive players like Sam.
Related: NFL players warn rookies - Stop spending!
Sam, who was a seventh round pick by St. Louis, wasn't selected until Saturday night. But his fame and personal story has already sparked more sales than two other high-profile quarterbacks taken in the first round Thursday - Teddy Bridgewater, who was drafted by Minnesota, and Blake Bortles, the first quarterback drafted when he was picked No. 3 overall by Jacksonville.
Sam's uniforms have also outsold those of Jadeveon Clowney, the No. 1 pick overall who was drafted by Houston.
Related: More than half of gay, lesbian employees still closeted at work
Sam's selection has generated significant news coverage and even a congratulations by President Obama. It has also generated some controversy, as he was filmed kissing his boyfriend after he heard he'd been picked.
Miami Dolphins player Don Jones tweeted "horrible" and "OMG" after ESPN showed the kiss. He later took down the tweet and apologized after the team announced he was being fined and told he couldn't participate in team activities until he completes "training for his recent comments."