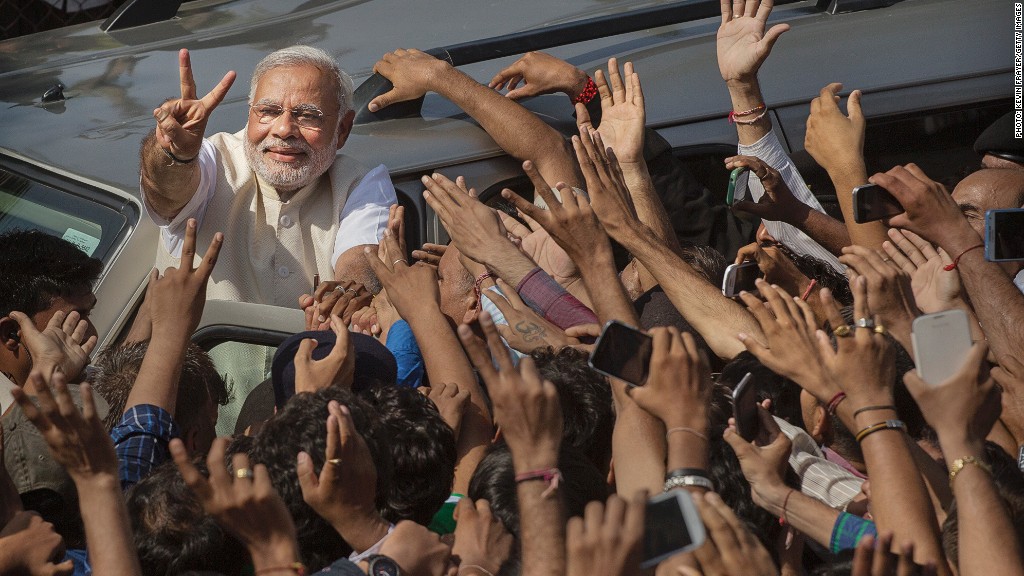 India's benchmark index surged to a record high Tuesday after exit polls indicated that voters will deliver a mandate to Narendra Modi and the pro-business Bharatiya Janata Party.
Mumbai's Sensex index advanced more than 1% as investors reacted to polls showing the BJP-led coalition might capture a majority of seats in the lower house of parliament.
While exit poll data in India is notoriously unreliable, the results suggest that India's 815 million voters are likely to have made Modi the next prime minister. Voting ended Monday and official results will be announced Friday.
The prospect of a Modi-led government has boosted India stocks by almost 13% since the start of the year. The rupee has strengthened too, clawing its way back from a dismal performance in 2013.
Victory for a Modi-led coalition would end the Congress Party's dominance, and create an opening for a new government to implement economic reforms.
Analysts say India would benefit greatly from changes to its tax code, a reduction in excessive bureaucracy and more efficient agricultural policies. Momentum on these long-promised reforms stalled under the leadership of the Congress Party.
India's potential for growth was once mentioned in the same breath as that of China. But the world's second most populous nation and biggest democracy has failed to deliver and its economy is just a fifth the size of its Asian rival.
Economic growth has fallen below 5% in recent quarters, some of the lowest levels in years. The currency has lost more than a third of its value since 2011. Observers don't expect much improvement this year, a troubling sign for one of the world's top 10 economies.
Related: Why did China force The Big Bang Theory offline?
Modi has presented himself as a candidate in the mold of a CEO, campaigning on his record of fostering low unemployment and high foreign investment as head of Gujarat state. Investors are hoping that he will be able to conjure some of the same magic on a bigger stage.
Others think it more likely that Modi's agenda will fall victim India's fractious legislative process.
"We continue to believe that the prospect of legislative action on reforms is relatively poor because of the obstructionism we expect [the Congress Party] to display," said analysts at the Eurasia Group. "Difficult structural reforms to coal, labor, electricity, and agricultural marketing will progress slowly if at all."
Related: 11 things to know about world's biggest election
Many observers have also expressed concern over Modi's association with Hindu nationalist causes -- a potentially destabilizing agenda.
Much of the criticism centers on Modi's handling of riots between Muslims and Hindus in 2002 that resulted in the deaths of 2,000 people. Modi was accused of not responding quickly or adequately to the tumult, but he has denied any responsibility.
Some are not convinced. The Economist won't back Modi, saying the candidate has stonewalled and refused to explain his role in the violence.
Should Modi choose to pursue a controversial agenda in office, investor sentiment could sour quickly.