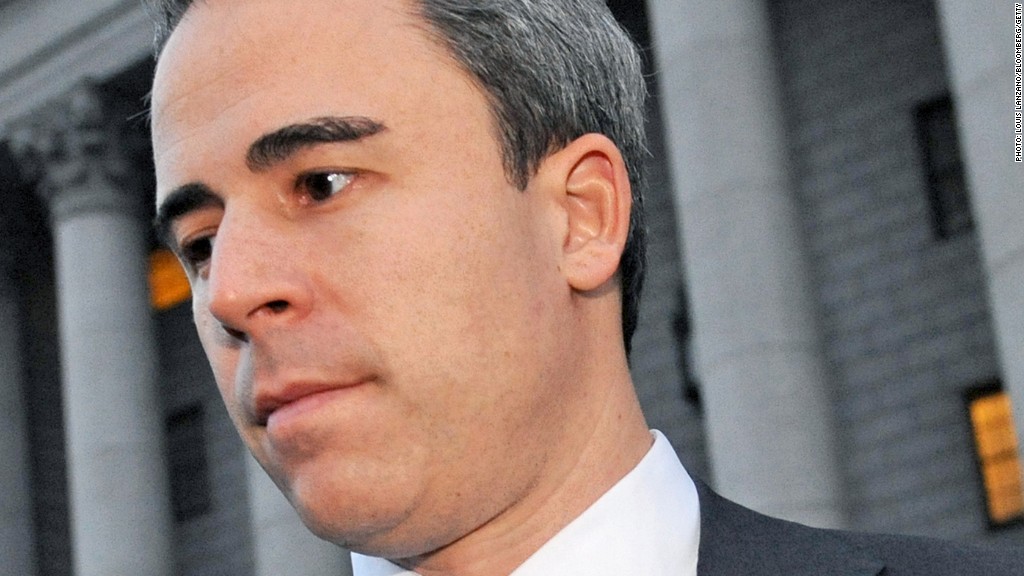 Federal prosecutors want Michael Steinberg, a former trader at the SAC Capital hedge fund, to spent at least five years in the slammer for insider trading.
A sentencing memo from U.S. Attorney Preet Bharara also asks that Steinberg be ordered to pay $365,000 to recapture money the government says he was paid for trading on insider information.
Steinberg was convicted last year of four counts of securities fraud and one court of conspiracy for shorting technology stocks Dell and Nvidia (NVDA) based on inside information.
He is set to be sentenced by Judge Richard Sullivan in U.S. District Court on Friday. Federal sentencing guidelines call for prison time of between 5 to 6-1/2 years.
Attorneys for Steinberg have filed their own court papers arguing for a sentence of no more than two years, and that he be allowed to remain free on bail while his appeal proceeds.
The Steinberg memo cites his charitable work, his young children and similar sentences shorter than sentencing guidelines given to others hedge fund managers.
Related: Read the indictment in U.S. vs. Steinberg
SAC Capital was a hedge fund firm in Stamford, Conn., founded and managed by billionaire Steve Cohen. It has since been renamed Point72.
The feds had been circling Cohen and his fund for years, charging numerous employees with insider trading. Six of them have pleaded guilty. Only Steinberg and Mathew Martoma pleaded not guilty and fought the fraud charges, but they both lost.
Martoma will be sentenced on June 10 for insider trading involving the biotech Elan and Pfizer's (PFE) drug company Wyeth. He faces up to 45 years in prison and remains free on a $5 million bond.
Federal prosecutors have not charged Cohen, but they managed to pressure his firm, SAC Capital, into a $1.8 billion settlement. As part of the settlement, the firm is no longer permitted to manage money for outside clients.