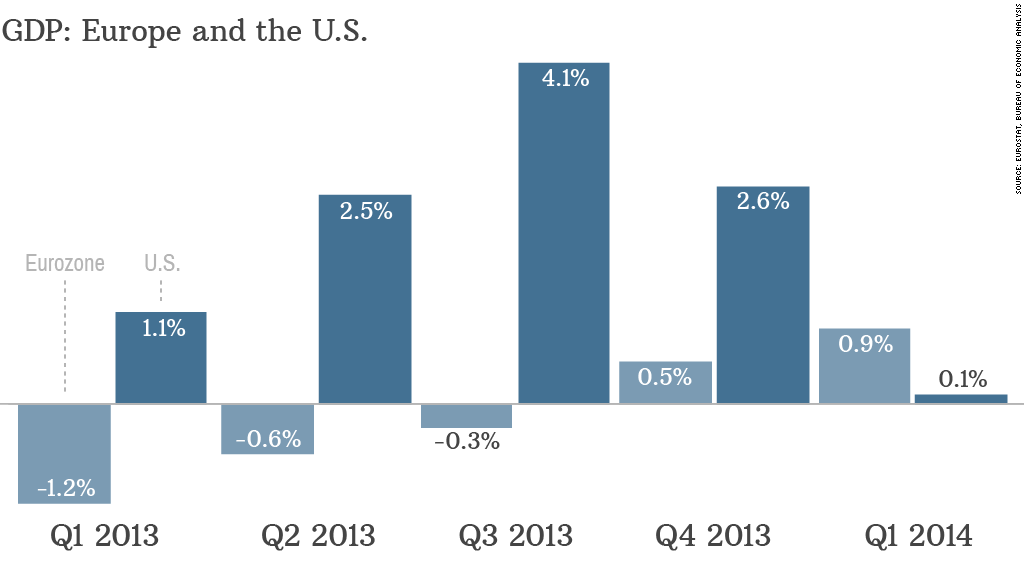 European economic growth was weaker than expected in the first three months of 2014, but still managed to outpace the U.S. for the first time in three years.
Gross domestic product across the 18 countries in the eurozone grew at an annual pace of 0.9% in the first quarter, the European Union's statistical office said Thursday.
That compares with growth of 0.1% in the U.S. in the first quarter, when harsh winter weather was blamed for depressing exports, housing and business investment.
Eurozone growth compared with the fourth quarter of 2013 was 0.2%, about half the rate expected by economists, reflecting a weak performance by big countries such as France, Italy and the Netherlands.
But it confirmed that the recovery from the region's devastating debt crisis remains on track, if slow and uneven.
"The best that can be said ... was that at least the eurozone has now managed to grow for four successive quarters, following six quarters of contraction through to the first quarter of 2013," noted IHS chief European economist Howard Archer.
Related: Major shopping spree fuels Japan growth
The last time the eurozone was growing more strongly than the U.S. was in the first quarter of 2011, just before the region plunged into its longest recession on record.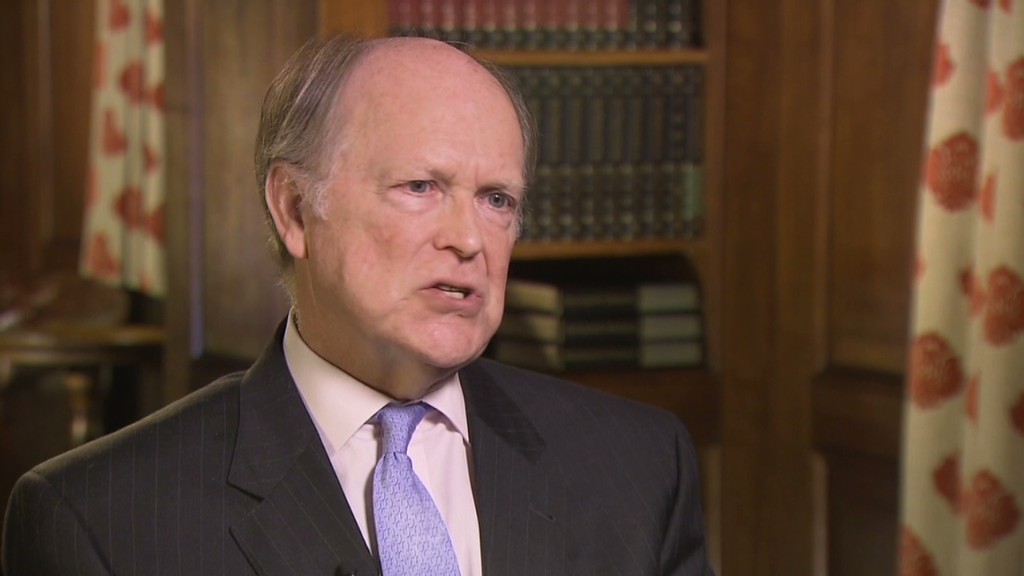 In contrast to the U.S., parts of Europe got a boost from the weather this winter -- a factor that will fade in the second quarter.
Germany, the eurozone's biggest economy, grew by 0.8% over the previous quarter, and by an annual rate of 2.3%. The German statistics office cautioned, however, that the extremely mild weather helped drive the acceleration.
The EU does not publish a detailed explanation with its first GDP estimate, but economists said trade may have acted as a brake as exporters find life tougher due to a stronger euro.
Related: Ukraine crisis starts to hit European firms
Mixed signals from the first quarter, and the prospect of little improvement in the second, will keep up the pressure on the European Central Bank to do more to help stimulate the economy. Risks that the Ukraine crisis could damage business and consumer confidence only cloud the picture still further.
The ECB is already worried about very low inflation and has been dropping heavy hints that a rate cut -- and other measures -- could be forthcoming when it meets on June 5. The euro has already fallen about 4% from recent highs near $1.40 in anticipation of even easier monetary policy to come.