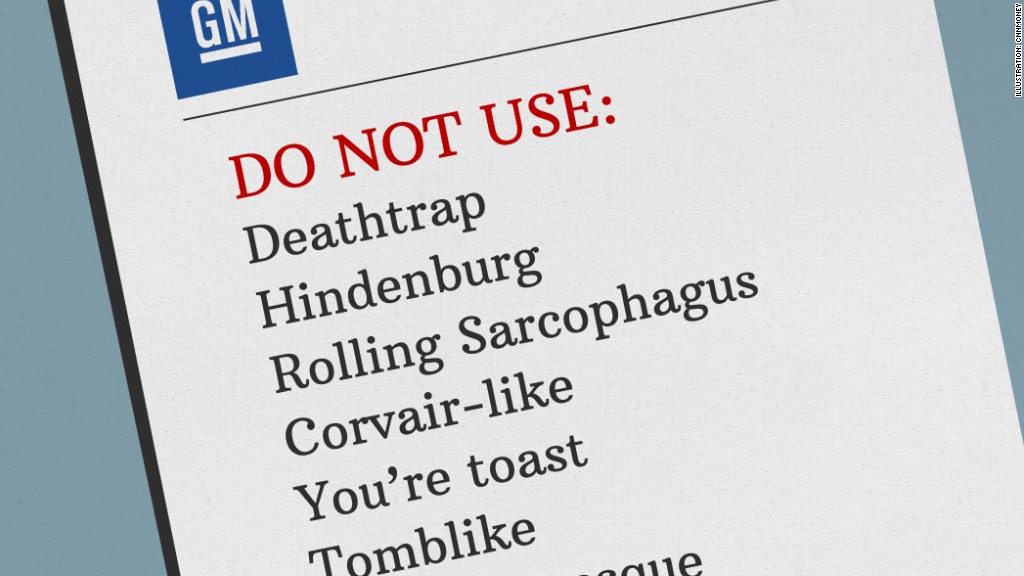 "Deathtrap," "widowmaker," "rolling sarcophagus."
Those are a few of the words that General Motors asked its employees to avoid using in their internal communications.
A lengthy list of unacceptable terms appeared in a 2008 presentation given to GM (GM) employees on how to communicate with each other regarding possible safety issues.
Besides individual words, certain phrases were also discouraged in the presentation. "This is a lawsuit waiting to happen," and "Unbelievable engineering screw-up" were among what the presentation described as "examples of comments that do not help identify and solve problems."
Rather, employees should use phrases like "Windshield wipers did not work properly. Would run for 3-4 seconds and then quit for the next 7-8 minutes... repeatedly."
Among the "Judgement words" employees were told to avoid: "Hindenburg," "powder keg," "Titanic," "apocalyptic," "You're toast," and "Kevorkianesque."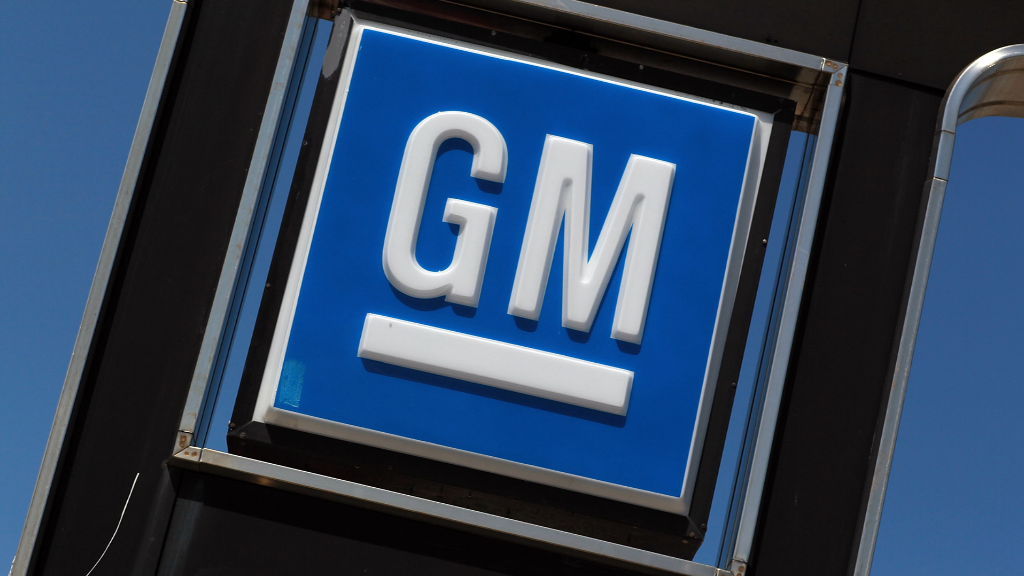 Less inflammatory words such as "safety," "safety related," "serious," "failure," and "defect" were also listed as words to be avoided.
GM fined $35 million for delayed recall
Such words and phrases were not to be used because they are "vague and non-descriptive" according to GM's presentation.
Instead of "Safety," an employee should write that something has "Has potential safety implications." Instead of "Defect," an employee should say that something "Does not perform to design." Instead of a "Problem," there is an "Issue, condition, matter."
As part of the evaluation process for new vehicles, automakers will often have company employees drive vehicles before they go into full production. The employees can then share any problems they might experience so issues can be resolved before the car, truck or SUV is released to the public.
Family asks to re-open GM recall
In the presentation, GM admonished employees to "Understand that there really aren't any secrets in this company".
"For anything you say or do, ask yourself how you would react if it was reported in a major newspaper or on television."
National Highway Traffic Safety Administration Acting Administrator David Friedman criticized GM for the presentation during a press conference Friday. Friedman said that, in telling employees to avoid certain language when writing about safety issues, GM was discouraging open and free discussion of potential problems.
"We encourage employees to be factual in their statements and will continue to work with NHTSA to improve our safety processes," GM said in a written statement responding to questions about the presentation. "Today's GM encourages employees to discuss safety issues, which is re-enforced through GM's recently announced Speak Up for Safety Program."
In the "Speak Up for Safety" program, GM has said it will recognize employees who share ideas to make vehicles safer or who point out potential safety issues in vehicles.
Timeline - Steps to a recall nightmare
Prior to the new safety promotion program, which was introduced after a massive recall over ignition switches tied to 13 deaths, employees were told not to be "cute or clever," something that might be "especially easy to do in an e-mail, when there might be a temptation to use a casual tone to describe a potentially serious safety risk."
The presentation, which was released to the public on Friday by NHTSA, concluded with the warning to "Consider how documents will be interpreted by people outside of GM."
The presentation, labeled "GM confidential," was submitted to NHTSA as part of the agency's investigation into the automaker's delayed recall of the Chevrolet Cobalt and other cars due the ignition switch problem.
On Friday GM agreed to pay a $35 million fine -- the maximum possible for a single violation -- for not reporting the problem to NHTSA quickly enough.