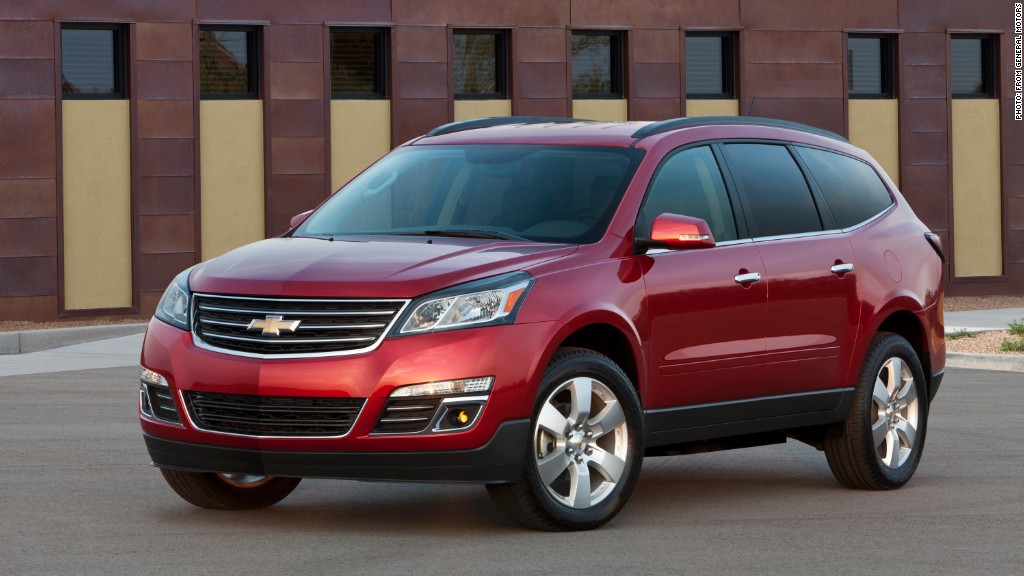 General Motors' recall headache continues to grow.
The automaker recalled another 2.4 million U.S. cars and trucks Tuesday, including 1.3 million popular late-model crossover vehicles, and 1.1 million older cars.
The crossover SUVs being recalled -- Buick Enclave, Chevrolet Traverse, GMC Acadia and Saturn Outlook -- have a problem that can cause the front seat belt to separate from the car during a crash. GM (GM) said it is a serious enough problem that it is ordering dealers not to sell new or used models of the vehicles until repairs are made. The model years involved are 2009 to 2014.
GM was hit with a $35 million fine Friday by the National Highway Traffic Safety Administration for a delay in reporting problems with a faulty ignition switch tied to at least 13 deaths. GM engineers knew of the switch problem as early as 2004, but the company did not start recalling the cars until February this year.
Related: GM to pay $35 million over delayed recall
GM CEO Mary Barra has repeatedly apologized for the delay, saying it was unacceptable and promising to take steps to make sure it didn't happen again. The automaker has hired 35 product investigators since the recall scandal broke and appointed a new executive in charge of safety.
So far in 2014, GM has recalled 13.6 million vehicles in the U.S. and a total of 15 million worldwide.
GM spokesman Alan Adler said that Tuesday's recalls are an example of GM's commitment to act more quickly than in the past.
Related: 'Deathtrap' on GM's naughty words list
Adler said there were no injuries or deaths associated with Tuesday's recalls. But there were 18 accidents tied to a problem with the transmissions in 1.1 million Chevy Malibus and Pontiac G6's. That recall covered model years from 2004 through 2008.
GM also recalled 1,400 2015 Cadillac Escalades for an airbag problem, as well as 58 2015 Chevy Silverado and GMC Sierra being recalled due to a fire risk. That is one of two recalls GM has announced this year of less than 100 vehicles.
GM said the recall announced Tuesday will cost $200 million, bringing total charges for this quarter up to $400 million. Last quarter the company took a $1.3 billion charge associated with recalls that essentially wiped out if profit for the quarter.
And those charges are only for the cost of repairs, not fines or potential payments to those injured or killed.