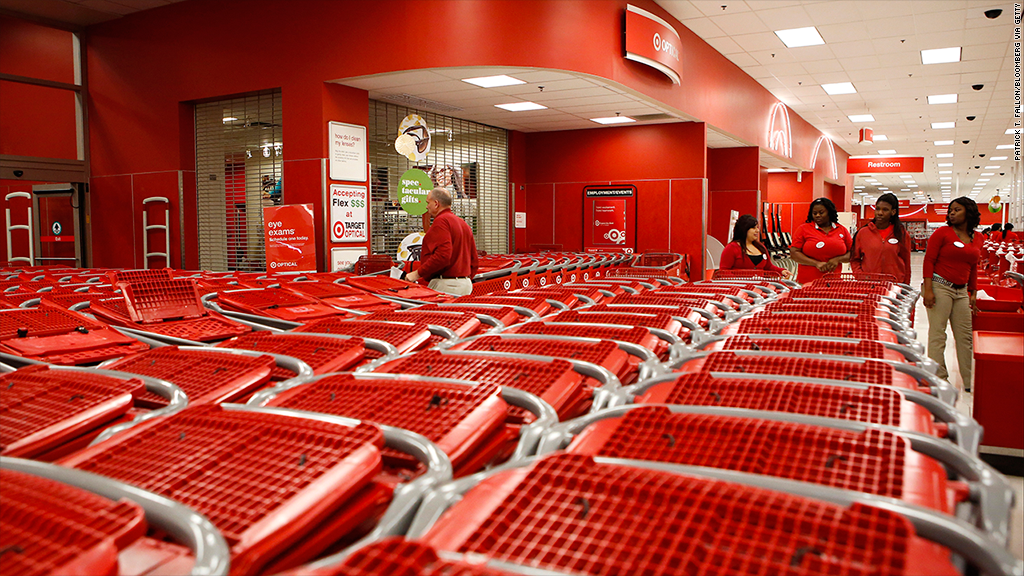 The tough times at Target continue. First it was the customer data breach in December. Now it's a fired CEO and lackluster profits for the start of 2014.
Worst of all, business isn't likely to turn around soon for the retailer.
Target (TGT) disclosed another steep drop in profits and dimmed its outlook on Wednesday as the beleaguered retailer continues to struggle to lure shoppers into its stores.
The results and gloomy forecast for the rest of the year highlight the difficult challenges facing the discount retail giant, which earlier this month announced the exit of CEO Gregg Steinhafel amid lackluster recent performance.
Target did not give any update on its search for a successor to Steinhafel, who is being replaced on an interim basis by John Mulligan, the company's chief financial officer.
"We are not going to wait for a permanent CEO to improve our operations and performance," Mulligan said during a conference call.
Off Target on profits, sales
Target said it earned 66 cents per share, down from 77 cents the year before.
Shares of Target were flat in midday trading. Much of the bad news had been expected as the company's stock has dropped almost 11% so far this year, including 3% on Tuesday.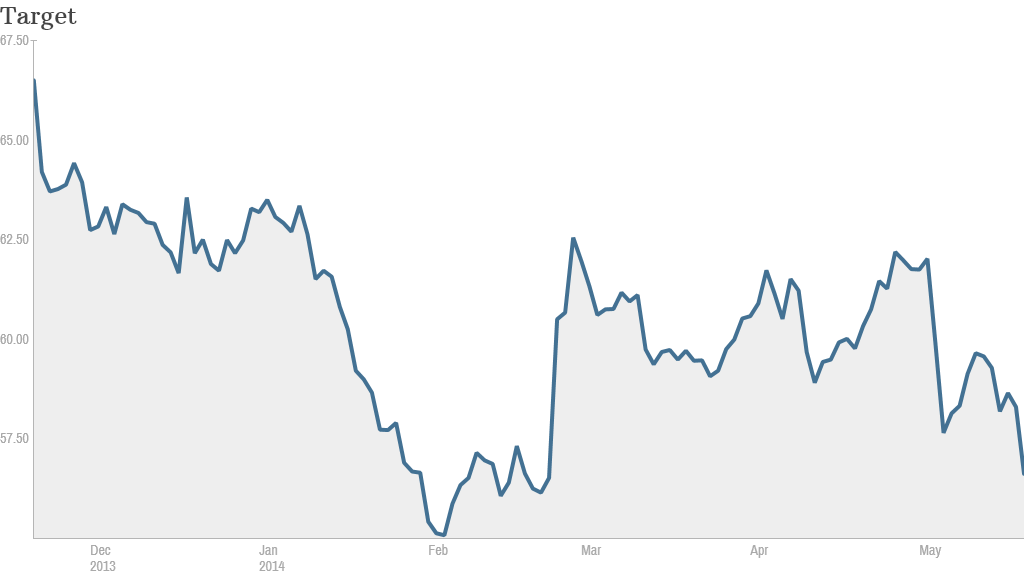 Excluding one-time items, the company said it earned 70 cents a share, trailing estimates by a penny.
Sales increased just over 2% to $17 billion, but U.S. same-store sales dipped 0.3%.
Mulligan said sales and traffic trends "improved substantially" from the declines seen in the immediate aftermath of the data breach.
"This was by no means a good quarter, but it was not the disaster that was feared," Janney Capital analysts wrote in a note to clients. "We believe at this point, the stock is pretty close to a bottom."
While the first quarter figures were down, the real worry is that Target downgraded its forecast for 2014 adjusted earnings to $3.60 to $3.90, down from $3.85 to $4.15 previously. The question remains as to how quickly Target can rebound.
The company sees second-quarter earnings of 85 cents to $1 per share, compared with the Wall Street's expectation of 97 cents.
Mulligan said it would be "very difficult" to increase store traffic in 2014, even if same-store sales rose by 1%.
"While we are pleased with this momentum, we need to move more quickly," Mulligan said.
Related: Staples plummets on weak sales
'O Canada'
Mulligan said Target's results reflect "early signs of improvement" in the company's Canadian operations, which has been one of the other big headaches for the retailer, but the division posted a deeper loss of $211 million in the first quarter.
Sales soared to nearly $400 million as new stores opened, but gross margins in Canada plummeted due to efforts to clear excess inventory.
Target announced the departure of its Canada chief earlier this week, a move Mulligan said hopes will lead to "fresh thinking."
Brian Sozzi, CEO of Belus Capital Advisors and a frequent critic of Target, said in a note to clients that he would have liked to have heard a "humbler" tone from the company. He said that would have sent a signal to Wall Street that the company "truly understands the rocky journey it's about to embark."
Store closures ahead?
Target continues to be hurt by the rising number of consumers choosing to shop online.
Sozzi said continued weak store visits suggest Target needs to consider scaling down the company's U.S. store base, which currently sits at 1,789.
Shoppers who did travel to Target's stores were likely spooked by the massive data breach that slammed the company last year, resulting in one of the largest credit card thefts ever.
Related: Wal-Mart is hurting for shoppers
Looking ahead, Target said it is unable to estimate future expenses tied to the breach. However, the company warned costs such as potential fraud related claims by credit card companies could have a material impact in the coming quarters.
Of course, Target isn't alone in its struggles. A flurry of retailers have reported disheartening results in recent weeks, including Staples (SPLS), Dick's Sporting Goods (DKS) and Wal-Mart (WMT), which suffered its fifth consecutive drop in same-store sales.
Target said it didn't buy back any common stock during the first quarter. The company cited its "current performance" and a "desire to maintain" its investment-grade credit ratings.