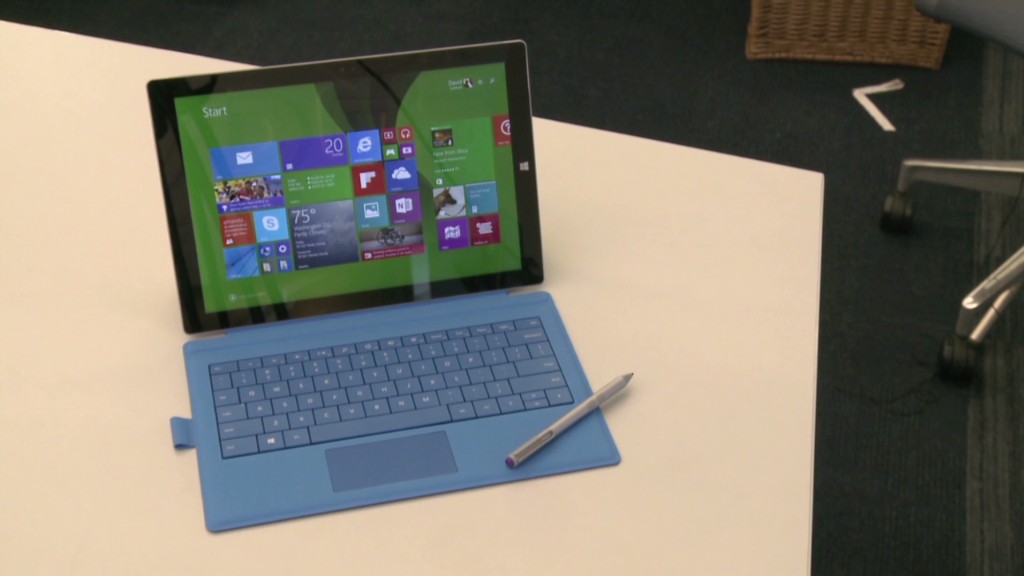 So far, Microsoft has failed to convince many people that its Surface can replace both their PC and their iPad. Will that change with the new Surface Pro 3?
Not yet. But Microsoft (MSFT) is really close.
For the uninitiated, the Surface Pro is a full-fledged PC masquerading as a tablet. Call it a laplet. Or maybe a tabtop? The Surface has several unique features, such as a kickstand, a pen, a gorgeous touchscreen and a super-thin keyboard that doubles as a cover.
The Surface Pro 3, which goes on sale Wednesday for $800, improves upon all of those things that make it special.
Better kickstand and pen
The kickstand now leans just about all the way back, allowing you to write on the screen comfortably or tilt it back to the perfect position when it's on your lap. It's uncomfortable to rest the Surface on your lap while using the keyboard, though -- unless you like a thin, pointy piece of metal digging into your thighs.
The adjustable kickstand does cut down on the ouch-factor from previous Surface versions, but it still wobbles much more than a standard notebook PC would.
Related: Microsoft says the Surface Pro 3 tablet will replace your laptop
The pen is metal -- an upgrade from the junky plastic one Microsoft used to include. It has a button on the top that launches OneNote, and it even comes with a handy fabric holster on the keyboard so it won't get lost. The Surface renders handwriting very realistically, making broader strokes when you bear down on the screen.
The screen and keyboard are improved too ...
The touchscreen is remarkably sharp -- although not quite the Retina quality of Apple's (AAPL) iPad, but close. And at 12 inches, the screen is plenty large, though it features a somewhat odd 3:2 aspect ratio -- which is between an old-school television screen and an HD display. That means HD videos will have black bars on the top and bottom -- but not as much as on the iPad.
The older Surfaces had a 10.6-inch screen with a 16:9 aspect ratio. That was perfect for HD video, but made for cramped quarters when running apps -- and a really strange experience when flipping the tablet vertically to read ebooks.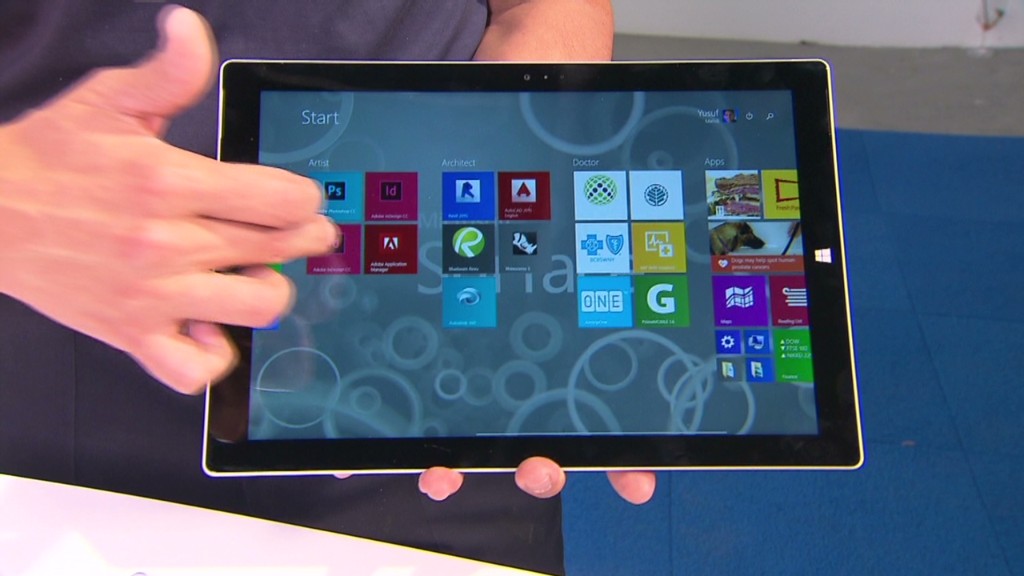 The Surface Pro 3's taller screen is a good compromise. It gives the device more real estate for apps. The black bars when watching video aren't all that noticeable. And flipping it vertically doesn't feel strange.
The Surface's keyboard is also improved. Though it's wafer-thin, typing on Microsoft's "type-pad" with mechanical keys is virtually indistinguishable from typing on a laptop keyboard. The trackpad, which was the single worst part of prior Surfaces, is vastly improved.
Mind you, any usable trackpad would have been an improvement over earlier versions, but the mouse on the Surface Pro 3 is actually plenty large and generally excellent.
Related: China bans Windows 8 from government computers
Also nice: A tiny magnetic strip in the keyboard that attaches to the screen lifts the back of the keyboard up by about an inch, making it feel somewhat sturdier on your lap.
The Surface Pro 3 is also lightning fast, noticeably thin (just about as thick as the original iPad) and light. In fact, it weighs less than even the smallest MacBook Air.
... but it still isn't an iPad replacement
The biggest problem for the new Surface is that Microsoft's Windows app store is still lackluster. There are a handful of top apps but they generally pale in comparison to iPad offerings.
Microsoft thinks the Surface Pro 3 will change the world as we know it, convincing us to ditch our tablets and laptops in favor of this Frankenstein hybrid device.
It does some things really well. But while the Surface Pro 3 may be good enough to be your only laptop, it's not better than the iPad.