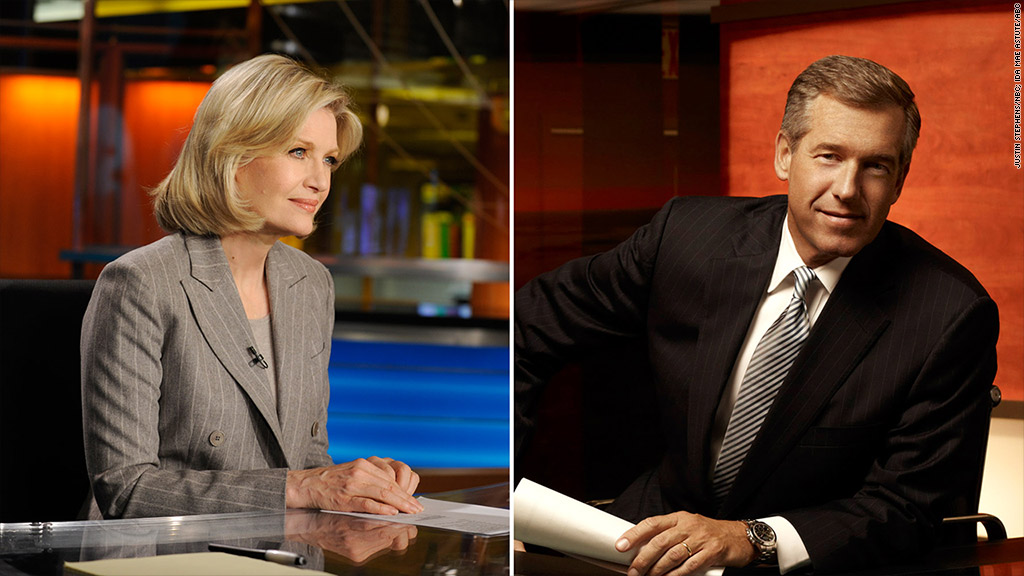 The next time I'm asked about the relevance of the network nightly news, my answer will involve Edward Snowden and Hillary Clinton.
Later this week, NBC will feature Snowden's first television interview since he decided to leak top-secret NSA documents to Glenn Greenwald and other reporters. The questioner is Brian Williams, the anchor of the "NBC Nightly News."
In a couple of weeks, ABC will have Clinton's first interview about her book "Hard Choices." The interviewer is Diane Sawyer, the anchor of "World News."
These are two Q&A's that every television network wanted to have — "big gets" at a time when there are fewer and fewer of them.
Yes, both interviews are being featured in one-hour prime time specials, but both will be spooled out on the nightly news beforehand. And both interviews were won thanks in part to the prominence and credibility of the anchors, which come from the day-in, day-out work of delivering the news.
Williams' interview of Snowden — arguably the biggest television "get" of the year, since Snowden hasn't given a one-on-one interview on camera since last June — will be broadcast on Wednesday night. NBC's promotional machine is ramping up: the network released a photo of the interview last week; showed a few seconds of it, without audio, on Monday's "Nightly News;" and will show the first real snippets from it on Tuesday's newscast.
It's anyone's guess how many people will tune in for the prime time special (NBC canceled Williams' 10 p.m. newsmagazine "Rock Center" last year on account of low ratings). But one can reliably expect that seven to nine million people will see the interview excerpts on "Nightly News," and millions more will see them on the "Today" show and NBCNews.com. For someone like Snowden who wants to persuade the public, this is the path to a mass audience.
The same logic applies to Clinton, who wants to sell many, many copies of her book. (Politico reported this morning that the publisher, Simon & Schuster, is printing one million copies to start.) ABC announced last week that Sawyer's interview will be broadcast on June 9.
The way I see it, both bookings are a testament to the long-lasting importance of the newscasts and the anchors who helm them, rebutting the tired old meme that "Nightly News," "World News" and the "CBS Evening News" are dead or dying.
The three newscasts still cumulatively attract 21 to 25 million people, depending on the time of the year and the topics in the news.
Of course, conventional wisdom holds that the newscasts are inexorably shedding viewers. But this is overstated to the point that it's outright misleading.
In 2013, "an average of 22.6 million viewers tuned into one of the three commercial broadcast news programs on ABC, CBS or NBC, a 2.3% increase over the average viewership for 2012," according to the Pew Research Center's most recent State of the News Media report.
Those are what network executives call "year-over-year ratings." They'd call those ratings good news — a slight uptick in an era when most television institutions are shrinking.
Take a longer-term view, and there's even better news to be had. After decades of year-over-year declines, the three major nightly newscasts are now resting on a proverbial plateau.
Pew has a useful data set here, with the average nightly rating for each newscast going back to 1980. Take a look at the data in five-year increments, and you'll see what I mean.
In the five-year period between 2004 and 2008, the three newscasts all gave up audience. "World News" dropped from a 6.9 rating to a 5.9; "CBS Evening News," from a 5.5 to a 4.3; "NBC Nightly News," from a 7.8 to a 6.1.
But in the five-year period between 2009 and 2013, the ratings have stabilized. While there were some ups and downs, NBC and ABC had the same ratings — 6.0 and 5.5, respectively — in 2013 as in 2009. CBS showed growth, from a 4.2 to a 4.7.
The vast majority of the viewers for these newscasts are AARP-eligible, although that's true for news in general. Right now Williams and Sawyer are battling for first place in the ratings category that both networks covet most, the 25- to 54-year-old demographic. ABC, long accustomed to second place behind NBC at 6:30 p.m., has won for four of the past six weeks.
We'll see if Snowden and Clinton have enough pull to affect the ratings race.
(P.S.: What I'd really like to see: Snowden and Clinton interview each other.)
Also making news today...
• As of this morning, there's still no comment from famously tight-lipped Amazon about its highly public battle with Hachette. The Washington Post, which is owned by Amazon (AMZN) chief executive Jeff Bezos, wrote about the dispute on Friday.
• The Associated Press list of 2013's highest-paid CEOs, produced in conjunction with Equilar, shows six media executives in the top ten: Leslie Moonves of CBS (CBS), Philippe Dauman of Viacom (VIA), Robert Iger of Disney (DIS), David Zaslav of Discovery, Jeffrey Bewkes of CNN parent Time Warner (TWX ), and Brian Roberts of Comcast. (CMCSA)
• ESPN executive chairman George Bodenheimer is leaving the company at the end of this week.