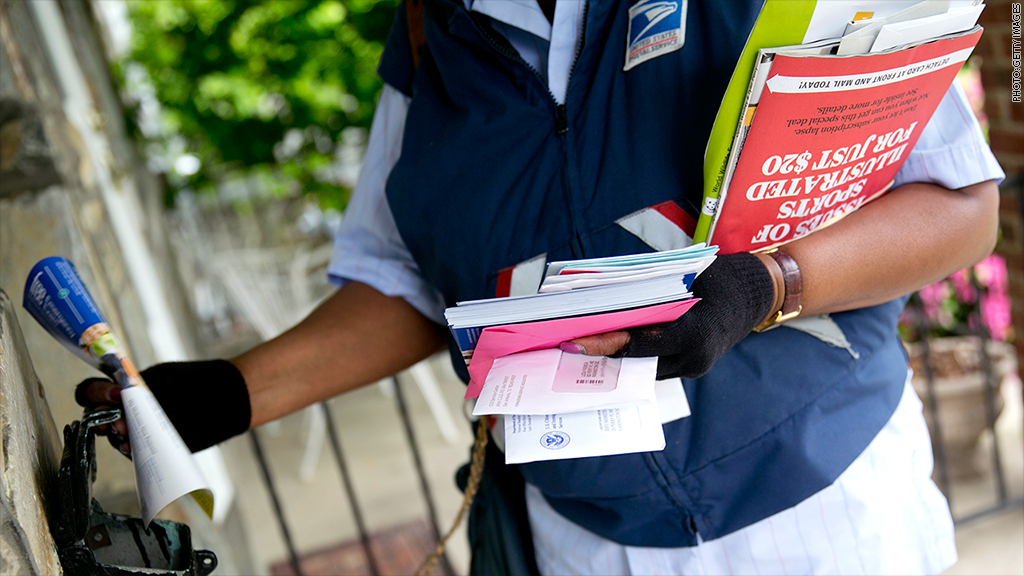 Mail delivery to the door could become a thing of the past for many.
Currently, 37 million American homes and businesses get mail delivered at the doors. Now, about 15 million of them are at risk of losing home delivery, if House Republicans have their way. It will only affect homes that get deliveries at mailboxes or mail slots at the door, not those that have a mailbox at the end of their driveways.
Already, the U.S. Postal Service has been moving residents and businesses away from doorstep deliveries to cheaper options.
Last year, the postal service stopped giving new housing developments the choice of at-home delivery and instead gave them mail boxes clustered in a common area, where residents could collect their mail.
Related: Worst cities for postal worker dog bites
The agency has also been trying to end door delivery for companies and get them to collect mail from similar cluster mailboxes, said postal spokeswoman Sue Brennan.
However, the postal service can't unilaterally change how it delivers mail for homeowners who are already getting it at their door, unless there's a problem, such as a dog biting a postal worker or a route is deemed unsafe for other reasons.
But Congress can give the agency broader power to reduce such deliveries. Republicans want to do just that -- a House panel passed a bill last week that will end delivery to 15 million doorsteps and companies gradually over the next 10 years.
Even though President Obama has endorsed a similar idea, the bill's fate is uncertain because it may not have support in the Senate.
Related: Amazon expands Sunday deliveries
Delivering mail is the agency's largest fixed cost -- $30 billion. Ending all door deliveries would save $4.5 billion a year. That's more than the agency would save from ending Saturday mail service, according to government reports.
Ending door deliveries is also controversial because postal letter carriers could have their hours cut, be forced into retirement or even laid off.
That's a big reason why unions are no fans of these moves to cheaper delivery. The National Association of Letter Carriers said this week the House bill degrades the quality of mail service and will push customers away.
Unions oppose most efforts to cut mail service, saying the agency should focus on attracting more customers not turning off more people.