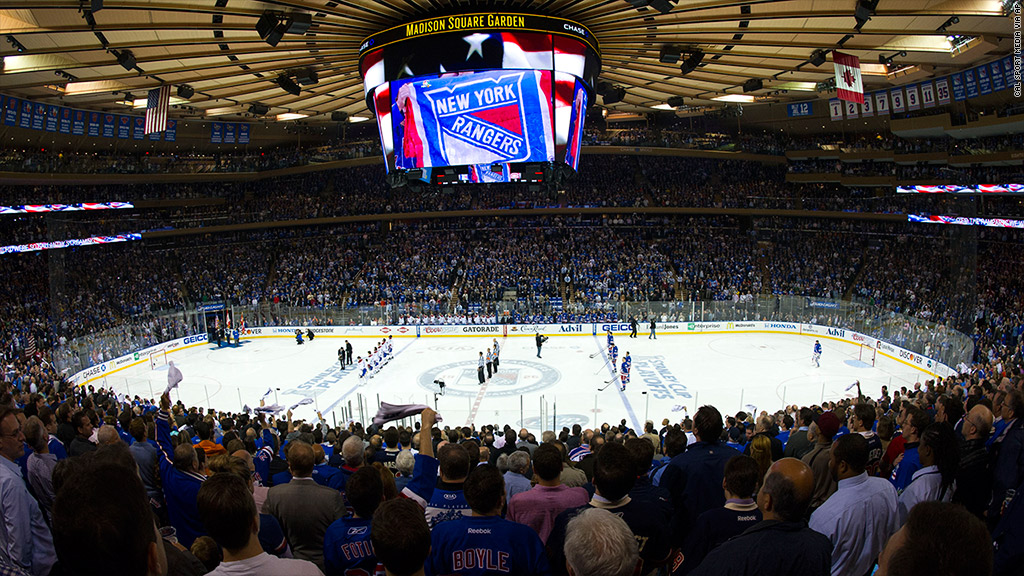 For Madison Square Garden investors, credit this score to Steve Ballmer with a huge assist from Henrik Lundqvist.
Shares of MSG (MSG) -- the owner of the New York Knicks and Rangers -- popped as much as 4% on Friday in the wake of Ballmer's bid to buy the Los Angeles Clippers and the Rangers' first appearance in the Stanley Cup Finals in two decades.
While some in the sports world are scratching their heads at the $2 billion price tag on the once-lowly L.A. Clippers, MSG shareholders are only salivating.
"It's a staggering amount of money," said John Tinker, senior media and Internet analyst at Maxim Group. "Seriously, who could have thought the Clippers would be worth $2 billion?"
But if the Clippers, the former doormats of the NBA and perennial second fiddle to the Lakers, are worth that much, then surely that means good things for the Knicks. The New York franchise is believed to be the most valuable in the entire NBA, despite its on-the-court struggles.
Related: Steve Ballmer will ruin the 'Clippies'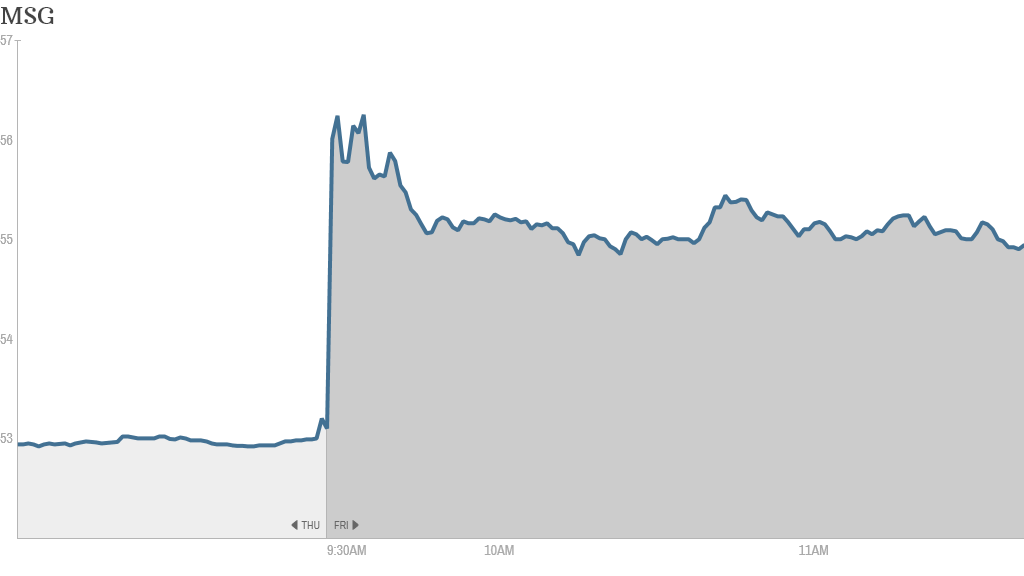 MSG investors are also smiling about the other tenant of Madison Square Garden: the Rangers.
The team's 1-0 shutout of the Montreal Canadians on Thursday night means the Rangers will compete for their first championship since 1994 and host as many as three additional playoff games.
Financially, that translates to extra cash flow from higher ticket revenue and merchandise sales.
More importantly, a championship could do wonders for the hockey club's brand and drive revenue and valuations for years to come.
The timing couldn't be better for MSG, which just finished a $1 billion transformation of the iconic Madison Square Garden that features giant new video screens and bridges built over the playing surface.
Related: Salesforce is the L.A. Clippers of software
Of course, even when accounting for MSG's rally on Friday, the stock is off about 5% in 2014 and 7% over the past year.
That's because investors remain frustrated over the sports and media company's unwillingness to buy back stock. MSG, which carries no debt and was spun off from Cablevision (CVC) in 2010, is controlled by the notoriously difficult Dolan family.
Tinker, who recently downgraded the stock to "neutral," said investors traditionally slap a "Dolan discount" on MSG and Cablevision shares.
"Why aren't they leveraging up and buying back some stock?" asks Tinker.
Maybe Ballmer's latest buy will clip that reluctance.