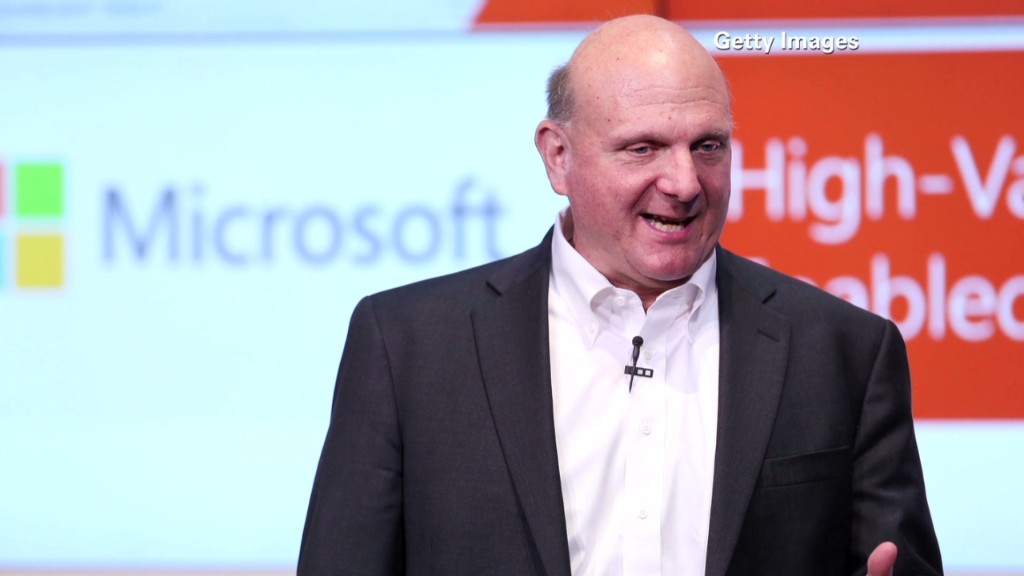 Steve Ballmer's $2 billion deal to buy the Los Angeles Clippers dwarfs the previous $550 million record price for an NBA team the way a basketball center towers over a jockey.
But it's not quite as crazy as it seems, even if it's a purchase driven in no small part by the glamor of being a team owner.
That's because Ballmer's timing to spend that kind of money for the team couldn't be better.
The team is poised to see a huge jump in television dollars in just a few years. And those sports rights deals are likely to further lift team valuations in coming years, as advertisers scramble to find programing that viewers won't watch days after it originally airs.
Related: Steve Ballmer will ruin the 'Clippies'
"Every buy, in any business, to a certain extent is a vanity buy," said Sal Galatioto, an investment banker who handles the sale of sports teams, but was not involved in this one. He thinks the deal will be work out well for Ballmer.
"The asset appreciation in the sports world has been excellent," Galtioto said. "Media content value is continuing to go up. And it's something he'll have fun with."
Ballmer, worth an estimated $20 billion, doesn't have to worry about covering debt service on his purchase. And he has a chance of making a better return than the $55 million in dividend payments that he would be getting on $2 billion worth of Microsoft (MSFT) stock.
Related: Ballmer now Microsoft's largest shareholder
The team's current local television rights deal that runs through the 2015-16 season pays about $20 million a year. It was negotiated in the midst of a recession in 2009, when the team was still a joke on the court and playing before empty seats many nights.
But the Clippers' on-court performance has improved, led by superstars Blake Griffin and Chris Paul. The team has sold out every game since early 2011 and its ratings are significantly higher.
Related: Ballmer buys Clippers for $2 billion
Perhaps more importantly, Los Angeles now has several competing regional sports networks, owned by Fox (FOX), Time Warner Cable (TWC) and the Los Angeles Dodgers. And because all of them are scrambling to lock up games to broadcast, experts estimate the next deal's rights could jump to $75 million to $80 million a year.
"The timing is terrific for a new owner to come in," said Lee Berke, CEO of LHB Sports Entertainment and Media, a consulting firm. "You're entering into a seller's market. and you have a chance to profit on that momentum."
The NBA's national TV deal, which pays each team about $30 million a year, also ends after the 2015-16 season, and the annual payout could double as well, said Berke.
But even if the team's annual profit quadruples to $60 million because of all the new TV money, it'll take more than three decades for Ballmer to make back the purchase price. So the real payout will come whenever he, or his heirs, decide to sell the team at some point that's likely well in the future.
"My guess is that he would be able to make a higher rate of return if he invested it elsewhere," said a Patrick Rishe, a professor of sports business at Webster University. "But this is not about dollars and cents. He's doing this because he wants to be part of this exclusive club. Why not invest in something he's passionate about?"