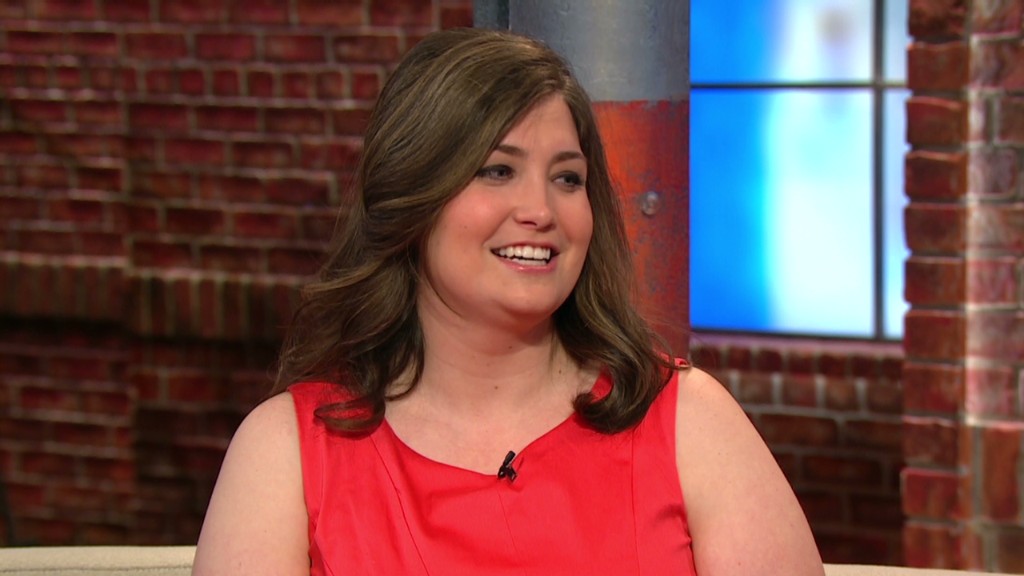 As Julia Collins walked off the "Jeopardy!" stage on Friday, the song "Girl on Fire" by Alicia Keys filled the set.
"When I say I love everything about being on 'Jeopardy!', this moment was high on the list!" Collins tweeted after her 20th consecutive win on the show.
Collins has the second longest winning streak in the show's history. She trails only Ken Jennings, "Jeopardy's" grand master who won 74 straight non-tournament games a decade ago.
Her total winnings stretched above a whopping $428,100. She lost Monday night, her attempt at at 21st consecutive win.
"I don't regret anything," she told CNNMoney about the game she lost. "I didn't know the final Jeopardy question."
While Collins says literature is her favorite trivia category, the question that ultimately stumped her was about John Irving and "The Cider House Rules." The clue was, "The New England writer who in 1999 became the last person to win an Oscar for adapting his own novel as a screenplay."
Related: Play Jeopardy with champ Julia Collins
CNNMoney was one of the first major media outlets to interview her last month after she won 10 games, putting her an already exclusive club and breaking the record for most wins by a female player (the prior record was seven).
Collins plans to invest a good amount of her prize money. She isn't ready to buy a house yet and is fortunate to have paid off her student loans from Wellesley College and MIT.
"Jeopardy!" doesn't pay winners until about four months after their shows air.
"Having this big windfall isn't something I've ever expected to have," the 31-year-old said.
She is keen to learn more about investing and jokes that she knew the question that came up on the show about managerial accounting. Collins majored in art and history -- two subjects that prepared her well for the show -- and went on to build a career in supply chain management and consulting.
In the midst of a career transition, she says she has received several job offers. Being Jeopardy champ and having host Alex Trebek's touts for employers to hire her certainly helped.
Related: Meet Julia Collins, Jeopardy's top female champ
Fans have taken to her humility. She tweets from @JeopardyJulia as her shows are live, often trying to explain to people why she didn't know a seemingly easy answer.
"Alex's tip: 'This was easy if you remember what a bromeliad looks like.' Yeah... 'remember'" she tweeted about a hard Final Jeopardy question on Thursday.
She was too busy doing interviews to tweet during her final show appearance on Monday, but she sent a big thank you to her more than 9,000 Twitter fans.
Her style is very different from that of Arthur Chu, who won 11 games earlier this year and generated a lot of media attention for his controversial "game theory" tactics where he would jump around the game board and bet odd amounts on Double Jeopardy questions.
Chu has congratulated Collins on Twitter many times, calling himself part of "Team Julia."
"The days of men ruling Jeopardy are over," Chu wrote on Friday.
Ken Jennings has also spoken out on Collins' phenomenal run.
"It's been 10 years and nobody has passed 20 [games]. I feel like it can be done, but the odds are against me even doing it," Jennings said last week.
Related: CNN quiz: How well do you know Jeopardy?
It's likely Collins will face off against Chu in Jeopardy's Tournament of Champions, set to take place later this year (she hasn't received the dates yet).
"Playing Julia was in a word, tough. There were times when I was sure I was in first, but Alex called her name," says Lara Brenckle of Carlisle, Pennsylvania, who competed against Collins on May 21. All three contestants were women in that episode.
Collins says her goal was only to get on the show and win one game. She had actually tried out years earlier but didn't get called.
"The only board game I've ever been good at is Trivial Pursuit," she says. "Sure, I'm good for a girl. I am a good player overall. I am good at this game."
Her eighth grade yearbook predicted, "Julia Collins will be the 'Ten Time Jeopardy Champion' winning each tournament twice."