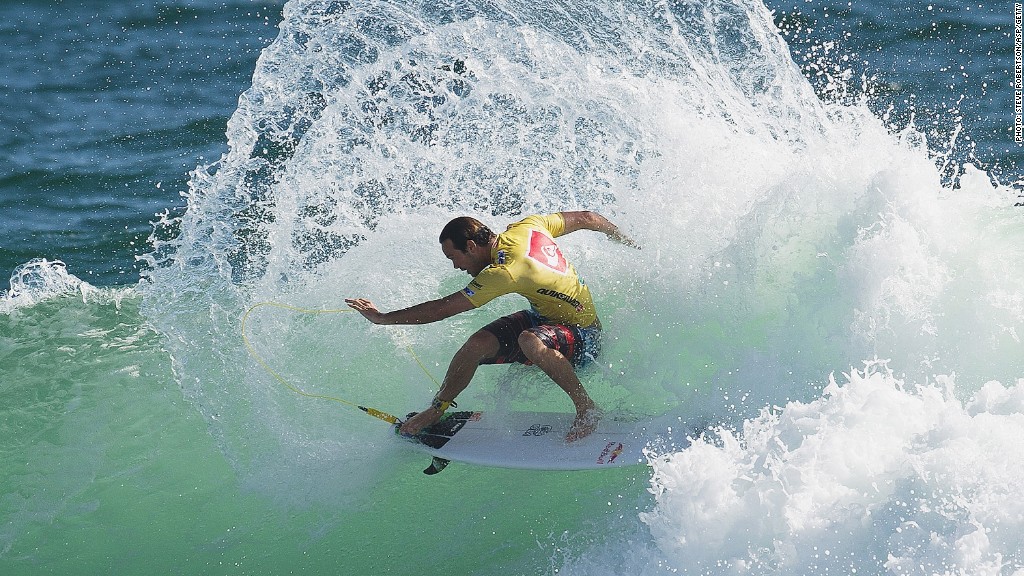 A tsunami of selling hit Quiksilver on Tuesday.
Shares of the surfing and skateboarding apparel maker plummeted 41% after it revealed far more red ink than investors had expected.
Quiksilver's (ZQK) second quarter was ruined by deteriorating wholesale revenue as the company struggles to keep persistently cost-conscious consumers from jumping ship.
"It doesn't matter if it's high-end department stores like Macy's (M) or a mom-and-pop soft retailer. [Consumers] are very price aware. They're looking for promotions and for price," Quiksilver CEO Andy Mooney told analysts during a conference call Monday evening.
The problem is that Quiksilver relies on those crumbling wholesale orders for up to 70% of its sales. Wholesales revenue slumped 15% during the second quarter to $286 million.
Sales at the company's own shops or websites actually increased last quarter, but they aren't nearly large enough to offset the damage.
Related: Why you don't feel recovered from the Great Recession
Investors were clearly spooked by the developments, driving Quiksilver shares to depths unseen since October 2012. Overnight the company's roughly $1 billion market valuation shrank to just over $500 million.
Quiksilver's intraday low of $3.13 on Tuesday represents a 66% nosedive from its 52-week high of $9.29 from November.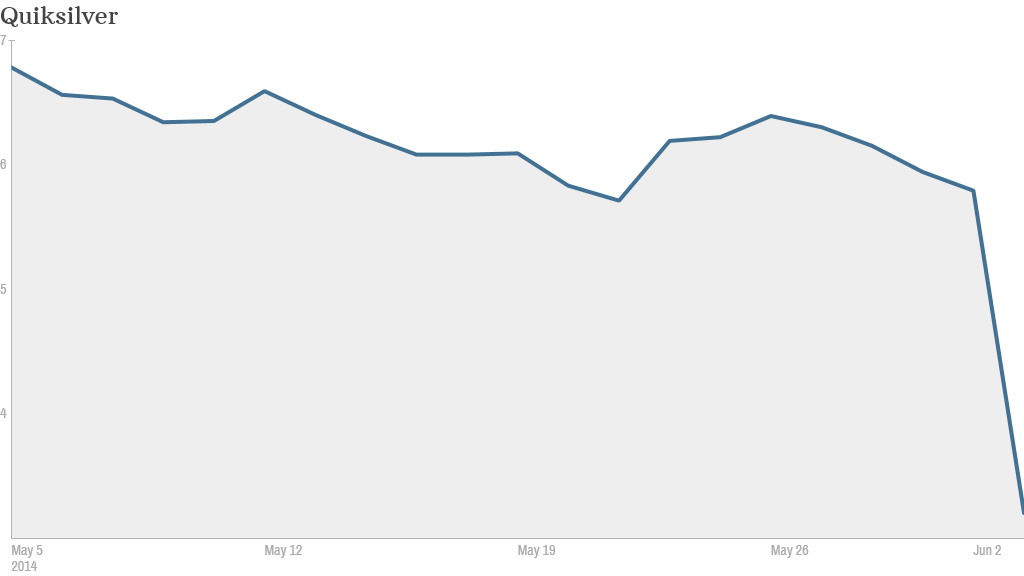 Analysts at Stifel Nicolaus downgraded Quiksilver to "hold" from "buy" and removed their $7 price target. In a note to clients, analysts at Stifel Nicolaus concluded their abandoned bullish thesis on Quiksilver has been "busted" by the "severe compression" in the company's wholesale revenue.
Quiksilver's wholesale headache has been caused in part by a 20% reduction in its smaller accounts in the U.S. over the past year alone.
Mooney also pointed to "weak economies" in Europe that have pressured smaller retailers and sparked high youth unemployment.
Related: Why hasn't Main Street recovered like Wall Street?
Mooney said a pair of boardshorts may sell at a specialty surfshop for $60, but a variation at H&M could fetch just $20.
"That is a significant chasm," he said. "We don't intend to be at $20, but we probably have to be much less than $60."
Stifel analyst Jim Duffy criticized that pricing strategy as "short-term focused and likely to prove to be brand dilutive."
While the power of Quiksilver's brands could make the company a candidate for a takeover, Duffy said this is "unlikely until sales stabilize" and the outlook for earnings improves.
That means Quiksilver investors should brace for more rough rides ahead.