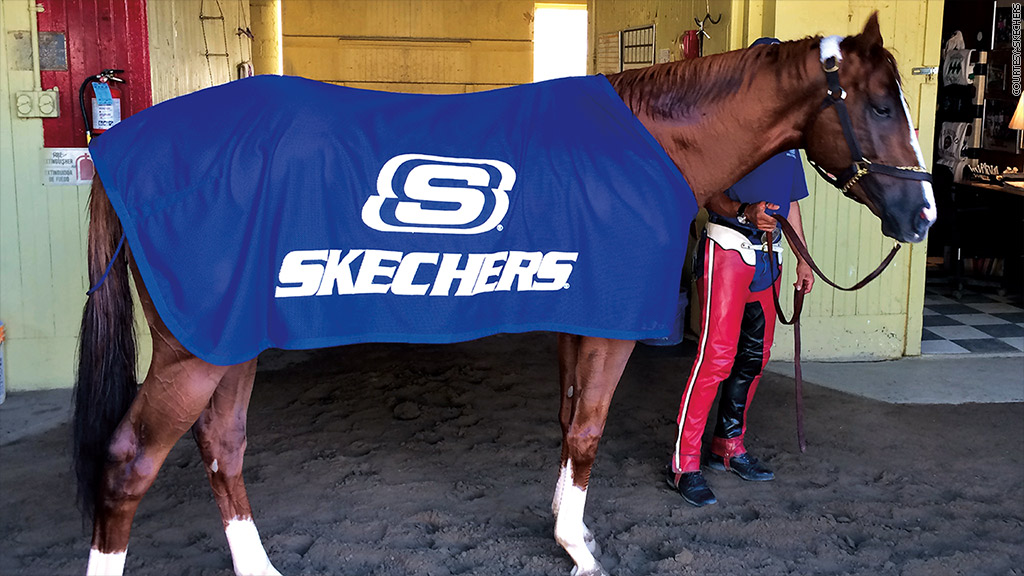 Skechers USA is placing a big bet on California Chrome by sponsoring the horse at the Belmont Stakes.
The chestnut colt named California Chrome does not wear shoes, at least not the kind made by Skechers. But Chief Executive Officer Robert Greenberg insisted that the sponsorship is a "perfect" fit.
Related: Three things to know about the Triple Crown
"Skechers is a California brand, so sponsoring this horse with his uniquely California story makes perfect sense to us," said Greenberg in a press release. "We're proud to associate Skechers with the best Triple Crown contender in several generations."
Related: California Chrome, the multi-million dollar stud
California Chrome will compete at Belmont on Long Island, NY, on Saturday. He has already won the Kentucky Derby and the Preakness. If he wins the Belmont Stakes, he will be the first Triple Crown winner in 36 years.
Skechers (SKX) spokeswoman Jennifer Clay said the horse will wear the brand logo on his fly blanket. His trainers, jockeys and owners will also wear the logo. She would not disclose the financial terms of the deal.
Related: Why the Kentucky Derby is good for the economy
Skechers is no stranger to the racetrack, but last time it was with dogs, not horses. The company's 2012 Super Bowl spot starred a French bulldog named Mr. Quiggly, who outpaced his greyhound opponents by wearing two pairs of Skechers shoes, allowing him to moonwalk across the finish line.