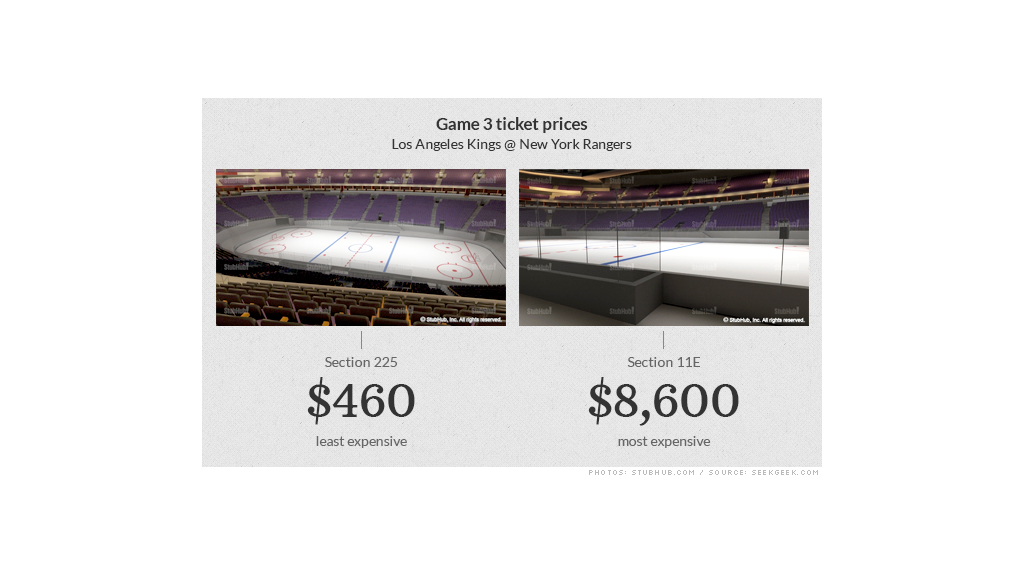 Hockey is nowhere near as popular as pro football in the U.S. But love for the New York Rangers -- and 20 years of frustration -- have sent ticket resale prices for this year's Stanley Cup Playoffs into Super Bowl territory.
For game three against the Los Angeles Kings, which will be the first game held at Manhattan's Madison Square Garden in the best-of-seven series, the average ticket resale price is $2,363, according to TiqIQ.com, which tracks ticket prices.
The most expensive ticket on SeatGeek costs $8,600, marked up from its $2,490 initial price.
That compares to the Super Bowl, for which a single resale ticket often begins at $2,500. Ranger tickets could easily become the most expensive for a Stanley Cup in the last five years, according to resale aggregator SeatGeek.com.
Steve Link, a 19-year-old "die-hard" Rangers fan who has never seen the team win a championship, said he's upset.
"It's absolutely, positively ridiculous," Link said. "I'm not going to spend my life savings to go to one game."
It's the fact that the Rangers' last Stanley Cup win was in 1994 that's driving prices, according to Will Flaherty, director of communications for SeatGeek.com. "It does start to take on this once-in-a-lifetime, we-don't-know-when-we're-going-to-be-back mentality," he said.
He said that these are the most expensive opening games of a hockey final since SeatGeek started tracking tickets in the 2009-2010 season, exceeding games one and two of the Vancouver Canucks-Boston Bruins series in 2011, which went for $858.
Meanwhile, Angelinos are getting a bargain. Tickets to game one, which will be played Wednesday at the Staples Center, are averaging $979 on TiqIQ. Of course, the Kings are just two years removed from the last time they hoisted the trophy.
The Madison Square Garden resale prices are so high that New York fans could grab a $500 round-trip flight to Los Angeles on Kayak.com, book a $140 per night room at the Crowne Plaza near the Staples Center, watch the game live -- and still save a couple hundred bucks.
Related story: The high cost of being a football fan
Alison Salcedo, head of U.S. communications for StubHub!, which connects ticket buyers and sellers, said that if one team establishes momentum in the first two games, fans might pay much more to attend games three and four on the possibility that they could see a sweep in the best-of-seven series. Along with game three, games four and six will be played in New York.
Should the teams make it to game six, prices could soar -- especially if the Rangers are leading the series three wins to two, according to Chris Matcovich, a spokesman for TiqIQ. He said ticket prices could be starting as high as $7,500 the day before.
"You're gonna see pretty ridiculous prices," Matcovich said.
Whatever the prices, Salcedo thinks fans will buy.
"If you're a diehard fan of either team that's in a series, you want to be there no matter what," she said.