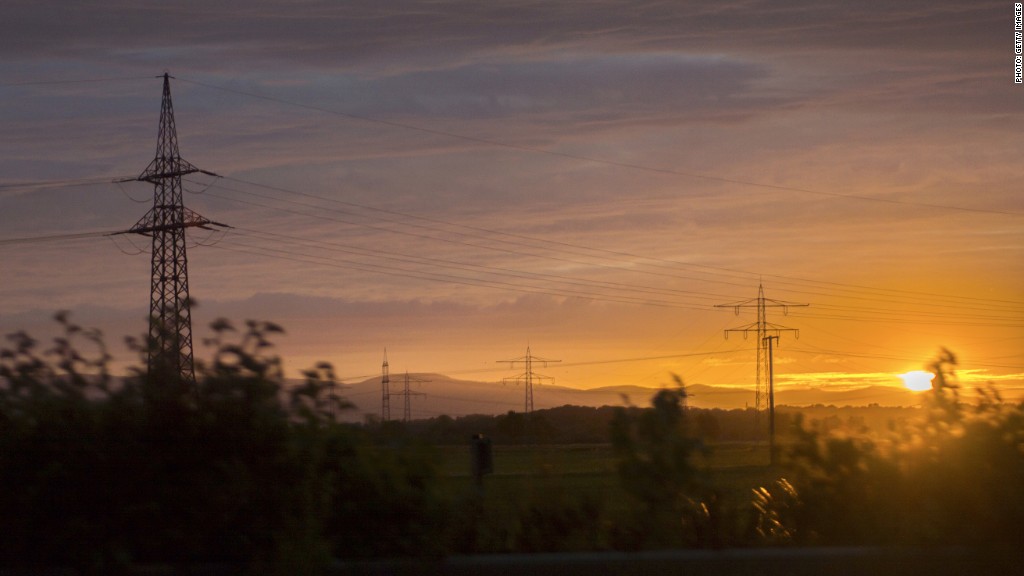 The lights could be going out across Europe unless it finds a way to stimulate massive new investment in energy infrastructure.
That's the stark warning contained in a new study by the International Energy Agency, which monitors global supply trends for 29 of the world's richest nations.
Europe needs to spend $2 trillion developing its power industry over the next 20 years, and fix its broken energy markets.
"If this situation persists, the reliability of European electricity supply will be put at risk," the IEA said in its World Energy Investment Outlook, the first report of its kind in more than a decade.
About 100 gigawatts of new thermal power generation capacity -- roughly equivalent to 10% of Europe's existing capacity -- needs to be built over the next 10 years alone.
To do that, governments must find a way of giving private investors more of an incentive to commit capital. But wholesale prices are at least 20% too low, according to the IEA, and politicians are feeling the heat from consumers over escalating power bills.
Related: Europe, Ukraine avoid gas disaster (for now)
The opposition Labour Party in the U.K. has pledged to freeze gas and electricity bills until 2017 if it wins next year's election. In Bulgaria, the government was forced to resign just over a year ago when massive protests over the soaring cost of power morphed into a wider movement against austerity.
Europe isn't alone in needing to raise its game.
The IEA said some emerging markets were also failing to keep pace with projected growth in demand. India, for example, will have to spend $1.5 trillion over the next 20 years.