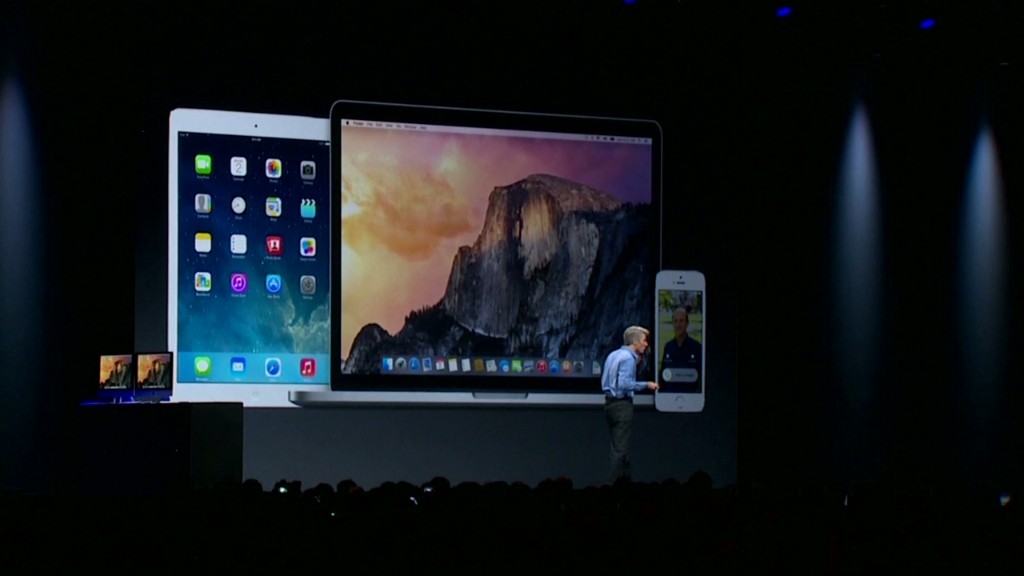 Rejoice, iPhone, iPad and Mac users! Apple unveiled some truly impressive new features at its Worldwide Developers Conference on Monday. They'll be available in the fall.
Relax, Android and Windows users! Your gadgets already have almost all of those capabilities.
As an Android and Windows customer, I watched this year's WWDC presentation with an open mind. I was admittedly jealous of some of iOS 8's new group messaging features. The Mac OS X Yosemite tool that automatically recognizes your iPhone and turns it into a hot spot was nifty. And although there are already many apps like HealthKit, Apple (AAPL) seems to have a winner on its hands.
But I also had to chuckle a bit (okay, a lot) when the crowd went wild for features I've literally been using for years. That's why I'm still sticking with Android and Windows.
Calling from a PC. In one of the most dramatic moments of Apple's presentation, chief software engineer Craig Federighi called new Apple employee Dr. Dre using his Mac.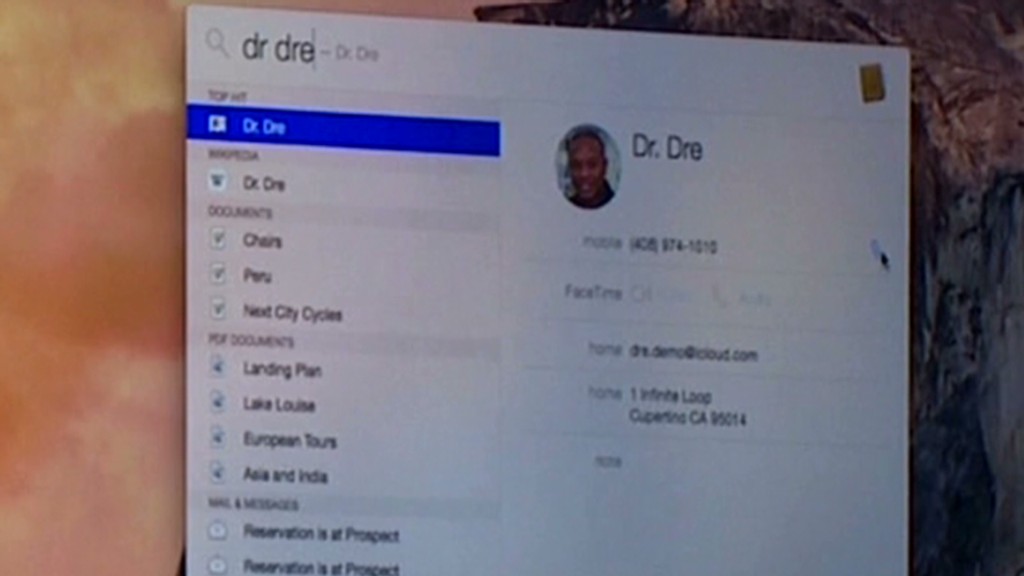 Google (GOOGL) unveiled that feature in 2010, allowing Google Voice users to call on their PCs using Gmail.
Macs will also soon be able to sync text messages with your iPhone. My Moto X already does that on my Chrome browser.
Related: Why I broke up with Apple
Widgets. Apple finally added widgets, a feature Android has had since 2008. Widgets allow apps to display things like weather and sports scores at a glance -- without having to open your app.
But unlike Android widgets that you can place on your home screen, Apple only allows you to view widgets in the pull-down navigation menu. Meanwhile, iOS 8 home screen apps are still pretty dumb, only displaying numbers of updates. Oy.
Similarly, the new iOS 8 will also let users double tap the home button to access frequent contacts. Android widgets do the exact same thing -- and you don't have to double tap anything. You can just place Android contact widgets on the home screen.
Notifications. Apple might as well have been talking about Android when it unveiled its new interactive notifications, with the ability to like a Facebook update or flick away a notification you don't care about. Android works exactly the same way. And when I say "exactly," I mean exactly -- you pull down from the top of the screen, flick away notifications you don't want and interact with the ones you do.
Related: Apple unveils iOS 8 and OS X Yosemite
The one difference is if you're using your phone when the notification comes in. In that case, Android makes you pull down the notification tray to respond -- Apple lets you do it right at the top of the screen. Score one for Apple. (Are you taking notes, Larry and Sergei?).
Sync. By integrating iCloud and the photos app, Apple now lets you view all your backed-up photos in the same stream as the photos on your iPhone or iPad. You know, just like Android and Google+ (sorry, you probably don't know, since no one uses Google+ even if they are signed up for it).
Mac OS X will also sync all of your folders across all of your devices. That sounds a lot like Microsoft's OneDrive, Google Drive or Dropbox.
And Apple's iCloud isn't nearly as good a deal as Google Drive. Apple will charge $1 per month for 20 gigabytes of iCloud storage and $4 for 200 GB. Google Drive charges $2 per month for 100 GB and $10 for 1 terabyte (1,000 GB).
Search. Mac OS X Yosemite's new Spotlight feature lets you launch apps, search your PC and the Internet via Microsoft (MSFT) Bing. To launch it, you hit Command-Space and then start typing. But you can already do that in Windows 8 ... just by typing. Sorry, Apple. Microsoft still has you beat here.
And the list goes on... Third-party keyboards? Android has that. Translucent windows? That's been around since Windows Vista. And Apple's big HomeKit announcement that enables people to control all the items in their homes with the iPad or iPhone? Google, Qualcomm (QCOM), Intel (INTC), Microsoft and AT&T (T) all have tried and failed to launch connected home services. If HomeKit actually succeeds, it will be a first.
So Apple and CEO Tim Cook continue to play a game of catch up to its competitors. When Siri lets you to leave early for your meeting because there's bad traffic, or when Macs start sporting touch screens, maybe my ears will perk up more.
Sorry, Tim. I don't need a better experience, and I like my life just the way it is -- with Android in my pocket and Windows on my desktop.