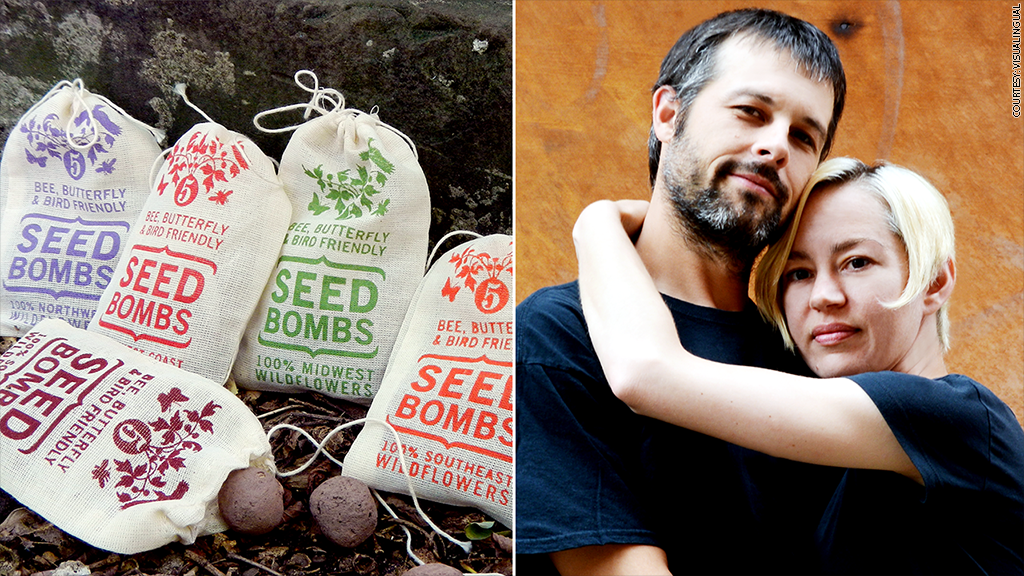 Maya Drozdz and Michael Stout never planned to start a business.
In 2009, the Cincinnati-based graphic designers started making seed bombs, compact balls of soil and native plant seeds that could be launched into open spaces to create pop-up gardens, and giving them as gifts.
Their creations turned out so well that Drozdz, who was between jobs, contacted some local shops to see if they were interested in carrying the product. To her surprise, retailers started placing orders.
"Suddenly, on a tiny scale, it was a real product," she recalls.
They named their business VisuaLingual and started selling to a handful of stores in Cincinnati and through an Etsy shop. As demand grew, so did the realization that the couple (who've been together for 13 years) lacked the knowledge to operate a business.
Related: Hot businesses to start now
Drozdz stopped looking for work and signed up for workshops on how to run a business.
Their original mixture was made with seeds native to the Midwest, but customers from other regions of the country were placing orders. Not only was there a risk the seeds wouldn't germinate, it was also possible that Drozdz and Stout were breaking the law. (The USDA has regulations about shipping certain seeds to certain states because they could be considered noxious weeds.)
So the couple came up with regional seed bombs that were native to different parts of the country. They now offer seven regional mixes with different seed varieties. Seeds like Texas bluebonnet and Chinese forget-me-not are exclusive to the Southeast, while the West Coast mix has Rocky Mountain penstemon and tidy tips.
While the learning curve was steep, Drozdz believes that starting a business without a plan worked in their favor.
"I'm not sure we would have had the gall to start a business and pursue this crazy, esoteric idea," she says.
Related: For entrepreneurs, cycling is the new golf
Within a year, Drozdz and Stout went from making a few dozen seed bombs at their dining room table to renting a space, hiring staff and ramping up production. Three years after launch, Stout left graphic design to work at VisuaLingual full-time.
Instead of borrowing capital to build the business, they opted to let revenue fuel growth.
"We haven't expanded as quickly as we could have, but we feel like we've achieved growth that is sustainable," Drozdz says. "Growing slowly has also allowed us to learn as we go."
A big part of their focus is keeping manufacturing local. They considered outsourcing to meet the growing demand but quickly changed their minds.
"We realized the quality and consistency weren't guaranteed," Drozdz explains.
Their products are manufactured by hand in an old firehouse in Cincinnati where Drozdz, Stout and two employees make up to 7,500 seed bombs per day.
Related: Halal butcher promises 'honest to God' burgers
Over the last five years, their product line has grown to include culinary seed bombs filled with herb seeds and a line of screen-printed home and outdoor products.
In 2013, VisuaLingual shipped 30,000 seed bombs to more than 120 stores nationwide, including Anthropologie, Restoration Hardware and Williams-Sonoma. Their average growth rate has exceeded 56% over the past three years.
A combination of retail accounts, online sales and special orders (the option to customize the packaging makes seed bombs popular as corporate swag and wedding favors) keeps the small team hopping -- a fact Drozdz is conflicted about.
"While we love the whole seed bomb thing, we don't want it to define us," she says. "Right now, it keeps us so busy that we don't devote as much time to new product development as we'd like."
But working together on the seed and soil mixtures gives Drozdz and Stout a lot of time to plan for the future of their business.
"We're always thinking about how we can turn our passions into new products," she says.
Correction: An earlier version of this story said the seed bomb packages are sewn in house. This is not the case.