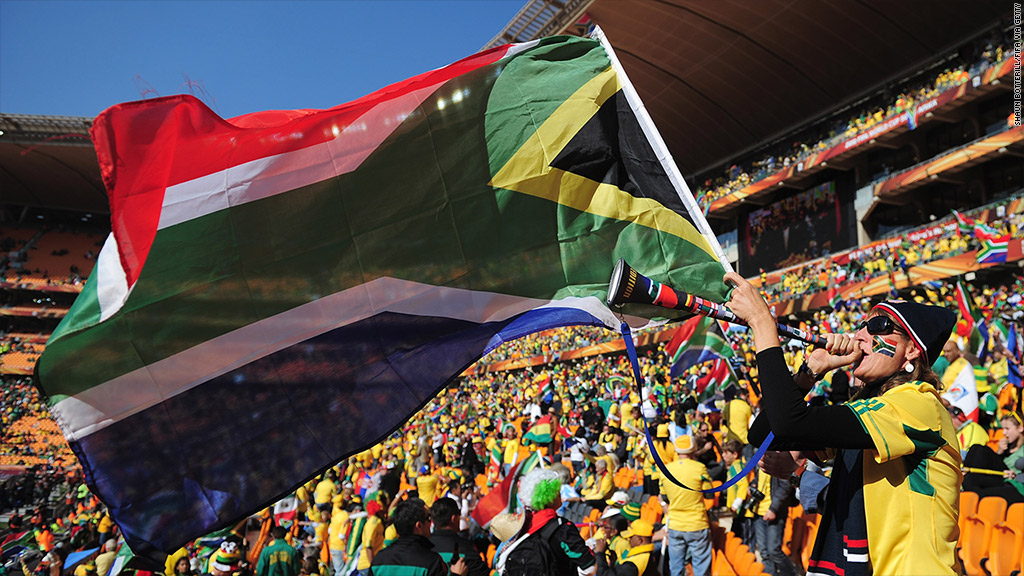 As the soccer world descends on Brazil for the 2014 World Cup this week, disillusionment over the last tournament still lingers in South Africa.
The 2010 World Cup boosted tourism and national pride, but it's clear the economic benefits failed to live up to the hype and came at a very high price. Many now see Africa's first ever World Cup as a squandered opportunity.
"There's certainly been a benefit -- but at what cost?" said Johan Fourie, an economics professor at Stellenbosch University in South Africa.
There is ample research that suggests the impact of pricey sporting events tends to be brief and limited for host countries, with few exceptions such as the 2000 Summer Olympics in Sydney. The 2010 World Cup did little to disrupt that notion.
Related: Why cities do NOT want to host the Olympics
Pricey tourism lure: According to estimates, South Africa shelled out about $3.9 billion on the 2010 games, including $1.3 billion in stadium construction costs alone.
It's notoriously difficult to determine just how beneficial major sporting events are on local economies, but one key ingredient is the ability to attract rich tourists from other countries.
Related: Meet the World Cup's 10 biggest stars
One research paper published in the Journal of African Economies calculates that South Africa attracted about 220,000 extra tourists from countries outside southern Africa during the 2010 World Cup and 300,000 over the entire year.
That's means the country spent a whopping $13,000 per visitor, the paper said.
The researchers concluded that hosting mega sports events is a "potentially successful yet hugely expensive strategy to develop tourism in developing countries."
Still, Fourie said South Africa has seen a spike in tourism in the years since the World Cup, especially visitors from Latin American soccer hot spots like Argentina and Brazil.
Revamped infrastructure remains: Of course, hosting major sporting events is about more than just driving tourism.
Some of the money spent on the 2010 World Cup went into infrastructure projects aimed at meeting demand for the games, increasing foreign investment and improving the lives of South Africans.
That includes a state-of-the-art rail system, renovations to major airports and highway improvements.
Related: Americans finally want World Cup tickets
"It's all because of the World Cup," said Fourie. "The World Cup is very good at creating a deadline for infrastructure spending that might have occurred but only in the medium to long term."
Mark Clark, a business professor at American University, said South Africa has not been able to attract as much business investment as it hoped.
"While some measures there were a success, South Africa doesn't seem to have leveraged the World Cup to the extent they could have," said Clark, who pointed to underutilized infrastructure like stadiums without anchor tenants.
The pride factor: Despite the difficulty of translating major events into sustainable economic growth, countries continue to vie for the right to host spectacles like the World Cup and Olympics. That may be partially due to less visible benefits like generating national pride and improving a country's standing in the world.
"I loved being there during the World Cup as South Africans came together and were proud. You could feel the excitement," said Mike Diamondis, who was born in South Africa and currently lives and works in Angola.
Related: Sex motels get busy for Brazil World Cup
And yet South Africa's economy has not been able to overcome its structural problems -- before or after the World Cup -- including income inequality that has triggered labor strikes in the country's big mining sector.
While its stock market has nearly doubled since June 2010, South Africa's GDP has slowed and even slipped into negative territory during the first quarter of this year.
The World Cup "created a wave and an opportunity for us to capitalize on," said Diamondis. "Over the years I believe we lost the momentum. We just went back to being a nation dealing with so many problems, and we haven't found solutions yet, even if the World Cup did bring some excitement."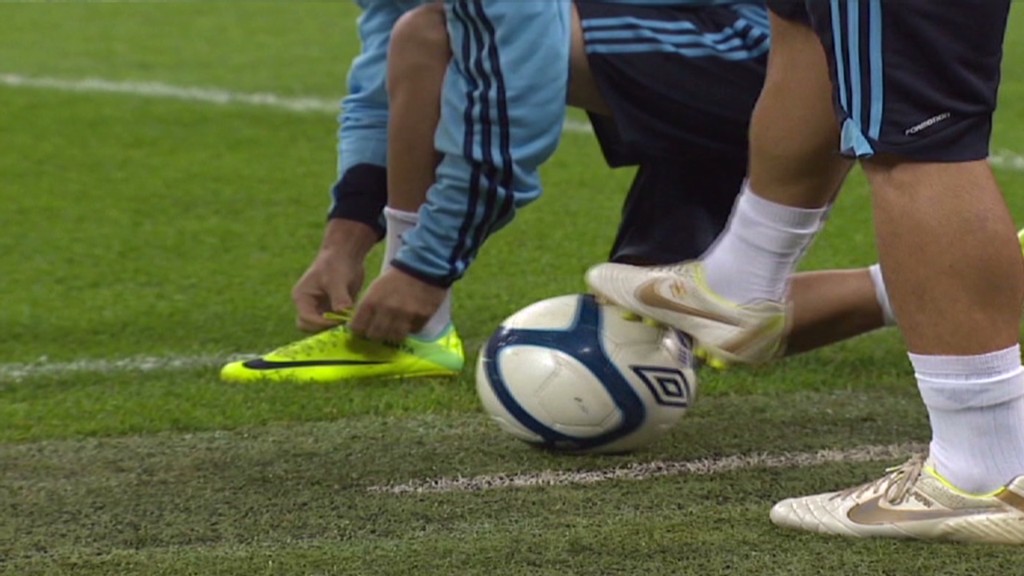 It could have been worse: It may be little comfort to South Africans, but the country was able to avoid many of the negative outcomes that some worried would occur.
The World Cup itself largely went off without a hitch. All stadiums were completed on time, social unrest didn't disrupt any games, and there was no violence or terrorist attack that would have spooked potential investors and tourists watching on TV.
While growth has slowed down, South Africa's economy isn't dealing with asset or credit bubbles that have followed similar mega events.
"That was a real fear at the time," said Ludovic Subran, chief economist at Euler Hermes.
The same can't be said for Brazil, which is grappling with spiking inflation and a possible real estate bubble. While the country is a hotbed for all things soccer, opposition to hosting the World Cup has mounted and organizers have been faced with riots amid the event's $14 billion price tag.
"I think the risk of social unrest post-World Cup because of a lack of job creation and inflation are massive," said Subran.
So it could be worse South Africa. The country could be hosting the 2014 World Cup.