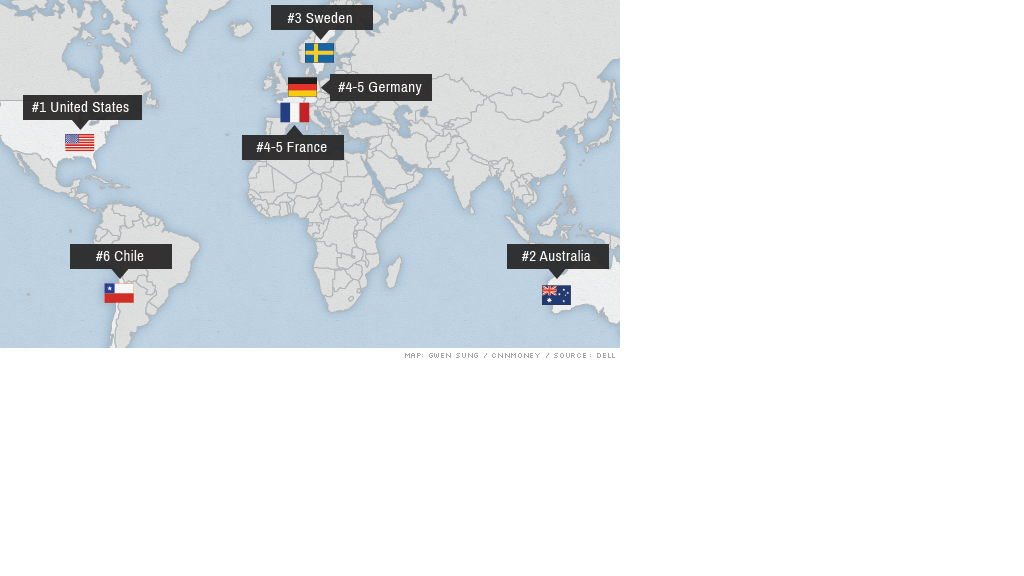 Where in the world do women entrepreneurs have the best shot at prospering?
In the United States, Australia, Sweden, France and Germany, according to the second annual Gender-GEDI ranking commissioned by Dell.
The global study of 30 developing and developed economies evaluated and scored each country on business and gender-specific issues, and how they impact the growth of "high potential" businesswomen.
"High potential" women entrepreneurs aren't just starting a business for themselves but are adding jobs, expanding into new markets and even looking for export opportunities, said Gender-GEDI project director Ruta Aidis.
"We're analyzing this group because the study is focused on quality and not quantity of female entrepreneurs," she said.
Related Story: 7 women taking on manufacturing
Chile, the United Kingdom, Poland, Spain and Mexico were the other nations in the top 10.
The countries were scored on factors such as access to capital, business risk, legal rights and access to education for women and rate of female startup activity.
Although the United States topped the index, Aidis said "there's still a lot more room for improvement."
"Only 37% of all entrepreneurs in the United States are women," she said. In Europe, the percentage is even lower, at 25%.
"Yes, the U.S. has made much progress to support women entrepreneurs, but barriers still exists when it comes to procuring startup financing and access to business networks," she said.
Related Story: Other women snubbed me until I hit it big
Chile at No. 6 came as a surprise, said Aidis, although she acknowledged that the country has taken steps in recent years to boost entrepreneurial interest.
"Chile's introduced programs since 2009, including Startup Chile, to encourage high-potential startups, especially among women," she said. One such program brought a group of women entrepreneurs to Silicon Valley on a networking trip.
At the bottom of the ranking were Uganda, Egypt, Bangladesh and Pakistan.
"These countries have fundamental issues to address, whether it's legal rights, socio-economic empowerment of women or the male-female workforce imbalance across business sectors," said Aidis.
Overall, the report found that more than 75% of the 30 countries surveyed failed to meet fundamental conditions necessary for women entrepreneurs to prosper.
The Gender-GEDI research and ranking was produced by the Global Entrepreneurship and Development Institute.