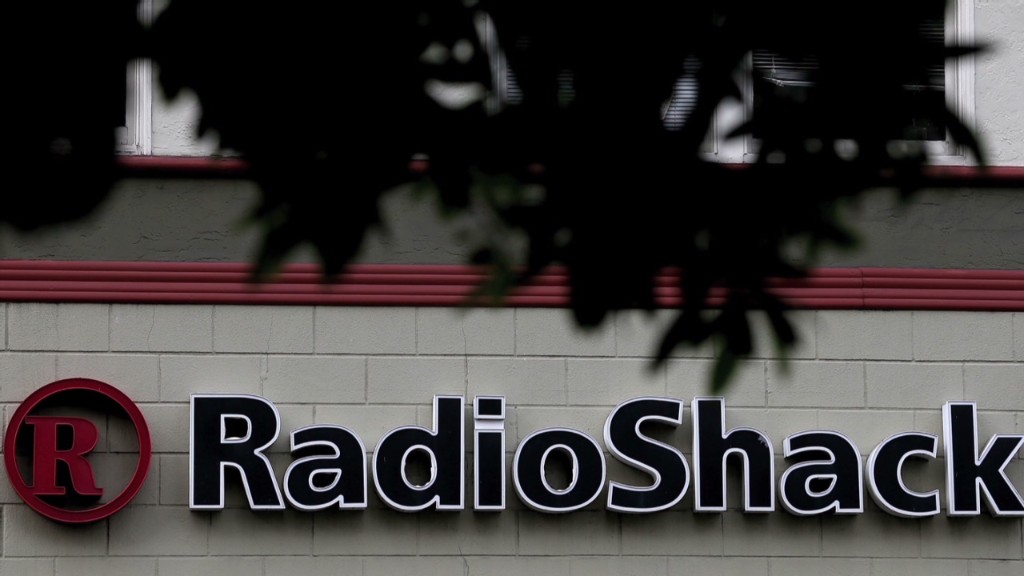 RadioShack is failing to reboot.
The struggling retailer said Tuesday that it plans to shutter 200 more stores, a further sign of the exodus from brick and mortar electronic shops.
In March, the company said it would close as many as 1,100 of its more than 4,000 shops, but its lenders limited the closures to just 200 stores. RadioShack (RSH) will focus instead of remodeling some of its existing properties and rebranding.
Shares tumbled over 10% after the company reported a quarterly loss that was twice as bad as Wall Street expected.
The stock is down more than 45% this year and has lost 90% of its value over the last five years. At roughly $1.38 per share, it's tinkering in penny stock territory.
RadioShack CEO Joseph C. Magnacca blamed an industry-wide downturn in consumer electronics and weak demand for the current slate of mobile phones.
Related: Best Buy to Silicon Valley: Please innovate more
Revenue was down 13% compared to a year ago.
RadioShack's problems run deep. The company already closed 22 stores so far this year and could potentially be headed for bankruptcy in 2015, according to Brad Thomas, an analyst with KeyBanc Capital Markets.
"This is a company that's still having a very difficult time. It's hard to find many silver linings here," says Thomas, who cited metrics such as negative earnings and negative free cash flow as reasons for his pessimism.
Related: Office Depot to close at least 400 stores
Still, the retailer isn't giving up without a fight. Its turnaround strategy includes brand partnerships and the remodeling of 100 stores in an attempt to breath fresh air into a company that many analysts and consumers consider outdated.
The company hasn't exactly denied the perceptions that it's out of touch with the modern retail world. It ran a Superbowl commercial poking fun of itself by featuring a 1980s theme.
The ad boosted the stock temporarily, but doesn't appear to have had a meaningful impact on the company's bottom line.
"I think it's probably going to prove to be too little too late," says Thomas of RadioShack's turnaround efforts, adding that even with an improvement in results, the company is still burning too much cash.
Of course, RadioShack isn't the only consumer electronics chain to suffer. Best Buy (BBY) share are down 26% over the last year, despite its own attempts as a turnaround.