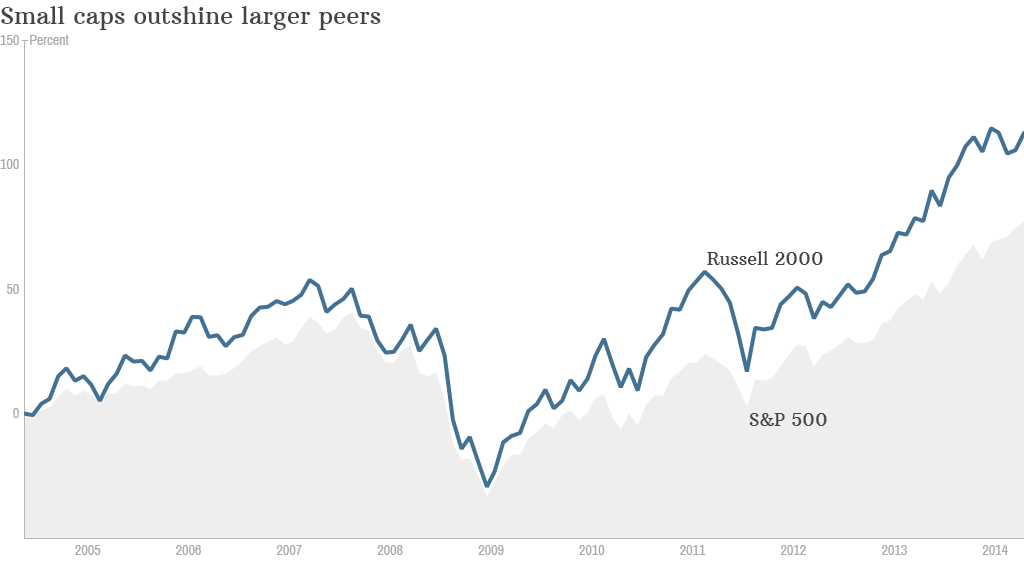 Small-cap stocks wouldn't stand a chance in a popularity contest against sexier names like
Facebook

(FB) and

Google

(GOOGL).

This slice of the U.S. equity market lives in the shadows of large cap stocks even though it has a strong track record, especially over long time horizons.

The lack of love for small-cap stocks -- or even knowledge about them -- means many investors aren't getting enough exposure to this key asset class.

"Investors are nowhere near as allocated into small-cap stocks as they should be," said Mark Matson, founder and CEO of Matson Money, which manages $5.3 billion in assets. "There is an amazing bias towards large, blue-chip stocks. It's human nature. We tend to be more comfortable with things we're familiar with."

Small-cap stocks carry market valuations ranging from just $300 million up to around $3 billion. While many companies aren't household names, some more recognizable ones include Callaway Golf (ELY), OpenTable (OPEN) and Winnebago (WGO).

Asset managers typically divide small-cap stocks into two sub categories: Growth, which are less proven and more risky; and value stocks, which are a bit more expensive but less volatile.

Related: No profits? No problem for biotechs!

Small but mighty: Investors may be surprised to learn just how well these tiny stocks have fared during the current bull run. According to Morningstar, small cap growth or value stocks have been the top performing asset class in four out of the past five years.

Consider last year: Small-cap growth stocks surged 43%, a lot higher than the S&P 500, which was up nearly 30% or the Dow, which was 26.5% higher. That was the best performance for a major asset class since 2003 when small growth stocks shot up almost 49%.

"If you look back over any long period of time, you see small cap stocks leading the way in terms of returns. These are smaller companies that are more in startup mode as opposed to mature, blue-chip companies," said Phil Hart, portfolio manager for the JPMorgan Small Cap Value Fund, which typically invests at least 80% of its assets in small-cap stocks.

One intriguing element of small-cap stocks is that their benchmark, the Russell 2000, is reconstructed each year at the end of June. That means companies that have become larger and more expensive -- sometimes around 20% of the index -- will be removed.

"The asset class is recharged and rejuvenated every year. Growth can continue for a long time because it's not the same stocks," said Lawrence Creatura, who manages a pair of small cap value funds at Federated Investors.

Since August 2000, the Russell 2000 Value Index has surged 198%, easily besting the S&P 500's paltry 37% advance over that span. The Russell 2000 Growth Index's has returned 82%.

Have you benefited from the bull market? Share your stories with us!

How much should you put in your portfolio? Matson estimates the average investor tends to have just 2% to 3% of their assets in small-cap names.

Often financial advisors don't recommend these stocks because they do tend to fall more during downturns and that can spook mom and pop investors. They are more volatile than larger companies.

So far this year, small-cap stocks have been on a roller coaster. The Russell 2000 fell into bear market territory (down 20% from a previous high) during the Spring Sell-off when investors dumped tech stocks and other riskier assets. The index has since bounced back and is flat for the year.

Market veterans differ over the magic number that people should have in their portfolio. The answer depends on an individual's appetite for risk and their age.

It would be "reasonable" for a younger investor who has a much longer time horizon to invest to have 20% to 30% of their assets in small-cap value stocks, Creatura says.

Related: Where's the fear in the stock market?

Proponents of small-cap stocks urge investors to seek broad exposure to the sector through mutual and exchange-traded funds. Picking and choosing individual names can be very difficult and even dangerous for retail investors.

"It's like a scalpel. In the hands of a surgeon, it's great. In the hands of an amateur, it's going to cause you some pain," said Matson.