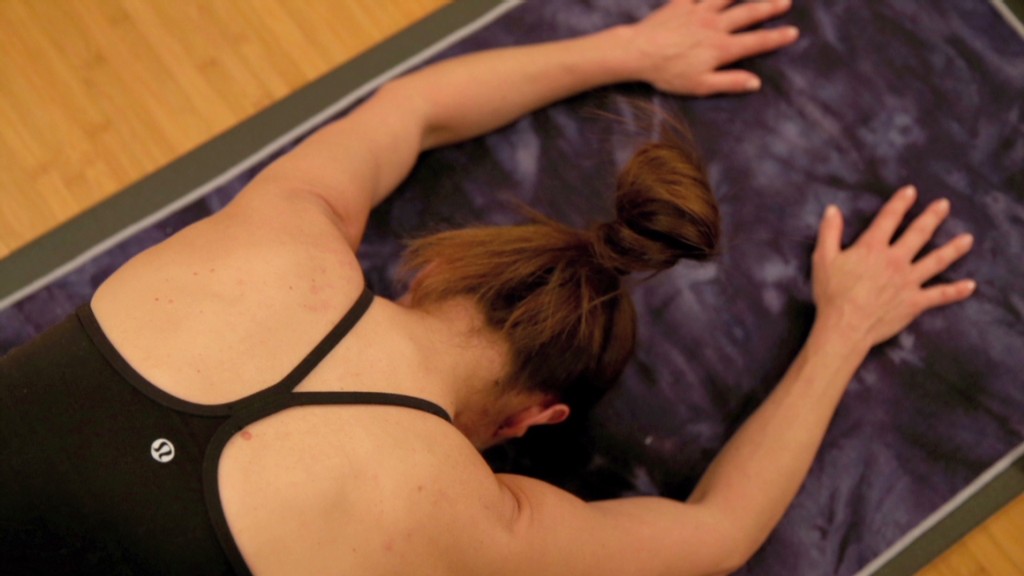 Lululemon is looking downward these days -- without the dog.
The company's share price dropped over 15% Thursday after it downsized its profit and sales forecasts for the rest of the year. It's the latest slide for the yoga and athletic wear brand that is getting an increasingly "sheer" reputation with investors.
Lululemon (LULU)'s founder Chip Wilson -- the company's largest individual shareholder -- is livid. He is famous for making derogatory comments about plus size women, but now he's striking out at the lululemon board, publicly announcing that he voted against the election of two board members.
"I am concerned that the board is not aligned with the core values of product and innovation on which lululemon was founded and on which the company thrived," he said in a statement Wednesday.
The bad news caps what has been a tumultuous 18 months for the famous (and famously expensive) Canadian yoga brand, which is known for its $100 workout pants.
Last year, the company had a massive recall of its black yoga pants, which became see-through during certain workouts. The recall affected almost one in five pairs of its pants, and the debacle triggered a shareholder lawsuit.
Related: See-through pants problem causes Lululemon recall
Shortly after the incident, CEO Christine Day and Chief Product Officer Sheree Waterson announced they were leaving the company. Wilson also stepped down as chairman of the board, though he retains a seat.
The company has tried to change its image in 2014 -- with customers and investors. Laurent Potdevin, the former head of TOMS, took over as CEO in January. He stressed to investors Thursday morning that lululemon is doing a $450 million buyback and improving quality at its factories.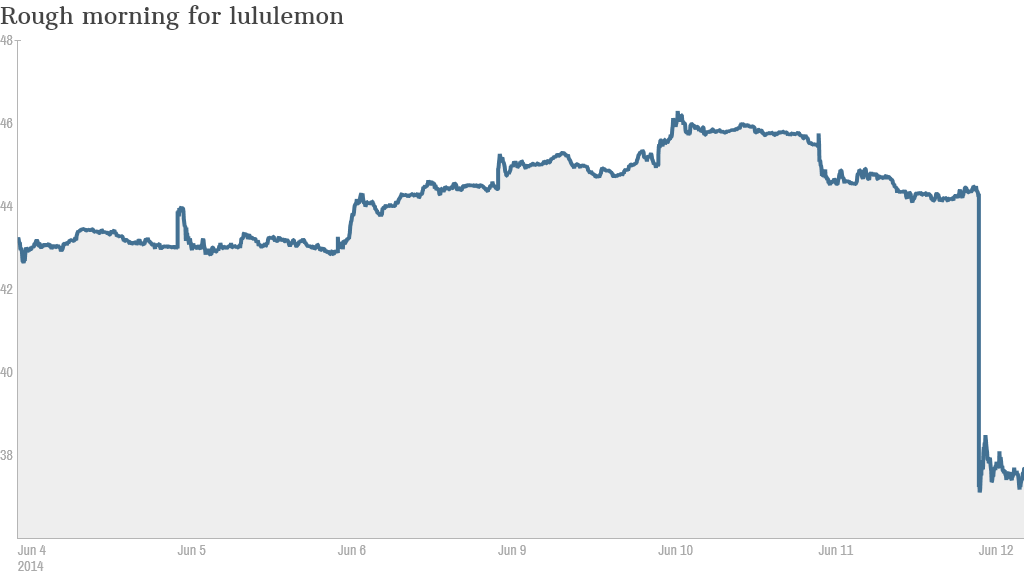 Then there's Wilson. He's made an art of having his foot in his mouth: In November, he insulted larger customers in a TV interview where he said "Frankly, some women's bodies just don't work" to fit the company's gear. He's also known for writing bizarre posts on the company's blog railing against topics as varied as sodas and birth control.
Financial firm Cowen and Company said in a note to investors ahead of the earnings call that lululemon needed to make clear that Wilson's "activism" wouldn't be a distraction.
"Meeting with the company yesterday, we sort of mentioned that our parents are fighting and it's awkward," lululemon's chief financial officer John Currie said in a call with investors, noting management refuses to be distracted.
Financially, the company is doing well for the moment. Its first quarter sales and profits beat expectations, but same-store sales shrank 4% last quarter against analyst expectations that they would remain flat.
The consensus price target for the stock is down more than a fourth from the same time last year, while the stock itself is down 42% over the same period.