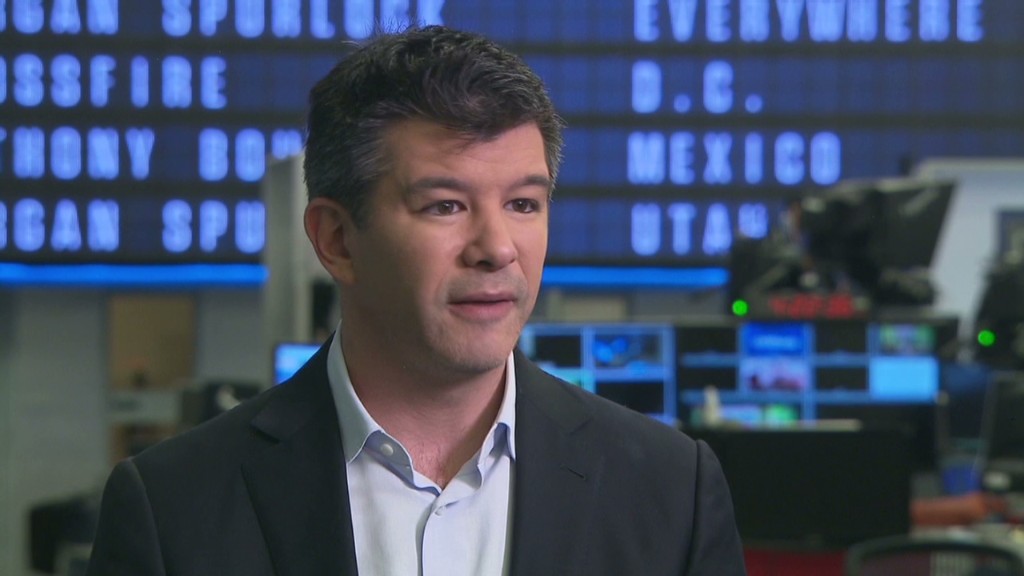 Uber CEO Travis Kalanick's idea for an app that connects passengers with taxi drivers has gone from scrappy startup to an $18 billion valuation.
That's worth more than Hertz (HTZ), Whole Foods (WFM), and Mattel (MAT). Unlike those household brands, Uber has been around for just four years.
Having taken the company through the startup grind -- including a growing crop of lawsuits and regulatory battles -- Kalanick's hair is a bit more salt than pepper these days than it was in 2010.
Kalanick sat down with CNNMoney to talk what he calls Uber's "unprecedented" growth and the future of the company.
What makes Uber worth $18 billion?
Kalanick said the company is growing at an alarming rate, quadrupling its sales every year on the back of hundreds of thousands of drivers and millions of riders.
"It's about what we are and its growth ... you don't have to make a hard sell if your numbers back it up," Kalanick said. "The bottom line is lots of rides, hundreds of millions of trips happening and that number is growing really, really fast over time at a level in almost any case you can say is unprecedented."
Is Uber a tech company or a car service?
Kalanick describes Uber as more than just an app. For instance, Uber has already started testing out a courier service called Uber Rush in New York, and Kalanick says "stay tuned" to see expansion.
"It's a technology platform that connects riders and drivers," he said. "So you want a ride, we are going to connect you to all the transportation providers that are available in a market, and we're going to get you the quickest pick up time, highest quality ride, and get it to you at the lowest cost that's possible."
What do you envision for the future of transportation?
Uber has been criticized for being too expensive, particularly when demand peaks. But Kalanick thinks that Uber can save people money by ultimately replacing car ownership entirely.
"Many of our customers are already in that group," Kalanick said. "We get customer feedback everyday saying, 'Hey I just sold my car; I don't need to pay for parking at home or work.' Lets say that's $500 a month for both. We just saved them $6,000 a year. ... I think that's why so many people are using Uber and getting rid of their cars."
Why did Uber just team up with American Express?
The rewards program will allow AmEx users to pay for Uber rides with AmEx points, and Uber riders get double points when they pay by card. Uber previously partnered with AT&T, and Kalanick hinted more well established sponsorships could happen in the future. American Express has experimented with tech partnerships for quite some time, recently cutting deals with Twitter (TWTR) and Facebook (FB). Last year, American Express card members spent hundreds of millions of dollars using Uber.
"There's hundreds of millions of people that are card members at AmEx -- all of them should be using Uber," said Kalanick. "Just like were introducing Amex to a lot of our users, AmEx will be introducing Uber to a number of their customers and really powering future growth for Uber."
How much of a risk factor would you say some of these regulatory issues are to Uber?
Thousands of taxi cabs protested Uber in London on Wednesday, and the company was recently handed a cease and desist from the state of Virginia. But Kalanick notes that despite regulatory hurdles, it still operates in 130 cities around the globe, pulling out of just one city (Vancouver). He likens Uber's efforts to break down existing barriers in incumbent industries is akin to a political campaign. For instance, he says Uber's low-cost taxi service, UberX, costs as much as 40% less than a standard taxi.
"The taxi industry [is] trying to protect a monopoly that has been granted them by local officials, so they're trying to slow down competition," he said. "So we try to get the story out there about accessibility of transportation, lower cost transportation, higher quality, and I think that story wins over at the end of the day."
How do you respond to criticism that Uber's business practices are too aggressive?
Uber's rival Gett claimed earlier this year that Uber employees in New York ordered and canceled over a hundred of its cars during a span of three days in January. The aim: collect the drivers' cell phone numbers and recruit them to work for Uber. The company since apologized, but Kalanick said the company's "aggressive" behavior has been misinterpreted as inappropriate.
"If you call an employee at another company, that's normal, but if that falls in the car business, the sky is falling," said Kalanick. "I think what we found is we are aggressive at getting as many cars on the road because when there's a lot of cars on the road your pick up time goes down. Every once in a while a team in Shanghai or New York might get really aggressive about recruiting drivers, but we have really strong principles and feel good about how we act in the marketplace."
After allegations of sexual harassment and assault by Uber drivers, can you assure customers that Uber is safe?
A Illinois woman filed a lawsuit against Uber in March, claiming her driver fondled her. And a Daily Beast reporter alleged her creepy Uber driver stalked her. Kalanick said Uber has the highest safety standards in the industry, including the most thorough background checks. But when incidents happen, the company deals with them forcefully.
"Safety is number one at Uber ... so we make sure the system is in place so riders get the safest ride possible," Kalanick said. "With that said, Uber is in the limelight. When things happen, if there's claims of any kind in any city in any car, we take those claims very seriously."
How do you deal with the stress?
Startups years are like dog years. A lot happens in a short amount of time. Founders who deal with the roller coaster of running a startup that transforms into a billion dollar company often have routines to help them stay sane. Kalanick is no different.
"The way I try to simplify my job is that I have two lists -- I have a list of all the crazy interesting problems that I get to solve every day or that need to be solved, and I have a crazy list of things I'd like to invent," Kalanick said. "And I kind of just prioritize them and work my way down, and try to simplify what I do when managing a big company. I try to make that my day every day. And today it feels similar today as it did way back when, and it's fun."