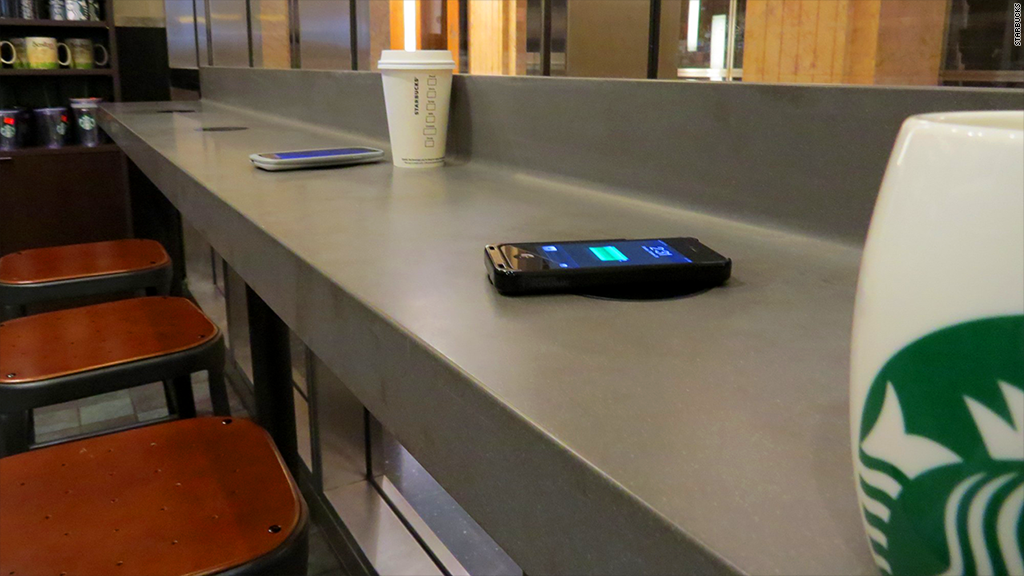 Starbucks is about to offer its customers a charge beyond the caffeine in its drinks.
The coffee retailer will team with Duracell to offer wireless recharging of some smartphones.
The system, Duracell Powermat, allows phones and tablets to be charged by simply laying them on pads, which will be installed in Starbucks counters and tables.
But only limited number of smartphones have the technology that works with the charging spots today. For most device owners, they will have to have a special case, costing about $20 to $30, in order to work with the wireless charging system.
Related: How to max our you phone battery
Still, Starbucks (SBUX) says it believes the offering will be something that its customers will want.
"From WiFi and the in-store Starbucks Digital Network to mobile payment and digital music downloads, we have always tried to anticipate our customers' needs early in the adoption curve," said Adam Brotman, chief digital officer at Starbucks.
Starbucks plans a national rollout of the free service beginning with stores in the San Francisco area.
Duracell is hoping that the visibility from being in Starbucks stores will jumpstart demand for the Powermat system, which is a joint venture between Duracell, a unit of Procter & Gamble (PG), and Powermat Technologies.
Related: Charge your cell phone in 30 seconds
"Starbucks is transforming the way consumers get power to their phones, in much the same way it made WiFi a standard amenity in public places," said Duracell President Stassi Anastassov. "When Starbucks introduced WiFi in their stores in 2001, 95% of devices didn't have WiFi, and multiple standards hampered the industry. The rest is history."
The Powermat complies with an open standard that is being used by the Power Matters Alliance, a trade group which includes AT&T, (T) Blackberry (BBRY), HTC, Huawei, LG, Microsoft (MSFT), Qualcomm (QCOM), Samsung (SSNLF), Texas Instruments (TXN) and ZTE (ZTCOF).
But Apple (AAPL) is not included in the group, meaning iPhone users will have to use a separate charging case for the foreseeable future. And despite Samsung's participation, the current version of the Samsung Galaxy also does not work with system without a special cover.
According to the companies, getting into Starbucks should lead to a significant increase in the number of devices that will be able charge wirelessly without any extra equipment or cases.
"Starbucks plans to offer Powermat nationally is likely to settle any lingering standards question, and usher wireless power into the mainstream," said Anastas.