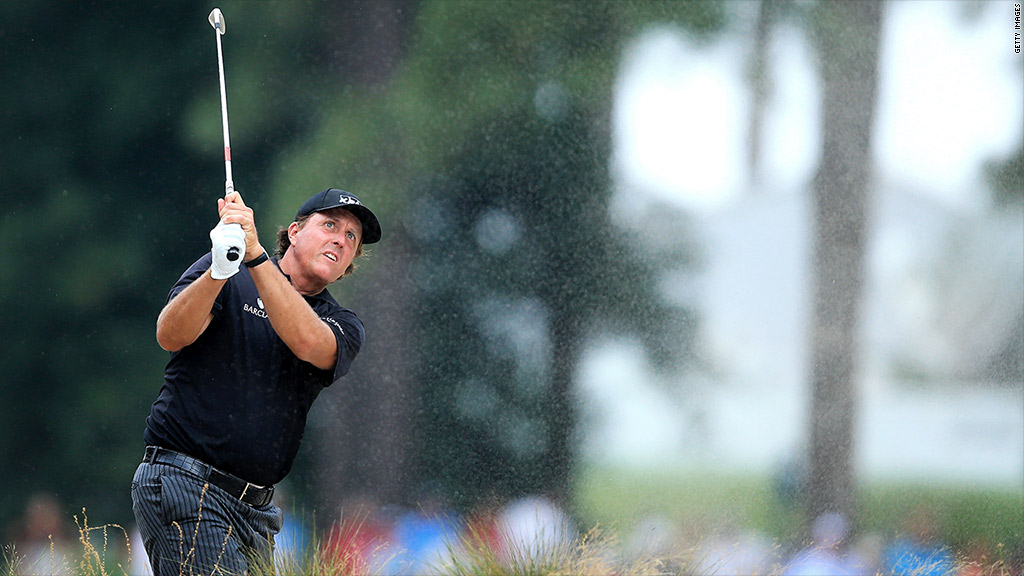 Phil Mickelson's attorney said Friday the golfer did not trade shares of Clorox, a stock that reportedly ensnared him in an insider trading probe in recent weeks.
Late last month, law enforcement sources told CNN that a wide-ranging probe was examining stock trades made in Clorox by Mickelson, investor Carl Icahn and a well-known sports bettor, Billy Walters.
But Gregory Craig, Mickelson's high-profile attorney who worked as White House counsel in the Obama administration, said Friday that his client never traded shares of Clorox (CLX). He had no comment beyond that statement.
The sources said the probe involves stock trades made in 2011 after Icahn made an investment in Clorox and announced a takeover bid for the household products maker. The price of the shares shot up 9% the day Icahn's bid became public.
An official close to the matter tells CNN the investigation involving Mickelson, Icahn and Walters is ongoing. The investigation remains a difficult one, made more so after its existence became public through the news reports.
In addition to Clorox, The New York Times and The Wall Street Journal reported last month that the investigation also involved trades made by Mickelson and Walters involving Dean Foods. The Times, citing people briefed on the matter, says the FBI, SEC and federal prosecutors are looking into profitable trades made in Dean Foods in 2012.
Related: Insider trading hard to prove
At the time of the initial reports, Mickelson proclaimed his innocence in a statement to CNN but did not give details of his stock trading.
"I have done absolutely nothing wrong," Mickelson said in a statement provided to CNN by his agent. "I have cooperated with the government in this investigation and will continue to do so. I wish I could fully discuss this matter, but under the current circumstances it's just not possible."
Icahn has denied any wrongdoing. Walters' lawyer told the Times that his client hasn't been contacted by authorities about trades.
Mickelson is currently playing in the U.S. Open, which is the only one of golf's four major tournaments he was not won. He has finished second in the Open a record six times, and is the favorite of many fans to win this weekend .
--CNN's Evan Perez and Shimon Prokupecz contributed to this story.