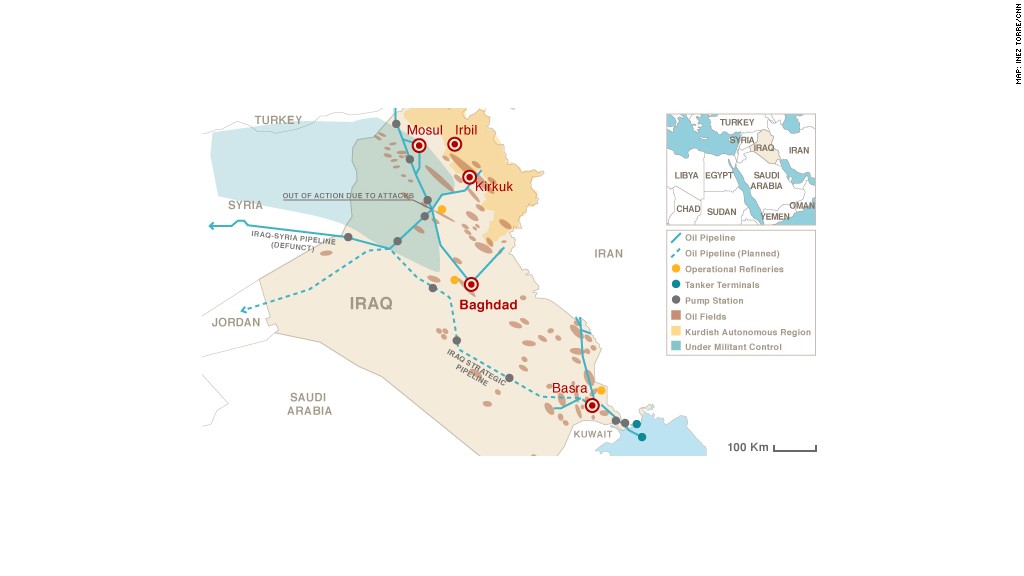 The Islamist advance this week across northern Iraq has yet to have a major effect on the country's oil exports, so why are world prices rising?
Oil experts say the 4% price spike since June 6 -- which has taken a barrel of crude to $107 for the first time since September 2013 -- is being driven by fear that exports could be hit later this year, just as world demand peaks.
An al Qaeda splinter group occupied Iraq's second biggest city -- Mosul -- earlier this week and has pushed on towards the capital, Baghdad. The group is trying to establish an Islamic state straddling the Iraq-Syria border.
Attacks by insurgents had already shut off exports from Iraq's northern oil fields in early March, but it's the threat they could post to exports from the south -- the heart of the country's oil industry -- that's worrying traders.
Related: U.S. considering military options as Islamists advance
"The driver [of prices] has been, what if they get to the south, which is where the bulk of Iraq's production and exports are, and what if we see disruptions there?" said Amrita Sen, chief oil analyst at Energy Aspects.
"Seasonally we are coming to the peak demand period. We know that Libya is already off line and this is why there is such impetus for an upward movement in oil prices now," she told CNN.
Demand tends to peak as U.S. and European drivers guzzle gas on their summer vacations, and then as refineries ramp up heating oil output before winter.
Libyan supplies have collapsed to about 100,000 barrels per day, from 1.4 million a year ago, as rebels occupied oil fields and major export terminals.
Iraq, which has the world's fourth largest reserves of oil, produces about 3.3 million barrels a day, making it the second biggest producer in OPEC after Saudi Arabia. Exports were running at about 2.5 million barrels per day in April.
A surge in production by non-OPEC nations, including the United States, and increased output by Saudi Arabia -- the oil market's "central banker" -- has made up for the shortfall from Libya and northern Iraq, helping markets cope with a modest acceleration in demand growth in 2014.
Still, the dependence on OPEC oil will rise later this year, according to the International Energy Agency.
Related: Gas prices could climb on Iraq conflict
The Paris-based oil market monitor said Friday it expected global demand in the second half of 2014 to average 2 million barrels per day more than in the first half. Demand would peak at about 94 million barrels per day in the fourth quarter.
OPEC will need to supply nearly 31 million barrels per day, one million more than the cartel's production target for 2014, which oil ministers reiterated as recently as Wednesday.
"Given that Libya is pretty much offline ... the only country that has spare capacity to meet any rise in demand is Saudi Arabia, which would have to increase production in any case in Q3," said Sen.
"If you get any supply disruption in Iraq, that is going to be the challenge for the market --- how does it counteract that?"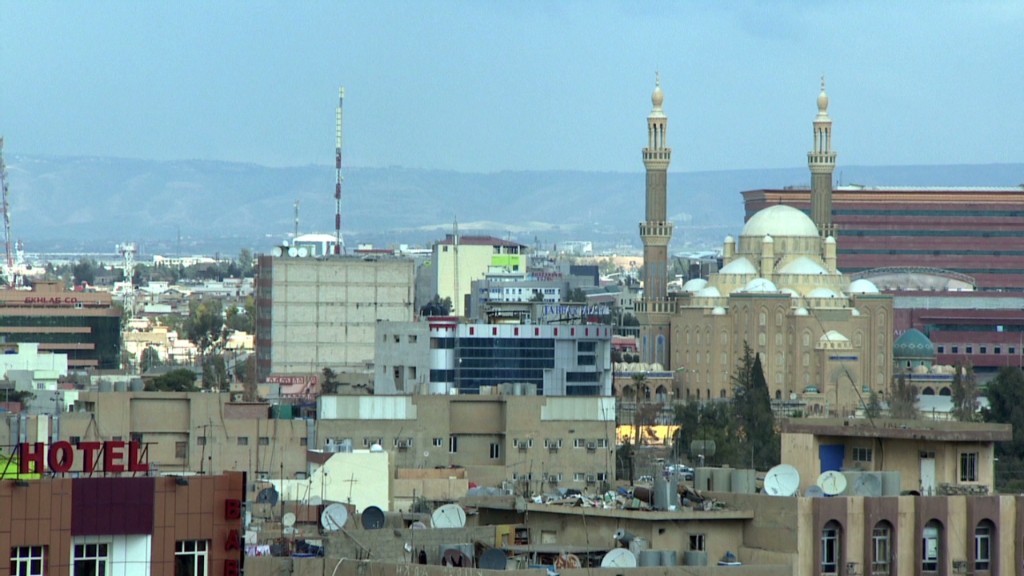 The IEA says 60% of the growth in OPEC crude production capacity for the next five years will come from Iraq, underscoring the risks to oil supplies in the medium term if the insurgency spreads to other parts of the country and deters foreign investors.
Sen said production was likely to fall back slightly this year as international oil companies begin to pull some of their staff out of the country because of the rising threats to their security.