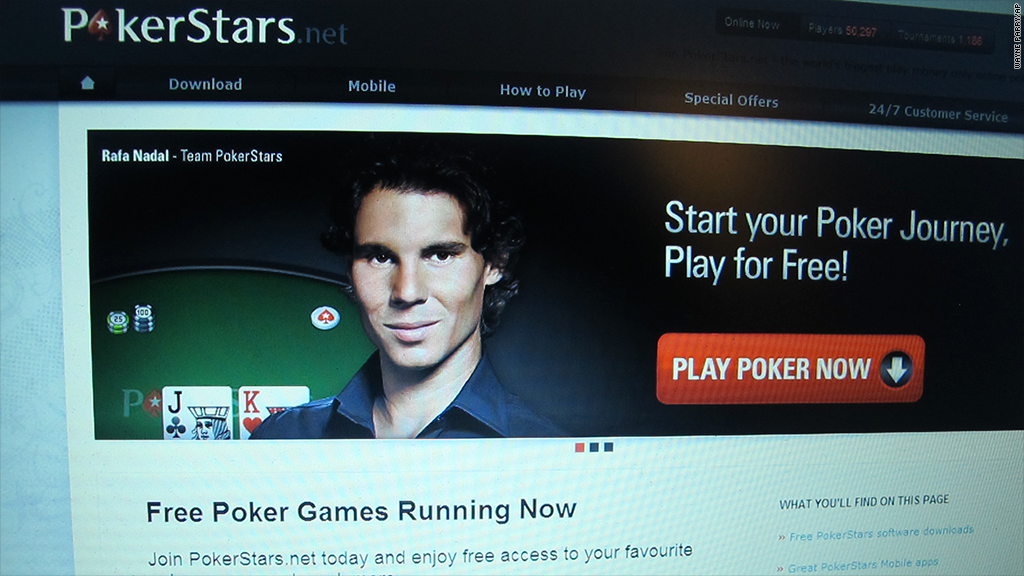 A Canadian gambling-services company is going 'all in,' paying $4.9 billion to buy the firm behind the popular PokerStars gambling website.
Amaya (AMYGF), which is traded on the Toronto Stock Exchange, is buying Oldford Group, which runs PokerStars and Full Tilt Poker, another gambling site.
"The transaction will result in Amaya becoming the world's largest publicly-traded online gaming company," said the companies in a joint press release. The statement also said they plan to expand in the U.S. market.
PokerStars and Full Tilt Poker are the world's most popular online poker brands, with more than 85 million registered players.
However, the games have had their fair share of problems. In July 2012, the U.S. Justice Department announced a $731 million settlement with PokerStars and Full Tilt Poker to resolve allegations related to the company circumventing federal laws against Internet gambling.
Former Full Tilt CEO Raymond Bitar pleaded guilty last year to multiple gambling and fraud charges. He faced a substantial prison sentence but was released because of health problems.
Related: Macau's gambling industry dwarf's Vegas
Gervais Williams, a fund manager at Miton Group, said the timing of the deal is important.
"The timing of the transaction reflects the fact that the U.S. online gaming market is deregulating, with the prospect of it becoming one of the most valuable online poker markets in the world. The enlarged Amaya business will be a formidable participant going forward," he said.
"We believe that the online gaming market in California is close to being opened up, and following this transaction Amaya will clearly be working hard to fully participate when the time comes," said Williams.
Amaya offers a variety of online casino and poker games, and also offers physical gambling products and technologies that are used inside casinos.
Amaya will be issuing new debt and shares to raise the money for the deal.