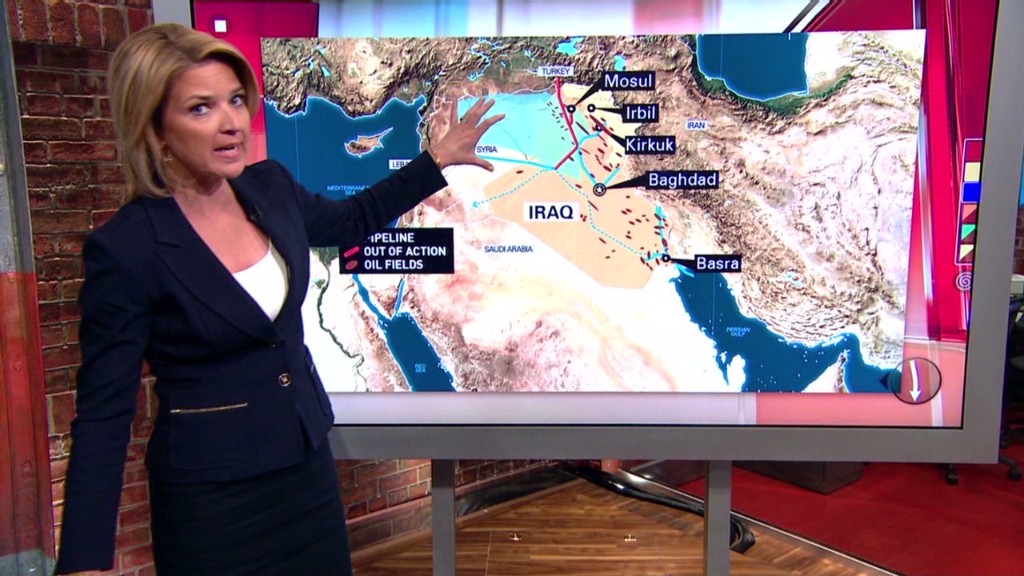 While violence in Iraq may squeeze drivers' wallets this summer, the U.S. is headed for a gas glut over the next few years as demand slows.
Despite rising slightly last year, U.S. gas demand will decline by about 1% a year for the rest of the decade, according to the International Energy Agency.
"Tightening fuel efficiency standards for automobiles, and changing consumer preferences look set to send U.S. gasoline demand back on the declining course on which it embarked in 2007," the Paris-based agency said in its latest forecast published Tuesday.
U.S. demand for gas alone accounts for about 10% of world oil consumption, and the decline will coincide with more ample supply, according to the IEA.
Related: Why are oil prices rising?
The U.S. energy boom is boosting output of oil that is rich in gasoline at a time when refineries are under pressure to produce more diesel and jet fuel amid an increase in industrial activity and air travel.
But the refineries still have to sell the gas produced from processing each barrel, and will be looking for markets to soak up that surplus.
Related: Militants driven back from nation's main refinery
The IEA estimates that North America could swing from being a small net importer of gas to exporting 1.3 million barrels per day in 2019.
Globally, the growth in world oil demand is expected to peak in 2015 and 2016, before slowing toward the end of the decade, IEA said.
Related: How North Dakota's economy doubled in 11 years
Meanwhile, Iraq is the wild card.
Oil prices rose by about $4 a barrel last week as an offensive by Islamic militants in northern Iraq raised fears about exports from OPEC's second-biggest producer.
And that could translate into higher gas prices for U.S. consumers during the peak summer driving season.
The IEA also acknowledged that the recent surge in violence in Iraq meant there was "significant downside risk" to its forecast for OPEC oil production over the next few years.