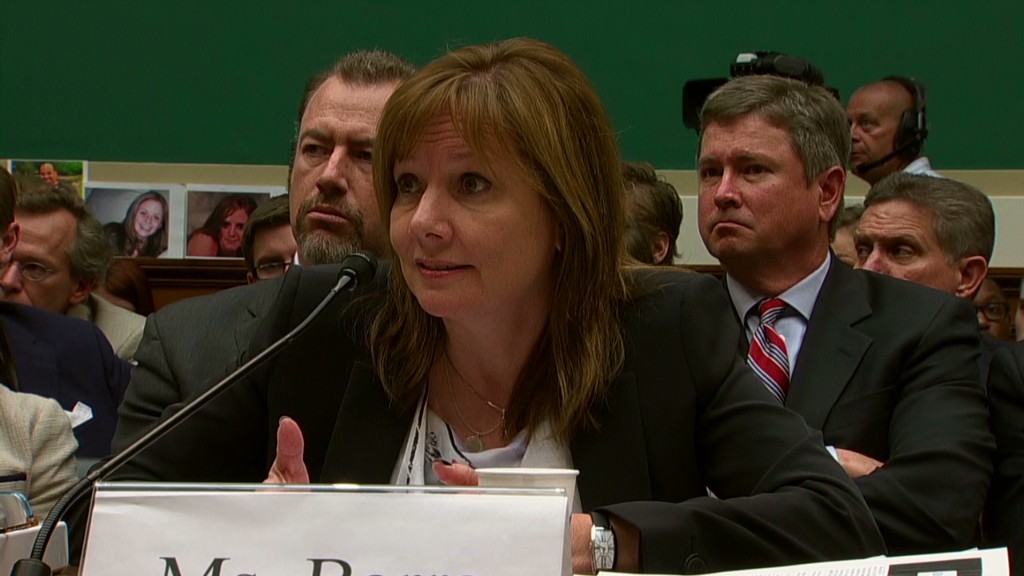 Mary Barra had a tough time Wednesday convincing Congress that General Motors is changing fast enough to make safer cars.
The automaker's CEO testified before a House panel about the results of a company probe into the decade-long delay in recalling 2.6 million vehicles with a faulty ignition switch. The problem has been blamed for at least 13 deaths.
GM (GM) dismissed 15 employees once the probe was complete, and Barra promised the panel that the company is working to change what the report found to be "a pattern of incompetence and neglect."
"I promised we would hold people accountable and make substantive and rapid changes in our approach to recalls," said Barra. "We have done each of these things and more."
But panel members from both parties were doubtful.
"When I go through this, it looks like a lot more than 15 people should have been terminated," said Rep. Michael Burgess, a Texas Republican.
Related: Suit seeks $10 billion from GM
Rep. Jan Schakowsky, an Illinois Democrat, questioned why no top executive at the company was among those who lost their jobs.
"It's not clear to me that any senior level manager has been held responsible for the GM corporate culture that allowed the ignition switch defect to go unaddressed," she said.
Rep. Fred Upton from Michigan released an e-mail he said was sent by a GM employee to executives in 2005 about a problem with the ignition switch in a 2006 Impala. The car shut off when she hit a pothole.
"I think this is a serious safety problem," the GM employee wrote at the time. "I'm thinking big recall. I was driving 45 mph when I hit the pothole and the car shut off and I had a car driving behind me that swerved around me. I don't like to imagine a customer driving with their kids in the back seat on I-75 in rush hour traffic. I think you should seriously consider changing this part."
Upton pointed out that GM had not recalled that vehicle until two days ago, despite all the attention given to the similar ignition problem tied to 13 deaths. GM said it is aware of eight accidents and six injuries but no deaths tied to this latest recall.
For all kinds of problems, GM has recalled a record 20 million vehicles worldwide in 2014 -- which is only about half over.
Related: How Congress can prevent another recall disaster
Panel members also hammered Barra on the official tally of 13 deaths related to the problem. GM only counts those killed in the front seat of cars when air bags did not deploy -- not those killed in the back seat of the same fatal accidents or those killed in side-impact accidents when their cars stalled.
"GM has to rebuild trust. Part of that is being straight forward on the number of deaths that occurred," said Rep. Pete Olson, a Texas Republican.
Related: 1 in 10 U.S. cars and trucks have been recalled
Barra said it will be up to Kenneth Feinberg, who has been hired by GM to figure out how to compensate victims, and to determine who should be on the list of those injured and killed. She said GM's current list of 13 is not "a complete number."
"We want to get everyone who is affected," she said.
But even the GM plan to compensate victims received some criticism. Rep. Morgan Griffin, a Virginia Republican, objected to the fact that while GM is vowing compensate victims, it is still maintaining in court filings that its 2009 bankruptcy case protects itself from lawsuits from those who don't want to accept that offer.
"If GM truly wants to compensate everybody who's been harmed fully and fairly, they ought to ask their lawyers to stop asking for bankruptcy court protections," he said.