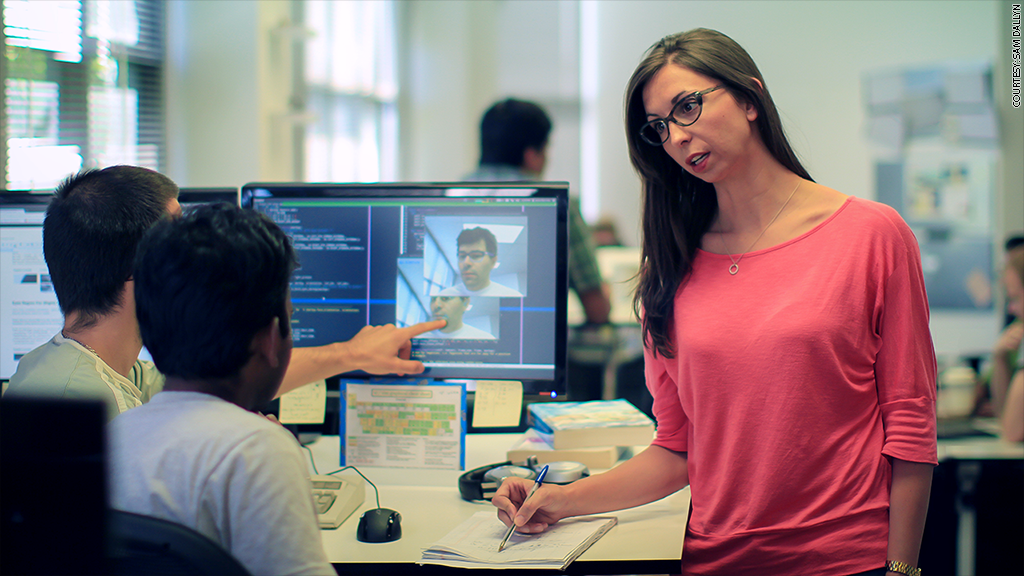 Kate Doerksen always dreaded getting new glasses and the hassle that came with trying on countless pairs.
"I have a small head," she said. "It's always been hard to find exactly the right fit for my skinny face."
That eventually helped inspire her to found Ditto, an online retailer that sells designer specs.
With a background in investment banking and private equity, Doerksen didn't have a natural bent toward retail. But conversations with clients got her thinking about the future of online shopping -- particularly those products that people still hesitated to buy without trying on first. Her own experience made her zero in on eyewear.
"I had been buying almost everything else online for years, but never glasses, because there was no way to tell whether the frames would fit," Doerksen said.
About 225 million people in the U.S. wear glasses, so she figured she wasn't alone. When Doerksen entered Stanford Business School in 2009, she told two classmates that she wanted to find a way to let people try on frames virtually.
Related: Women take on manufacturing
Sergey Surkov and Dmitry Kornilov, engineers at Google (GOOG) and Nokia, were so intrigued with the project that they dropped out of Stanford and started working on it full-time, living on their savings and investments from friends and family. Doerksen stayed in school and worked three days a week with her cofounders in Kornilov's living room.
Over the next three years, Kornilov and Surkov developed patented technology that lets customers virtually try on glasses and shows how they would look from every angle. Doerksen, meanwhile, worked on the business plan and on introducing the idea to eyewear makers.
With $3 million in seed funding from August Capital, Ditto launched in April 2012 with 350 styles from eight designer brands.
"We were lucky at the beginning because the virtual try-on tool got a lot of attention from the press," Doerksen recalled.
Each customer profile, called a "ditto," takes about 15 seconds to create. First, the site records a brief video of the customer from the neck up. Then, the customer holds a credit card (or any plastic card that size) to his or her forehead for scale. The video shows customers how they'd look wearing any glasses on the site.
Ditto keeps track of each customer's prescription, and sells glasses that range from $100 up to $900, largely depending on the price of the frames. To cut costs, Ditto carries no inventory and orders directly from the eyewear companies.
Related: The best countries for female entrepreneurs
Ditto also controls costs by doing very little advertising or marketing.
"We get most of our new customers by word of mouth," Doerksen said. Ditto regularly surveys customers to ask how they heard about the site. Many people say they were sent by "a friend who mentioned our cool try-on tech," she said.
Doerksen declined to disclose sales figures, but pointed to Ditto's employees as a sign of the company's fast growth. Based in San Mateo, Calif., Ditto has 14 employees, and there are plans to double that in the next 12 months.
Doerksen added that the company has a high conversion rate (visitors who actually make a purchase) and a low exchange rate -- both measures that put them far ahead of their online competitors.
Ditto currently carries frames by about 1,500 designers and is adding about 200 new ones a month, from "megabrands like Ray-Ban and Oakley" to boutique names like Westward Leaning, Linda Farrow and The Row. Best of all, "we've made sure the designers we work with can make plenty of sizes" -- even for people with hard-to-fit faces.