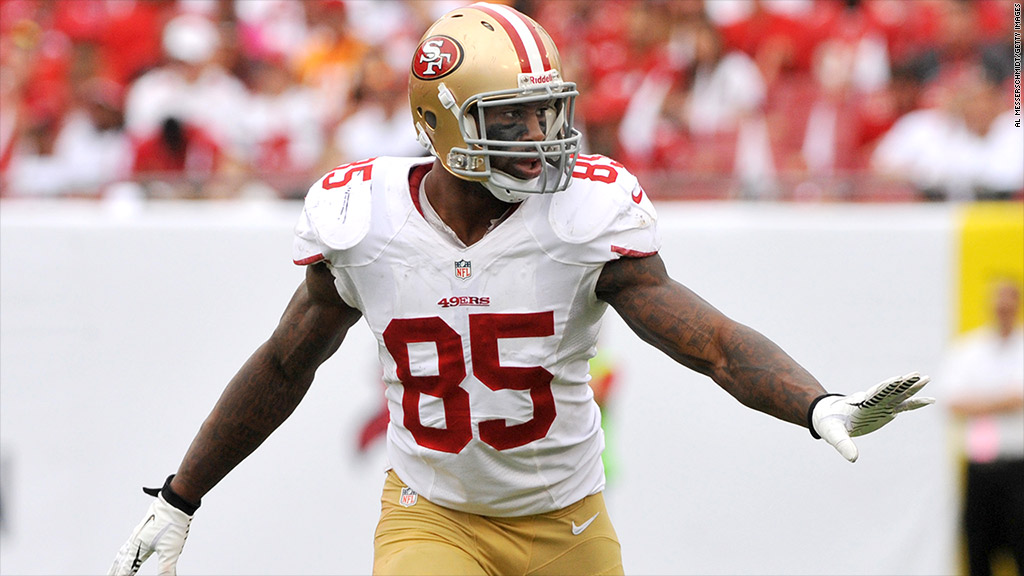 If a famous CEO suddenly decided to not show up for work until he or she got a new contract, wouldn't you seriously consider dumping that company's shares?
That may be the dilemma facing owners of a stock tied to the value of star football player Vernon Davis, who missed his team's mandatory minicamp this week.
Davis, the Pro Bowl tight end for the San Francisco 49ers, is listed on Fantex, a relatively new exchange that lets investors (and presumably lots of sports fans) track the financial performance of athletes.
There are SEC filings and everything. This is not fantasy football.
Fantex paid Davis $4 million upfront in exchange for 10% of what Fantex calls "future brand income." That includes what he earns on the gridiron as well as other off-field activities such as endorsements ... and potentially broadcasting after his career is over. So what an investor is getting from buying the stock is an investment that tracks the Fantex financial cut of its relationship with Davis.
The Vernon Davis stock, which trades under the ticker symbol VNDSL on Fantex, had its initial public offering in late April. It debuted at $10 and currently trades around $11.
The stock hasn't fallen below $10. It also hasn't gone any higher than $12.50. It is set to pay a dividend of 70 cents per share in August. So with a yield of 6.3%, you could call it a blue chip value holding of sorts.
Related: NFL players warn rookies to stop spending
Despite signing a five year contract in 2010 worth $37 million, Davis thinks he's worth more because of the way he's been playing. He even wrote about it for Sports Illustrated.
But if Davis holds out for the rest of the summer and risks missing actual regular season games, won't that hurt the value of his stock? I talked with Buck French, the CEO of Fantex, to find out the scoop.
French explained that Fantex would not be hurt if Davis doesn't suit up in September. That's because he is contractually obligated to pay Fantex 10% of his usual salary -- regardless of whether or not he is playing and being paid. In fact, there is a good story that goes into more detail about why the Fantex deal might hurt the negotiating leverage of Davis on the Niners Nation blog.
"He either goes back and plays under his current contract or he gets a new one. Either way it generates income for us," French said.
Still, you have to wonder if Davis is the wisest investment. He's not exactly a star when it comes to endorsements. He was in an Under Armour (UA) commercial just before the Niners drafted him out of the University of Maryland in 2006. But he's no Peyton Manning.
Davis also owns a couple of Jamba Juice (JMBA) franchises in the Bay area and an art gallery in San Jose. That's pretty cool. It might not be enough to make his stock a screaming buy though.
He is, however, the only buy on Fantex right now. The exchange has three more IPOs pending. But they are all pretty risky.
There is one for Cincinnati Bengals wide receiver Mohamed Sanu ... who is not a household name and plays in a small market. There is also one for Buffalo Bills quarterback EJ Manuel. He had a promising start last year in his rookie season, but he missed several games due to knee injuries. A knee injury for an athlete is kind of like an earnings warning or too much debt for a stock. A gigantic red flag.
And then there's Arian Foster of the Houston Texans. Foster, and not Davis, was supposed to be the star attraction for Fantex. Heading into last season, he was one of the best running backs in the game. He was also set to star in the movie "Draft Day" with Kevin Costner.
But a back injury forced Foster to end his season in November. Fantex delayed his IPO as a result. And then "Draft Day" hit theaters in April and was a box office flop.
Related: Patent office cancels Redskins trademarks
I joked with French that Fantex might be the 2014 version of the old SI cover jinx or EA (EA) Madden game cover curse.
"Arian's injury was unfortunate," he said. "But Davis generates more dialogue about Fantex."
French said that he's happy to have Davis in the Fantex roster and believes that there is good potential for him to earn more once his playing career is done. French even spun a big negative about Davis -- he was famously benched in the middle of a 2008 game by former Niners coach Mike Singletary -- as a transformational experience.
If that's true, Davis might want to report to training camp this summer. French said he hasn't talked to Davis since his holdout began. But he's not too worried.
"The market will determine the stock price. Not me," Davis said.
Fair point. I'd still probably pass on Davis as a stock. He'd be a great fit for your fantasy team though. (And I sort of know what I'm doing. I'll not-so-humbly point out that my wife and I won our league last year ... go Brooklyn Brawlers!) I just wouldn't draft him before Julius Thomas or Jimmy Graham.
That's assuming Graham still qualifies as a TE of course. But that's what his Twitter (TWTR) bio says at least. Check out my Turner colleagues at Bleacher Report for the scoop on that bizarre story.