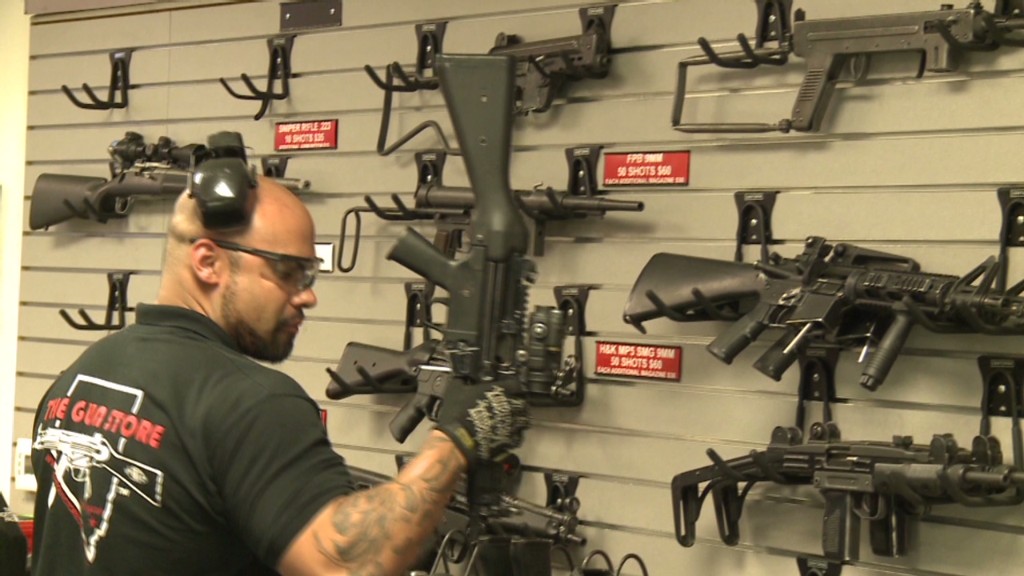 Smith & Wesson posted a weak forecast for one simple reason: Americans are buying fewer guns.
Shares of the gunmaker plunged nearly 10% Friday morning as it dawned on investors that the once high-flying gun industry is coming down to Earth.
The gun industry has experienced an intense run-up in demand over the last couple years, fueled by concerns of more rigorous gun restrictions in the wake of President Obama's reelection and a series of mass shootings including the Sandy Hook massacre in Newtown, Conn.
Related: Gun silencer sales are booming
Gun enthusiasts stockpiled the military-style semiautomatic assault rifles, exhausting the supply and driving up the prices. But Obama failed to get a bill through Congress that would have placed restrictions on these guns, alleviating concerns that they would be hard to come by. As a result, rifle sales are suffering.
But there are still signs of growth. Smith & Wesson reported a hefty increase in handgun sales, buoyed by growing consumer interest in self-defense. Chief Executive Officer James Debney said Thursday that unit sales for handguns jumped 30% in the most recent quarter.
Still, Debney said the gain in handgun sales was offset by soft demand for "modern sporting rifles" -- industry parlance for semiautomatic rifles.
Related: Gun range with a bar opening soon
Debney blamed the weakness in rifle sales for the company's overall slump in revenue. But analysts who follow the company see hope in burgeoning handgun sales.
"Compact guns and polymer guns are selling really well," said Brian Ruttenbur, gun analyst for CRT Capital. "They are ramping up production dramatically."
Ruttenbur said that Smith & Wesson's latest line of M&P compact pistols is so popular that retail supplies are running thin.
"You can't find an M&P gun on the shelf," he said. "This is their competitor to Glock."
Related: Buy your own tank, or missile launcher
For the fourth quarter, Smith & Wesson (SWHC) reported a decline in net sales of more than 4% to $170 million and a 13% drop in income from continuing operations to about $25 million.
Company executives preferred to emphasize record sales of $626 million for the fiscal year, up 6% from the prior year.
"We are very pleased with our record results for fiscal year 2014, which include the highest sales, gross margin and profits in the company's history," said Debney, in a press release. "Our successful performance was driven by robust consumer demand for our products, combined with carefully managed increases in our manufacturing capacity."
Smith & Wesson projects that net sales for fiscal year 2015 will dip to a range of $585 million to $600 million.
Shares of rival gunmaker Sturm Ruger (RGR) also fell Friday, but its drop was less dramatic.