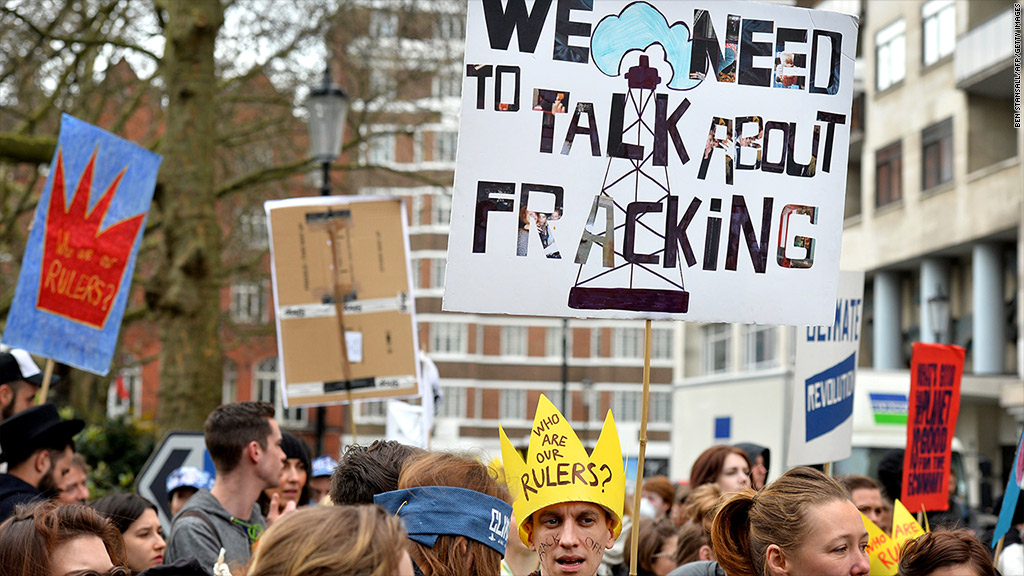 Just how far will Moscow go to keep Europe hooked on its natural gas?
NATO says Russia is working with activists who are trying to stop shale gas projects that are part of the region's plans to diversify its energy supply.
"I have met allies who can report that Russia, as part of their sophisticated information and disinformation operations, engages actively with so called non-governmental organizations, environmental organizations working against shale gas -- obviously to maintain European dependence on imported Russian gas," said NATO chief Anders Fogh Rasmussen.
The former Danish prime minister said Europe needed to develop alternative supplies so that "one single energy supplier is not able to blackmail one single nation."
Related: Russia cuts off gas supplies to Ukraine
Europe relies on Russia to supply 30% of its natural gas -- at a cost of about $50 billion a year. Half of that is piped through Ukraine, where Russia's annexation of Crimea and support for separatists in the east have sparked the worst crisis in relations with the West since the end of the Cold War.
The U.S. and Europe have responded with limited sanctions against Russian officials and a few companies. But deep energy and trade ties with Moscow have complicated Europe's search for a more robust response.
Ukraine has served as a wake-up call to European leaders to get moving with efforts to wean themselves off Russian gas. Governments are ramping up renewable energy production, and looking to increase imports of liquified natural gas.
Both are expensive options and many governments would love to tap the estimated 470 trillion cubic feet of recoverable shale gas reserves in Europe.
Related: Russian stocks and currency rebound
There are many obstacles to getting a shale gas industry off the ground, however, not least concerns about the extraction process known as fracking.
Greenpeace, which has campaigned against fracking in the U.K., dismissed the idea that it was a puppet of Russian President Vladimir Putin.
"Rasmussen should spend less time dreaming up conspiracy theories and more time on the facts," it said.
"Fracked gas will probably cost more than Russian imports, there's little chance fracking will generate more than a small fraction of Europe's gas needs and it won't even do that for at least 10 years."