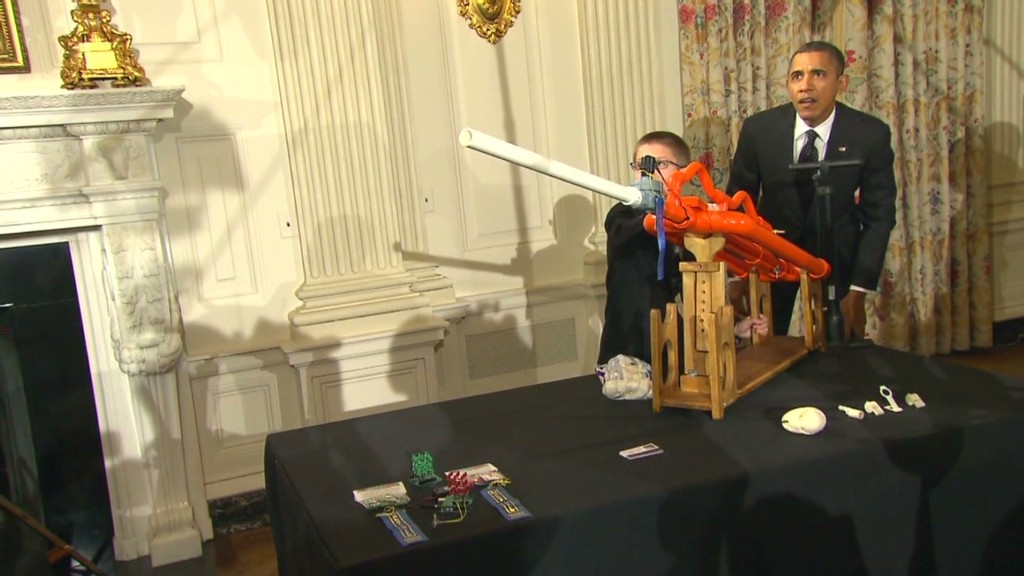 This week, the White House played host to a robotic giraffe, a 3-D printer that made Obama-shaped pancakes, and a first 3-D presidential portrait.
"What on earth have you done to my house?" President Obama quipped Wednesday at the White House's first maker faire.
The event was devoted to the future of innovation. The idea: bring together makers, hobbyists and inventors to show off the creativity of American entrepreneurs.
The maker movement, which empowers folks to build their ideas on their own, has gone from niche to mainstream, and the administration has taken notice. Although the maker movement isn't new, many of the technologies that have driven the movement have recently become mainstream and accessible.
"Today's D.I.Y. is tomorrow's 'Made in America,'" Obama said. "New tools and technologies are making the building of things easier than ever. ...It gives you a sense that we are at the dawn of something big."
Related: Home 3-D printing is getting affordable
Also present at the faire: A woman who had built a cheap incubator for at-risk infants that doesn't require electricity and a formerly homeless laser-cutter who learned his skills a 3-D printing shop.
The innovations weren't all tech-related. 14-year old Sicily Kolbeck built a compact home with a functioning kitchen and bathroom, a queen-size bed, and closets. Kolbeck said she envisioned it being used for the homeless. She also said it could give people the freedom to travel with their homes.
Obama declared Wednesday 'A National Day of Making,' and said he would provide more support to startups wanting to file patents. He also pledged to team up with universities to give students more hands on experiences.