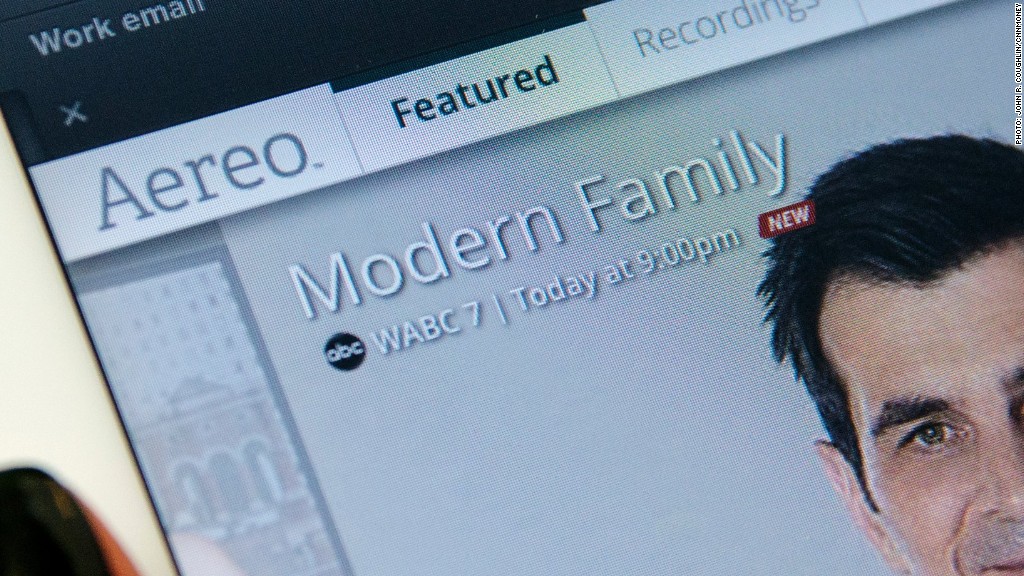 The Supreme Court's ruling against Aereo was a triumph for the country's broadcasters, and now media stocks are doing a victory dance.
Shares of CBS Corporation (CBS), Disney, (DIS) Comcast (CMCSA), and Twenty-first Century Fox (FOX) jumped Wednesday after the Supreme Court ruled that streaming service Aereo violates broadcasters rights by using tiny antennas to snatch up content on public airwaves.
CBS, whose outspoken CEO Les Moonves had publicly predicted that the nation's highest court would side with the broadcasters, got the biggest boost, bouncing as much as 8% after the ruling before pulling back to a roughly 5% gain.
James Dix, a media stocks analyst with Wedbush Securities, said CBS had the biggest stake in the Aereo outcome because it derives much of its revenue from television advertising and retransmission fees.
Related: Supreme Court rules against Aereo
Disney and Comcast, which own ABC and NBC, respectively, also moved higher, but Dix said they had less skin in the game because their sprawling media empires also include lucrative cable stations.
But perhaps the biggest winners on the media stocks front were local television owners.
The Sinclair Broadcast Group (SBGI), which owns and operates almost 170 stations and reaches roughly 40% of all U.S. television households, shot up 15% after the ruling.
The Tribune Company (TRBAA) bounced 5%, while the Gannett Company (GCI) rose 4%.
Related: Twitter wants to be your TV companion
All three companies have local ABC, NBC, and CBS affiliate stations, among others, in their portfolios. Dix claimed these stocks have the most to gain from the Supreme Court's decision, since Aereo was a direct threat to their business model of redistributing broadcast content.
Still, the surge in media stocks was a bit surprising, since many analysts had expected the Supreme Court to side with the broadcasters.
"The overhang of uncertainty is gone," Dix said.