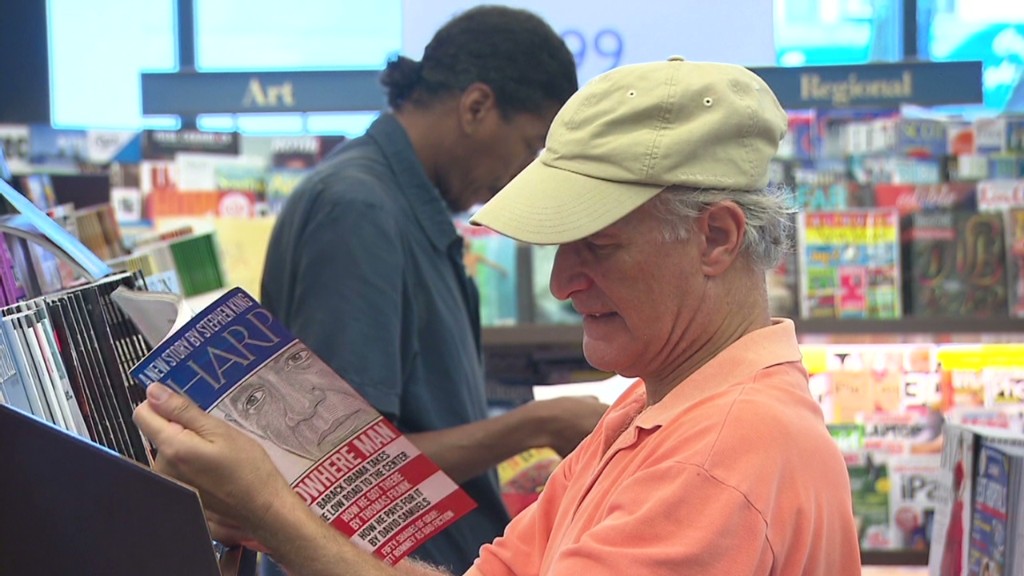 The Barnes & Noble turnaround story no longer looks like it belongs in the fantasy reading section.
People are still coming to the brick and mortar bookstores, and they're buying books, coffees and other trinkets. In fact, they're purchasing so much that Barnes & Noble's revenues are actually up slightly in the fourth quarter.
The stock popped as much as 10% Wednesday morning before pulling back a bit in the afternoon. It's up over 40% so far this year.
Barnes & Noble (BKS) also announced that it will split into two separately traded companies: One that will include its Nook and college bookstore divisions and one that will include the rest of its retail business.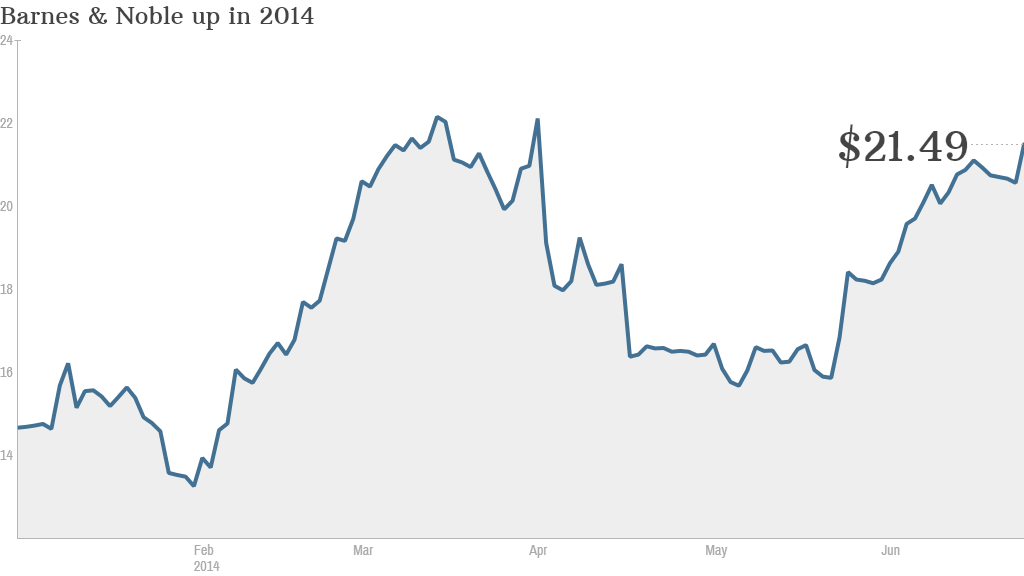 The Nook has been the villain in the bookstore chain's attempts to revive itself. It hasn't been able to complete with tablets from Apple (AAPL) and Amazon (AMZN).
In early June, the company fired employees in this division and did a deal with Samsung to help offset production costs for the Nook by co-branding the product.
Related: Is Samsung's strategy working?
Investors welcomed the news of the split, but there are more questions than answers about how to value the two companies and how the break-up might impact customers.
"There's just so little information on this spin-off," says David Strasser, who covers the company for Janney Capital Markets.
CEO Michael Huseby says the split should be complete by early 2015.
Barnes & Noble is showing signs of a turnaround, but it's too early to say the company's story will have a fairy tale ending. The company still lost $37 million in the last quarter, although that's a lot less than $115 million from the prior quarter.
For all of its fiscal year, the company's revenues declined 6.7% to just shy of $6.4 billion.
"The numbers are solid, given that bookstores are said to be going out of business," says John Tinker, a senior analyst covering media and Internet stocks at Maxim Group.
Related: Barnes & Noble is an endangered brand
Huseby stressed that the book retailer added 30 new college contracts recently and that a "strong title lineup" in recent months boosted sales, including John Green's "The Fault in our Stars," Veronica Roth's "Allegiant," Donna Tartt's "The Goldfinch" and Michael Lewis' "Flashboys."
He also said Barnes & Noble has seen a "clear uptick" in sales since the widely publicized Amazon standoff with publishing group Hachette.
Related: Hachette says Amazon delaying delivery of books
Perhaps the most attractive feature about Barnes & Noble's these days is that it still has brick and mortar stores. It sets the company apart from Amazon, and there are benefits to being the last big bookstore chain standing. Borders closed its doors for good a few years ago.
"Books have really fought back and people like books," says Strasser.