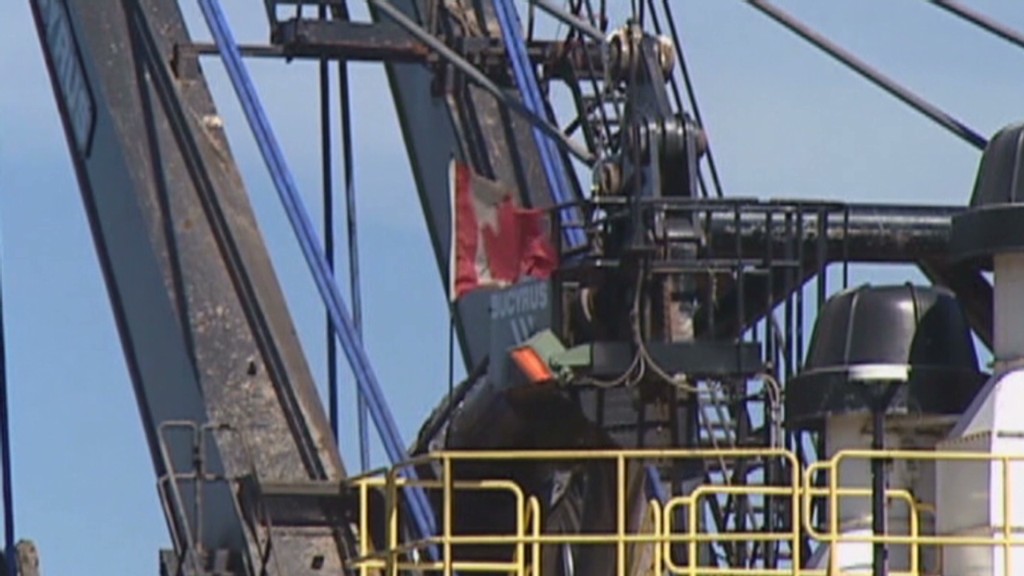 A long-standing U.S. ban on crude oil exports has been softened a bit.
Federal oil regulators are allowing a form of shale oil that's only slightly processed to be sold outside the country.
But experts say the ruling does not signal the ban will soon be lifted.
The decision green-lights Pioneer Natural Resources (PXD) to export condensate, an ultra-light oil. Condensate has been processed enough to make it less liable to explode, but requires further refining to be useable.
Pioneer said the Commerce Department ruled the stabilization process is enough that the oil is no longer crude. A spokesman for the unit that made the ruling was not available to comment.
Related: Oil prices spark growth concerns
The Wall Street Journal, which first reported the news, said a second company, Enterprise Products (EPD), also received a private letter ruling from the Commerce Department. Enterprise did not return a call from CNNMoney.
The Journal's report caused benchmark oil prices to rally in overnight trading -- until the industry realized the ruling was "more marginal and way less impactful than originally perceived," said Matt Smith, an energy analyst at Schneider Electric.
Other analysts warned the move didn't signal a change in federal law. Macquarie Capital said in a note the ruling "may have set the lower bound on what constitutes refining and what constitutes a refined product."
Related: Gas prices rising but glut coming
"The lack of any signaling from the White House or senior appointees on this action signals that it should not be interpreted as implying faster action on actual changes to the regulations," noted Greg Priddy, the global oil director at Eurasia Group.
The ruling clarifies the government's position on this type of shale, which is becoming more accessible as drilling technologies advance. U.S. refineries have enough supply, and are better equipped to handle other types of oil, making exporting a more financially attractive option for producers.
Pioneer climbed nearly 4% in Wednesday trading, nearly recovering from a 5% loss on Tuesday. Enterprise rose more than 1%. Both companies are up by a double-digit percentage this year.