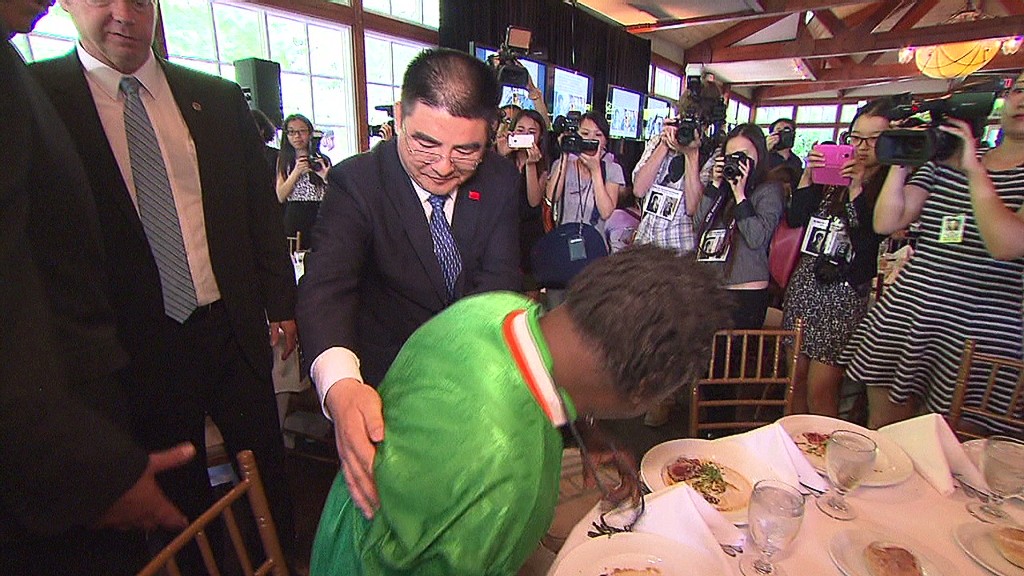 On Wednesday morning, Brandy Mills left her encampment under New York City's FDR Drive, and headed to a posh uptown restaurant, hoping for a free lunch and $300 cash.
Mills was one of hundreds of homeless New Yorkers who showed up at Central Park's Loeb Boathouse -- a popular venue for high-end weddings and banquets -- at the invitation of Chinese multimillionaire Chen Guangbiao.
Chen took out a full-page advertisement in The New York Times last week, seeking 250 homeless people for his event. The lunch, according to Chen, was meant to encourage other wealthy people to give to the needy.
What ensued was a splashy media display that included parading around burn victims, handing bills to some confused homeless people, and serenading the diners with an over-the-top version of "We are the World."
Related: New scam targets homeless
The day before, Mills had met Chen as he handed out $100 on the street to passersby. He had run out of bills, so he told her to come to the Boathouse the next day.
But she was denied entry to the event.
"They said something about registering," said Mills, saying she needed the $300 Chen was promising to participants to get off the street. "I need help," she said.
The homeless were registered by the New York City Rescue Mission, which worked with Chen to organize an event that included a three-course meal served by white-gloved waiters.
But the mission had pulled their support a few days before the lunch, after Chen announced he would be handing out cash.
"We help the poor and homeless by addressing their needs directly, not with money," said Craig Mayes, executive director for the mission.
The compromise was a $90,000 donation to the mission, which they said would feed 500 people every day for three months. Chen agreed not to hand out any cash.
Related: From broke to billionaire
The eccentric Chinese millionaire put on quite a show for the media.
During lunch, Chen touted his own altruism by bringing out two badly burned women, reportedly the result of self-immolation. One of the women said Chen had paid for her reconstructive surgery, saying through a translator, "I am a beneficiary of his work."
He also presented several homeless people with $100 bills, in a move referred to as a "symbolic gesture" -- much to the confusion of the other diners.
Throughout the event, Chen reminded the lunch crowd that he was a modern-day Lei Feng, a Chinese historical figure revered for his generosity and charity.
"I see there are so many people in need of help," Chen said at the event. "We are all one big family in the world." He drove that point home by singing "We Are The World," joined by a backup singer and a violinist.
Chen, who is widely criticized in China, handed out business cards to the media which defined him as China's moral leader, the most influential person of China, and a Chinese earthquake rescue hero, among other grandiose titles. He also handed out self-promotional CDs with his picture on the front.
Three flat-screen TVs set up in the center of the room played a video celebrating Chen's philanthropy.
Critics back in China reacted harshly to Chen's antics on Weibo, a Chinese social media platform similar to Twitter:
@Qilinbuluo: Again, Chen Guangbiao made fun of himself, this time abroad. No matter what, he is Chinese, so I want to say to the world: I'm sorry for what he did.
@Qiexingqieyuan: Chen Guangbiao is just asking for a snub. Real philanthropist should prioritize to give money to the poor in his own country.
Chen, who made his fortune building a recycling company, is worth roughly $720 million, according to Forbes.
Related: Chinese struggle to give away their riches
Near the end of the event, Chen invited participants back to the mission for the cash handouts. "I will give $300 to every participant today. I hope you will put that money to good use," he said. The crowd gave its biggest cheer of the afternoon, and some gave a standing ovation.
But many of the homeless were left confused on whether any cash would actually materialize, and the mission was not pleased with Chen's "bait-and-switch" move.
Chen was asked not to return to the mission, and said if he wanted to hand out cash, he could do it elsewhere.
"I would still advise against it, but it is his money," Mayes said.
As the homeless returned to their buses, they were handed crocheted pink and white flowers.
One man in line, Quin Shabazz, said that if he didn't end up getting the money he would feel exploited.
"All these pictures were taken of me," he said.
CNN's Wang Andi, Shen Lu and Wei Hongxia contributed to this report.