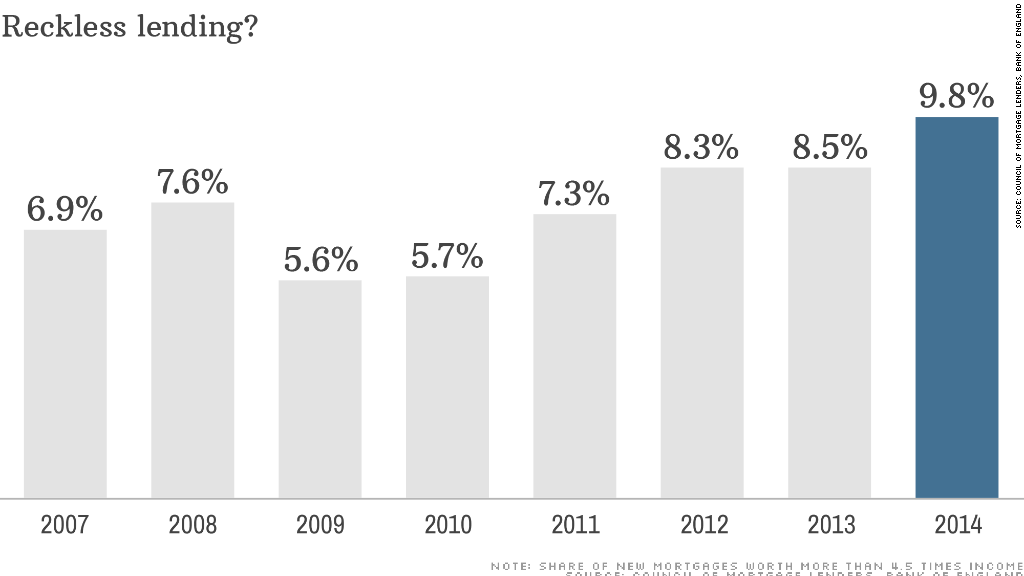 Training a dragon might be easier than managing Britain's red hot housing market.
But that's the challenge officials took on Thursday in the face of mounting evidence of a property bubble in London and concerns that reckless lending could leave U.K. borrowers struggling when interest rates inevitably rise.
Mortgages make up more than 80% of household debt in the U.K. Larger loans (measured as a multiple of income) now account for a record share of new mortgage lending.
The trick is knowing just how hard to step on the brake to prevent the economy running off the rails in the future without jeopardizing the recovery now.
In a coordinated move, the Bank of England and U.K. government unveiled three measures aimed at curbing some of the excesses.
1. Loans worth more than 4.5 times income must make up no more than 15% of new mortgages.
2. Mortgages worth more than that will no longer qualify for government guarantees under its Help-to-Buy program.
3. Banks will have to assess whether borrowers could make their repayments if interest rates rise by three percentage points in five years.
Related: A property bubble in 4 charts
Bank of England Governor Mark Carney said the 15% cap on the largest mortgages would start to bite within a year, mostly in London and the southeast of England, but acknowledged the market would continue to gather momentum in the meantime.
"If yesterday you were approved for a mortgage in a bank or building society, today you would still be approved for that mortgage," he told reporters.
The pound rose against the dollar, and shares in construction companies gained more than 5% in London, on relief that officials hadn't taken a tougher stance.
"However, while the measures announced are at the lighter end of expectations, the Bank of England is stressing that it can, and will, take further measures if need be," said Howard Archer, chief European and U.K. economist at IHS Global Insight.
Related: Least stressed out cities
Interest rates were cut to a record low of 0.5% in March 2009 during the financial crisis and haven't moved since. And it's nearly seven years since British borrowers had to cope with a rise in the benchmark rate.
Some economists expect the wider recovery and sharp fall in unemployment will force the central bank to increase rates as early as November, but say further targeted measures may yet be needed to avoid another property bust.
"We expect the [bank] to significantly curtail, and perhaps even cancel, the mortgage guarantee part of the government's Help-to-Buy scheme in September," noted Christian Schulz at Berenberg.
The program was introduced in 2013 to help Brits buy homes through generous equity loans and mortgage guarantees.