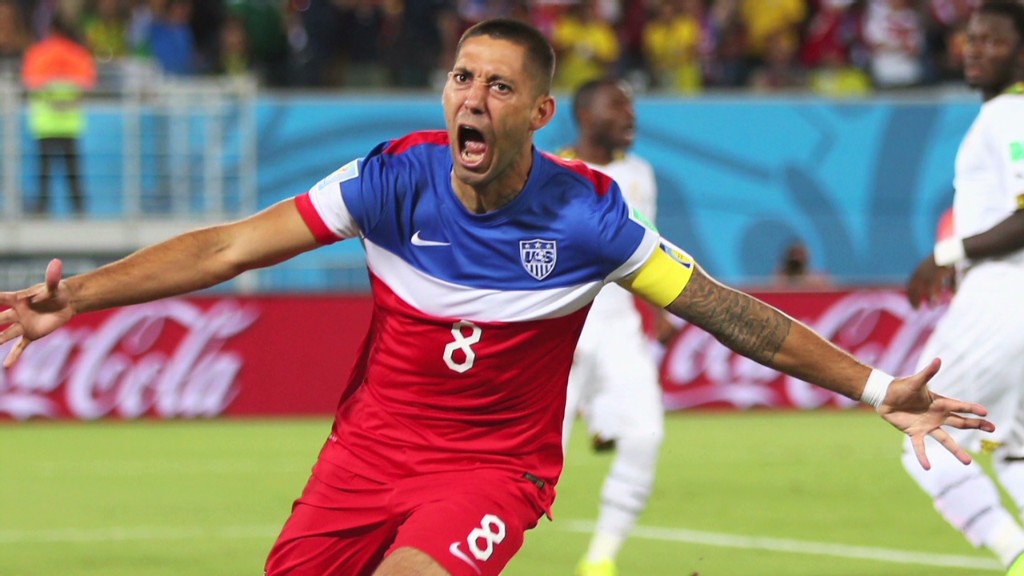 Baseball is "America's Pastime." Football created "America's Team." And basketball's "Dream Team" lived up to its name.
But World Cup fever has made the U.S. Men's National Team the new "boys of summer" -- and retailers are cashing in.
Just a few months ago, Modell's Sporting Goods in midtown Manhattan was packed with Super Bowl XLVII memorabilia. More recently, New York Rangers gear dominated the racks and shelves during the Stanley Cup Final.
Now it's a multicolored spread of soccer jerseys from around the world. And the number one seller? By far, it's USA, says Modell's CEO Mitchel Modell.
Compared with the 2010 World Cup, the CEO says Modell's "more than tripled the amount of merchandise we bought for this year."
If the U.S. moves into the round of 16, Modell is confident "it will be like Christmas in June."
Related: Tips for watching at work
The bold red, white and blue jerseys the U.S. team has been wearing are going fast, even at $90 apiece.
Only $65 youth sizes are available and Modell's store manager in the midtown Manhattan store said he's waiting for a FedEx delivery to replenish the sales racks.
The majority of the jerseys for sale don't have names or numbers on them. Some fans want to be able to wear them during the next World Cup without having to shell out more cash, even though Nike (NKE) and Adidas (ADDDF) will likely come out with dramatically different looking ones.
Shopper Frank Polizzi says wearing a generic jersey also adds to the excitement around the World Cup. "You're representing the country and not the player. So with no names, we're probably better off," he said.
Another hot seller has been jerseys from the African nations, especially Nigeria, Ghana and Cameroon. In fact, there was just one Ivory Coast jersey left in the midtown store.
Related: Cashing in on World Cup fever
Other item fans are obsessing over include official World Cup stickers, made by Italian company Panini.
"No matter where you go they're trading these stickers, it's just incredible" says Modell.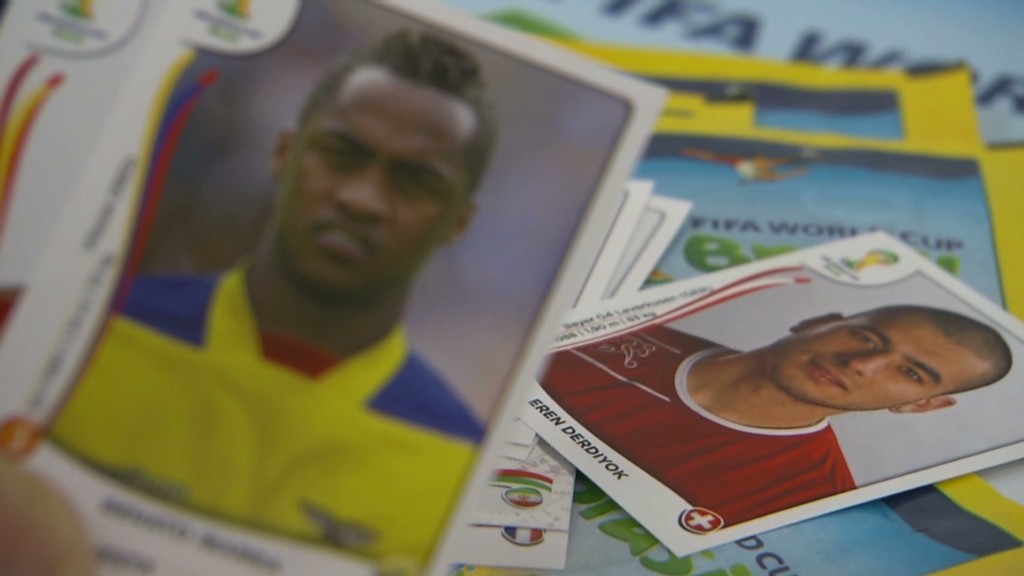 World Cup fever hasn't just spread across New York City -- watch parties from Los Angeles to Chicago have drawn tens of thousands of fans, and local businesses are reaping the financial rewards.
The match times are also helping. "It is easier for restaurants to boost some of the lunch, happy hour and dinner specials they already have in place and gear them to World Cup fans," said National Restaurant Association spokeswoman Christin Fernandez.
ESPN and Univision scored record ratings for broadcasts of the USA-Portugal game on Sunday. This year's tournament has also become the biggest event ever on social media.
Projections from Adobe Digital Index, which tracks online marketing, shows that the World Cup has already outpaced the 2014 Super Bowl and last winter's Sochi Olympics.