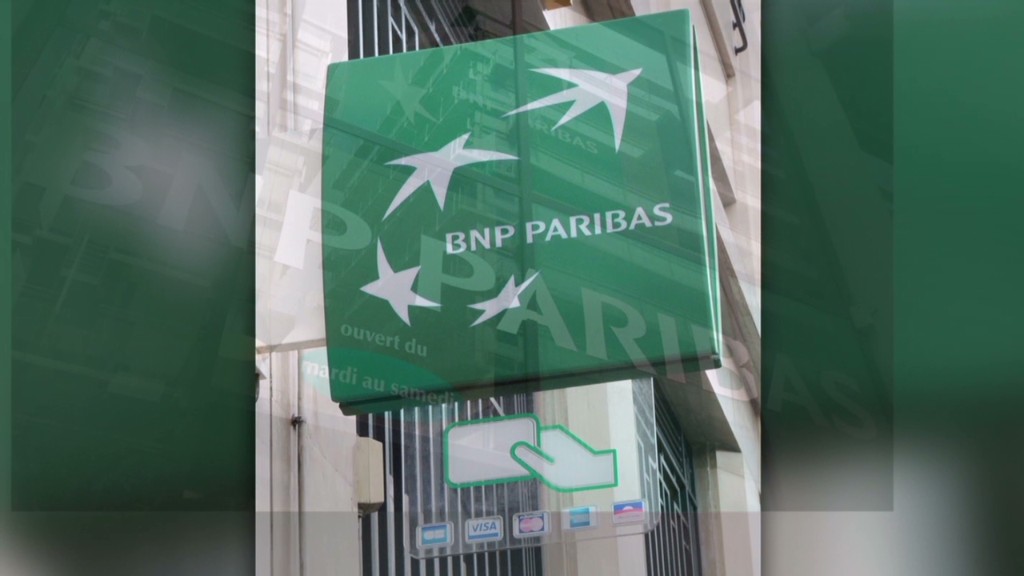 French bank BNP Paribas pleaded guilty Monday to criminal charges for breaching U.S. sanctions and will pay a record penalty of almost $9 billion.
The settlement concludes a long-running criminal investigation into allegations that BNP Paribas (BNPQF) violated U.S. money laundering laws by helping clients dodge sanctions on Iran, Sudan and other countries.
The deal between the bank and prosecutors had been expected for months. Shares in the bank edged higher Monday in Paris, having fallen more than 12% so far this year in anticipation.
In an agreement with the Manhattan District Attorney Cyrus Vance, the bank pleaded guilty to falsifying business records and conspiracy in Manhattan Supreme Court. It is expected to plead guilty for violating money laundering laws in federal court with U.S. Attorney Preet Bharara next week.
The bank also agreed to a sanction by the New York department of financial services. It will suspend certain U.S. dollar clearing transaction services through its New York branch for one year.
BNP Paribas said it would clear U.S. dollars "through a third-party bank instead of clearing through BNP Paribas New York."
About 30 employees will leave BNP Paribas as a result of the investigation, including several who have gone already, according to a U.S. official.
"We deeply regret the past misconduct that led to this settlement. The failures that have come to light in the course of this investigation run contrary to the principles on which BNP Paribas has always sought to operate," said Jean-Laurent Bonnafe, CEO of BNP Paribas. "We have announced today a comprehensive plan to strengthen our internal controls and processes," he said.
The bank will take a new charge of 5.6 billion euros ($7.7 billion) as a result of the fine, and cap its 2014 dividend at last year's level. It had previously set aside $1.1 billion to cover the costs of any penalties.
The fine dwarfs HSBC (HSBC)'s $1.9 billion penalty in 2012 for similar offenses, and the $2.6 billion Credit Suisse (CS) paid in May to settle tax evasion claims.
The severity of the punishment relates to the bank's lack of cooperation over a period of years, said an official who was briefed on the investigation Monday. The bank continued to process transactions that the U.S. says violated the law even after the investigation began.
The failure to cooperate stymied efforts to prosecute individuals alleged to be behind the violations, the official added.
The settlement comes at a sensitive time for European banks, which are under pressure to increase lending to get the economy moving, while shoring up their finances ahead of region-wide stress tests due later this year.
Earlier this month, Jean Claude Trichet, former president of the European Central Bank, told CNN that a penalty in the range of $10 billion could carry risks for the global banking system. He said this kind of fine was neither fair, just, nor proportionate.
Standard and Poor's has warned it could cut the bank's long term credit rating once it reviewed the size of the fine and the nature of any additional penalties.
CNNMoney's Katie Lobosco contributed to this report.